The Spice Girl's New Limited Edition T-Shirt Is All In Aid Of Pride
All proceeds will go towards fighting LGBTQ+ youth homelessness.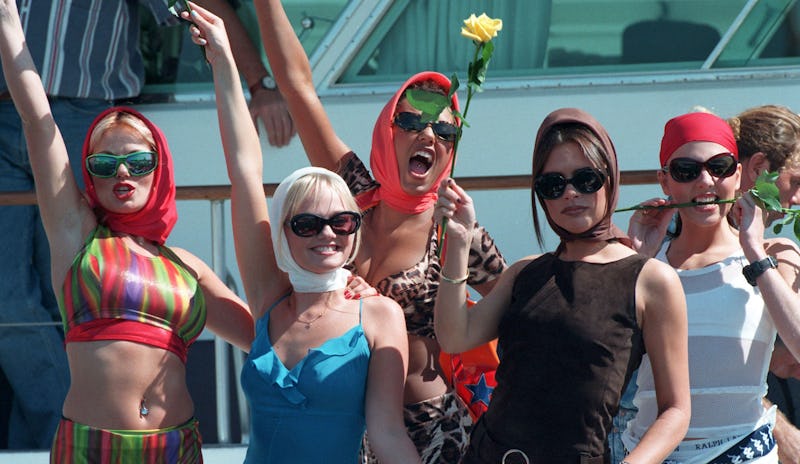 Dave Hogan/Getty
Victoria Beckham's eponymous clothing brand has teamed up the Spice Girls to design an exclusive T-shirt to support Pride Month 2021. All of the proceeds from sales will go towards akt, a charity working to combat LGBTQ+ youth homelessness in the UK.
Victoria Beckham first announced the collaboration on her personal Instagram page, with a short video showing images of all five members of the Spice Girls wearing the white tee, which is emblazoned with the words "proud and wannabe your lover."
"Happy #PrideMonth from me and the @spicegirls," the caption reads. "I'm so excited to share this year's Pride T-shirt with you! For the third year in a row we've partnered with the wonderful @aktcharity, this year with a special Wannabe T-shirt. 100% of the proceeds go to akt, to continue funding the amazing work they do to combat LGBQT+ youth homelessness in the UK."
VB continued: "Pride to me is a celebration of being completely yourself and this year's T-shirt is a reminder of that. The Spice Girls really championed accepting yourself and others, being kind, having fun and just living your best life! The LGBTQ+ community is so close to my heart and I'm so proud to be supporting Pride 2021 with the girls and akt again this year. x VB."
akt is a charity based in London, Manchester, Newcastle and Bristol, which supports young people within the LGBTQ+ aged 16-25 who are experiencing homelessness or are living in hostile environments.
If you're interested in supporting the charity and want to nab a special VB-approved tee, the pieces are selling on Victoria Beckham's brand website for £80.
The t-shirt is available in sizes XS-XL, and will likely sell out given its important messaging and nod of approval from the Spice Girls themselves.
As well as the t-shirt, a cute little pouch with the same slogan is also on sale for £95. It looks perfect for carrying around your keys, mask and phone in, or for keeping as a mini makeup bag.
You can buy both at victoriabeckham.com and find out more about akt at their website akt.org.uk