Why Bustle Beauty Editors Swear By This Lip Mask
Straight from their soft, supple lips.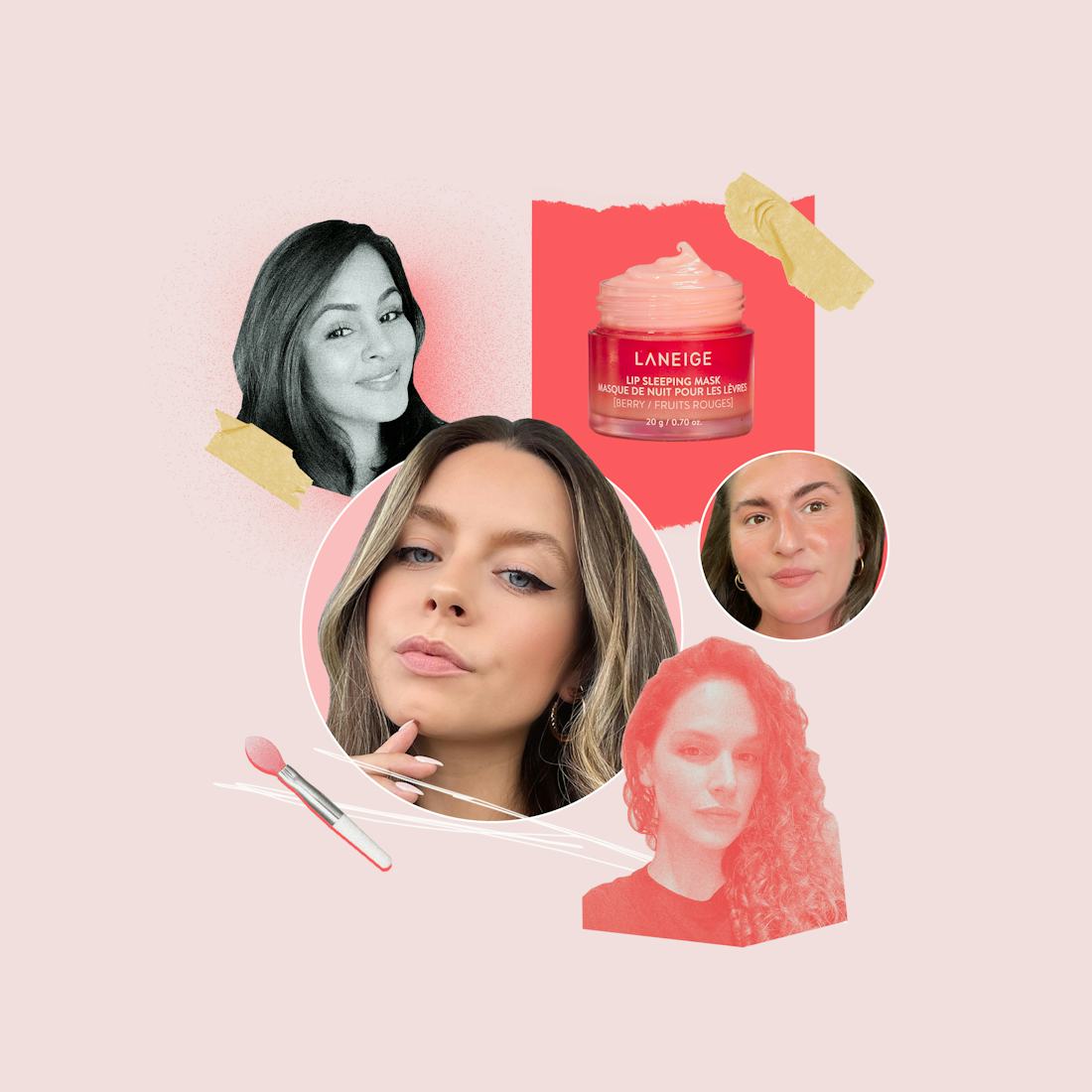 There's a reason Laneige's Lip Sleeping Mask is quite literally everywhere — a top-selling lip treatment at Sephora, on social media garnering rave reviews, and even on the lips of Emmy-nominated breakout star, Sydney Sweeney. In fact, one Lip Sleeping Mask is sold every three seconds, according to sales data from the brand. The reason behind the accolades truly lies in the lip-transforming formula, an intensely moisturizing, antioxidant–rich blend. On top of that, it doesn't hurt that it's fun to use thanks to its punchy packaging and gotta-try-them-all flavors, like Sweet Candy and Gummy Bear.
Let's talk about how the formula works: Apply the cushiony balm before bed to drive nourishing shea and murumuru butters, coconut oil, protective vitamin C and a smoothing Berry Fruit Complex deep into lips. By the time you wake up, the formula will have already healed any dryness and flakiness on your lips and leave you with a visibly and touchably soft, supple pout.
Because it always helps to read real reviews about products, we tapped our Bustle beauty editors — who have all used the Lip Sleeping Mask for years — to tell us why they swear by this treatment. Ahead, their words, straight from their silky smooth lips.
LEXI, Senior Director, Branded Content
"I've been using the Laneige Lip Sleeping Mask for years—at least five. I keep the full-size jar in my bathroom, and snag samples whenever I can so one is always at arm's reach. I'm one of those habitual lip balm appliers, so this is a dream product for me, since it creates a smooth, shiny finish that really stays put. I love how thick and nourishing it feels thanks to the coconut oil and shea and murumuru seed butters, but it's not sticky. It's almost like a rich, creamy balm-gloss. I usually apply it at night and only once during the day since the antioxidant-rich softening effect (shout out, Berry Fruit Complex!) really lasts."
IRMA, Beauty Director, Branded Content
"This just makes my lips so incredibly soft, even in the winter when they're extra parched. I truly haven't found a better lip balm. It keeps my lips hydrated for hours and I don't need to constantly reapply like I do with other lip balms. Shea butter is one of my favorite skin-care ingredients because I have dry, sensitive skin so I love that this lip mask has shea butter in it. The original berry flavor is my favorite of all time!"
SHYEMA, Senior Beauty Editor, Branded Content
"I remember the very first time I used Laneige's Lip Sleeping Mask because it was truly a moment. It was one of the products I took with me on a trip to Dubai six years ago. The mix of plane travel followed by being in constant air conditioning was wreaking havoc on my dry lips. I remember dipping into the lip mask with its mini applicator and being immediately blown away by the buttery, rich texture that felt so different than anything else I've ever tried. The mix of vitamin C with softening butters did wonders for my lips, which were instantly brought back to life. Not to mention, I couldn't get over how yummy the berry flavor was. I started off using it only at night, but realized it was a great lip mask to use to prep my lips before applying lip products, like my go-to liquid lipsticks. I can't live without it now, and collect the different flavors. Sweet Candy is my current indulgence, but original berry still gives me nostalgia."
KALEIGH, Beauty Editor, Branded Content
"The nourishing ingredients in the Lip Sleeping Mask are ideal for repairing and protecting compromised lips, and I'm proof of it! Whenever I use this mask consistently, my perennially dry, flaky lips are in far better shape. I've found it's also great for filling in lines or cracks in my lips. It even helps keep them hydrated for hours after applying, which is not the case with other lip treatments I've tried, which tend to leave my lips craving even more hydration minutes after using them. Although it's meant to be used at night, I apply it during the day too, for added protection and shine. The gummy bear flavor is in my current rotation — it actually smells like candy and reminds me of being a kid!"