14 Self-Care Products Under $10 You Need To Stock Up On This Winter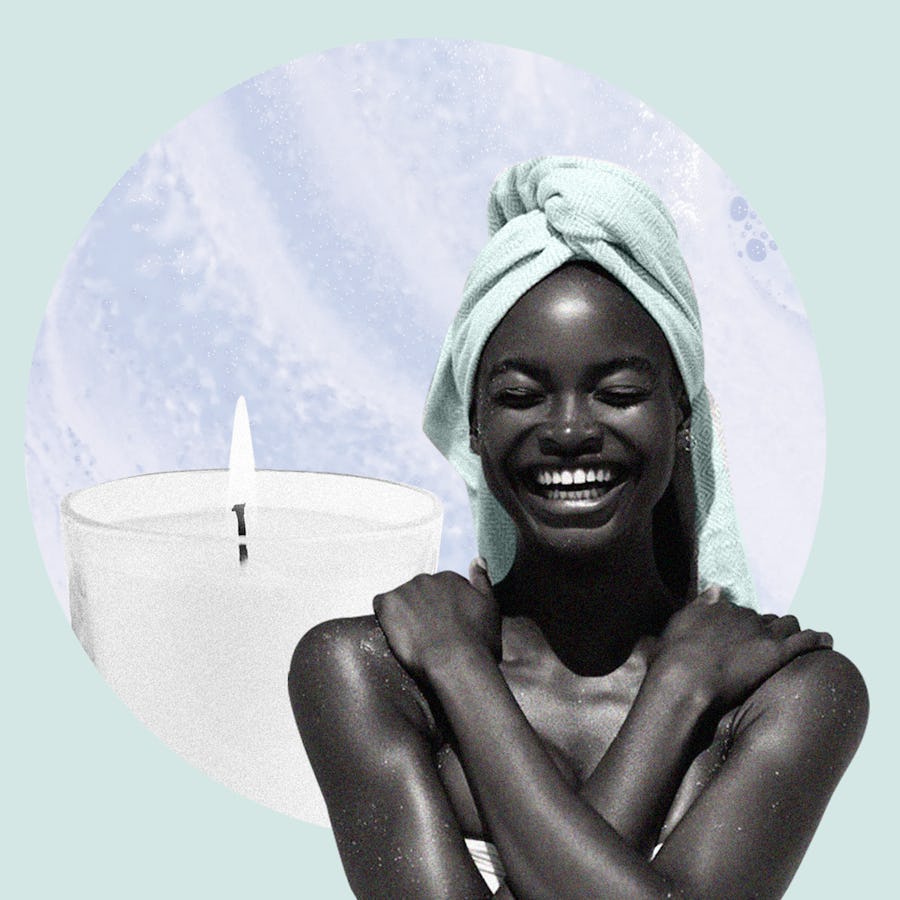 From the pandemic to the election, this year has done a serious number on our stress levels. We're all feeling it in one way or another, whether it be through our skin, our sleep cycles, or our states of mind. (Or, if we're being real, sometimes all three combined.) And winter is here now! On the much, much brighter side, with the holiday season here, it couldn't be a more perfect time to treat yourself to some self-care. And luckily, our friends at Unilever have endless products that'll make unwinding right now a breeze. The best part? They're each under $10. Without further ado, shop 14 products that are sure to lift your spirits this season.
With warm, homey notes of nutmeg, pumpkin puree, spiced chai, and sweet cream, this cozy seasonal candle smells like relaxation. Additionally, it's made with soy-based wax and a lead-free wick, which should put your mind at ease too. Curl up with a good book or movie and this candle burning by your side, and we guarantee you'll feel tranquil in no time.
Scented with sweet mango and citrus (sparkling grapefruit, to be specific), this refreshing two-in-one body wash is like a tropical vacation in a bottle. It contains a blend of shea butter, cocoa butter, and vitamin E, and leaves skin feeling clean and refreshed. And, if it matters to you, it's also free of sulfates and parabens. We highly recommend using the luxurious formula to create an epic self-care bath experience, but if showers are more your jam, you'll still reap all of the product's skin-care benefits — simply in a fraction of the time.
Transform your shower into a spa with this luxe body wash, which contains skin-natural ingredients and shea butter. It also smells sub-lime — like a vanilla birthday cake baking in the oven but without being too overpowering. After just one use, your skin will feel significantly softer. Plus, your nose will be in a happy place too.
Let's be real: Feeling your best can be as simple and straightforward as cleaning your hair, and dry shampoo is amazing for those days when you don't have the time, energy, or physical motivation to do the full wash-and-style shebang. Even if you're just spending the afternoon on your couch, a great hair day is always good for morale.
When you are ready for a proper shampoo and conditioning, treat your hair with this coconut water infused duo. The rich formula feels decadent to use and smells subtly tropical: like fresh limes and coconut. As you lather up, daydream about your next getaway to a sunny island.
This shampoo and conditioner set is ideal for anyone who wants to tame frizz and flyaways. Pro tip: Give yourself a good scalp massage while shampooing to make it a true zen moment.
Even seemingly basic steps, such as brushing your teeth or putting on deodorant, can serve as acts of self-care. This foolproof spray-on deo from Dove smells like fresh cucumbers (did someone say spa vibes?) and actually goes on dry for a cleaner feel. Additionally, it provides 48 hour protection from sweat and odor to keep you feeling fresh!
Even if all you have time (or desire) for in the morning is deodorant, you can't go wrong with this antiperspirant from Dove as it smells divine and contains 1/4 moisturizers with natural oil to keep underarms nourished.
Infused with sweet-smelling essential oils, shea butter, vitamin E, and coconut oil, this deodorant from Schmidt's is a fan favorite for a reason. Not only is it aluminum free and fights body odor all day, but it also smells like a garden.
Made with magnesium and activated charcoal, this deodorant stick from Schmidt's stops B.O. in its tracks. Like their other deodorants, it's aluminum free and also contains essential oils of lavender and tea tree, both of which are known for their self-care benefits.
Pamper your skin with this cream from Simple, made with triple-purified water, redness-reducing allantoin, and hydrating glycerin. This skin-loving formula leaves your complexion glowy, calm, and super nourished after just one application. Apply it over your favorite serum before hitting the sheets to get an angelic glow by morning.
Infused with pure cocoa and shea butters, this rich-yet-not-greasy moisturizer is a game-changer for dry, cracked skin that's easily affected by the cold weather. Lather up after showering while your skin is still damp to really lock in hydration.
The gorgeous copper tint in this oil gives skin an otherworldly glow, which can be a lovely pick-me-up whenever you're missing sunnier days. Treat yourself to a full body massage after showering for a self-care experience that'll have you in relaxation mode in thirty seconds flat.
Washing your face at the end of every day is a must to get rid of all the dirt and grime, even when all you can think about is jumping into bed headfirst. Thankfully, this one-step micellar water from Simple makes cleansing so fast. In also instantly boosts skin hydration by 90 percent. All you have to do is apply some of the formula to a cotton pad, and then wipe your face to remove makeup, dirt, and sebum buildup that accumulates during the day. It leaves skin refreshed, calm, and squeaky clean, but never, ever stripped.
This post is sponsored by Unilever.