7 Chic Self-Care Products You Won't Believe Are Actually Sustainable
Luxe items that don't harm the planet? Sign me up.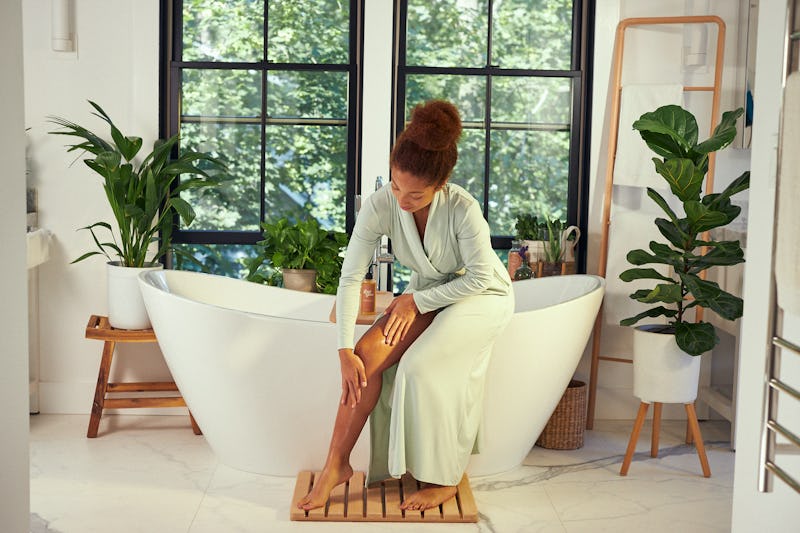 At this stage in the self-care game, you probably already know what works for you. Are you a two-hour, oil- and flower-infused bath person? A cozy loungewear, overstuffed couch, and Thai takeout person? Maybe your style involves applying a ten-step skincare routine using only clean products — while you watch absolute garbage on TV. Or maybe… *slowly raises hand*… you're all of the above.
You've established the self-care acts that make you feel your best, but the sad truth is oftentimes, the things that help us relax the most can actually be a huge strain on the planet. Cozy sweatsuits and nourishing sheet masks may be synonymous with a luxurious Friday night in, but when they're mass-produced by companies that don't take their environmental impact into consideration, can you truly feel good about using them to ease your body and mind?
Answering this complicated question starts with taking a closer look at your go-to wellness brands. Seeking out companies like Avocado Green — whose bed and bath products meet the highest verifiable standards for environmental and social responsibility, using organic, natural, and non-toxic ingredients — goes a long way when it comes to making sure your 'me time' isn't causing any inadvertent harm to the world around you.
The good news is that adopting a sustainable mindset doesn't mean you have to sacrifice those sacred self-care moments. Keep reading for Bustle's favorite better-for-the-environment picks that will make you feel as spoiled as you deserve to be. From vegan, cruelty-free aromatherapeutic bath soaks to impossibly soft alpaca loungewear, these products are so chic you may have a hard time believing they're actually crafted with the planet in mind.
Release your stress and relax your muscles with this vegan, cruelty-free Himalayan sea salt and magnesium flake bath soak from Reed + Gwen, a Certified B Corp and subsidiary of Avocado Green Brands. It's scented with a lavender and rosewood essential oil blend, so it calms as it soothes. In addition to the standard "clean beauty" promises (no parabens, sulfates, silicones, or synthetic fragrances) the soak is also PFAS-Free, which means it doesn't include highly fluorinated chemicals that aren't great for humans and can remain in the environment forever.
We all love a good sheet mask, but when you stop and think about how many you've peeled off and thrown away? The impact on the planet is troubling. Fortunately, this reusable silicone sheet mask gets the work done without creating extra waste. Just apply your favorite serum or moisturizer, place the mask on your face, and wait up to 30 minutes for the products to sink in. Then simply wash and reuse!
Sink into a cocoon of comfort with these gloriously luxe joggers, crafted with a blend of ethically sourced alpaca fiber and sustainable Pima cotton. (And just FYI: "baby alpaca" refers to the finest wool on an alpaca, typically found on the chest — not literal baby animals.) The material isn't just hypoallergenic, breathable, and durable — it's also biodegradable! Plus Hass, a subsidiary of Avocado Green, is a member of 1% For the Planet, which means they donate 1% of revenue to nonprofits fighting food insecurity.
Formulated with organic bamboo and free of dyes, these reusable rounds fit into your routine anywhere you would use a disposable cotton pad. Whether you're applying toner or removing makeup, use the rounds as normal — then just toss them into your laundry basket to be washed with the rest of your load. We were already in love with their zero-waste impact… and then we saw that gorgeous pink carrying case. Sold.
However you choose to use this lightweight, fast-absorbing oil, don't be surprised if you feel like you're at the center of an ancient worship ritual. Scented with an essential oil blend of lavender, sage, cedar, and citrus, and packed with essential fatty acids and the vitamins your skin craves, you can apply it to damp skin post-shower or bath to get gorgeously glowy. Or, to extend the ritual even further, add a few drops to a hot bath for an at-home spa experience. Best of all? The company is Climate Neutral Certified for net zero emissions from burning fossil fuels.
There's something so luxurious about applying your skincare products with tools — plus it's another way to reduce all that cotton pad waste. Anisa's set is like giving yourself an at-home facial: Use The Bean to de-puff and smooth skin around the eyes (with or without product), The Drop to apply product to the skin, and The Roller to massage the space between your brows or along your jawline. The tools are cruelty-free and free of animal products and by-products, and manufactured with environmentally and socially responsible methods.
This reusable eye mask is always selling out, and it's easy to see why — not only are the colors and case super cute, but the fact that you can treat yourself to an eye mask every single day without producing trash? That's the chicest thing ever. Plus, you can use it with your eye cream of choice, so it makes your favorite products instantly mask-able.