9 Myth-Busting Statistics About Eating Disorders
#1: 65% of American women struggle with eating.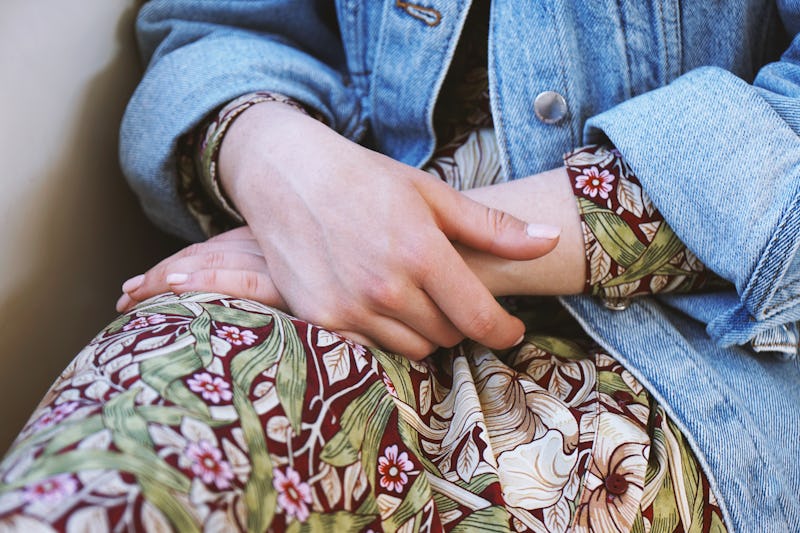 Axel Bueckert/Shutterstock
Eating disorders don't just look one way, and don't just affect one kind of person. And people who don't feel like they fit the "typical" profile might avoid getting help, out of stigma or shame. That's the overwhelming message of eating disorder specialists, who tell Bustle that many different factors can influence eating disorder risk. Statistics about eating disorders show that things like race, gender, and sexuality shape the way in which eating disorders are diagnosed and treated every day.
For any kind of disordered eating, it's important to bust myths and stigmas so that people can get the help they need. "Eating disorders affect men and women across all cultures and can present at any age," Dr. Lorna Richards, MRCPsych, a psychiatrist specializing in adult eating disorders at LifeWorks, a private rehabilitation center, tells Bustle. "The risk for those sitting outside of the perceived demographic can be devastating because it prevents or delays recognition and access to treatment."
Disordered eating also has to do with more than clinical definitions. "We need to pay more attention to 'subclinical' disordered eating, because it's extremely widespread and can be just as damaging to mental and physical health as diagnosed eating disorders," registered dietitian Christy Harrison tells Bustle. Subclinical disordered eating, she says, is any behavior that doesn't quite fit the medical definition of an eating disorder, but is still harmful — like chronic restrained eating, restricting major food groups, fasting, using laxatives to lose weight, or binge eating. The COVID-19 pandemic has also worried eating disorder specialists, who point out that food insecurity, panic buying, and restrictions around shopping have likely made some eating disorders more common.
Here are nine statistics about eating disorders that experts want you to know.
If you or someone you know has an eating disorder and needs help, call the National Eating Disorders Association helpline at 1-800-931-2237, text 741741, or chat online with a Helpline volunteer here.
Studies cited:
Becker, C. B., Middlemass, K., Taylor, B., Johnson, C., & Gomez, F. (2017). Food insecurity and eating disorder pathology. International Journal of Eating Disorders, 50(9), 1031–1040. doi: 10.1002/eat.22735
Diemer, E. W., Grant, J. D., Munn-Chernoff, M. A., Patterson, D. A., & Duncan, A. E. (2015). Gender Identity, Sexual Orientation, and Eating-Related Pathology in a National Sample of College Students. The Journal of adolescent health : official publication of the Society for Adolescent Medicine, 57(2), 144–149. doi:10.1016/j.jadohealth.2015.03.003
Hanlan, M. E., Griffith, J., Patel, N., & Jaser, S. S. (2013). Eating Disorders and Disordered Eating in Type 1 Diabetes: Prevalence, Screening, and Treatment Options. Current diabetes reports, 10.1007/s11892-013-0418-4. Advance online publication. doi:10.1007/s11892-013-0418-4
Hazzard, V. M., Loth, K. A., Hooper, L., & Becker, C. B. (2020). Food Insecurity and Eating Disorders: a Review of Emerging Evidence. Current psychiatry reports, 22(12), 74. https://doi.org/10.1007/s11920-020-01200-0
Larrañaga, A., Docet, M. F., & García-Mayor, R. V. (2011). Disordered eating behaviors in type 1 diabetic patients. World journal of diabetes, 2(11), 189–195. doi:10.4239/wjd.v2.i11.189
Nagata, Jason M.; Ganson, Kyle T.; Austin, S. Bryn. (2020) Emerging trends in eating disorders among sexual and gender minorities. Current Opinion in Psychiatry. Vol 33 - Issue 6 - p 562-567 doi: 10.1097/YCO.0000000000000645
Phillipou, A., Meyer, D., Neill, E., Tan, E. J., Toh, W. L., Van Rheenen, T. E., & Rossell, S. L. (2020). Eating and exercise behaviors in eating disorders and the general population during the COVID-19 pandemic in Australia: Initial results from the COLLATE project. The International journal of eating disorders, 53(7), 1158–1165. https://doi.org/10.1002/eat.23317
Rodgers, R. F., Lombardo, C., Cerolini, S., Franko, D. L., Omori, M., Fuller-Tyszkiewicz, M., Linardon, J., Courtet, P., & Guillaume, S. (2020). The impact of the COVID-19 pandemic on eating disorder risk and symptoms. The International journal of eating disorders, 53(7), 1166–1170. https://doi.org/10.1002/eat.23318
Sweeting, H., Walker, L., MacLean, A., Patterson, C., Räisänen, U., & Hunt, K. (2015). Prevalence of eating disorders in males: a review of rates reported in academic research and UK mass media. International journal of men's health, 14(2), 10.3149/jmh.1402.86. doi:10.3149/jmh.1402.86
Touyz, S., Lacey, H. & Hay, P. Eating disorders in the time of COVID-19. J Eat Disord8, 19 (2020). https://doi.org/10.1186/s40337-020-00295-3
Experts cited:
This article was originally published on