9 Weird Things That Happen To Your Body After A Night Of Drinking
Hangxiety, sweatiness, and more.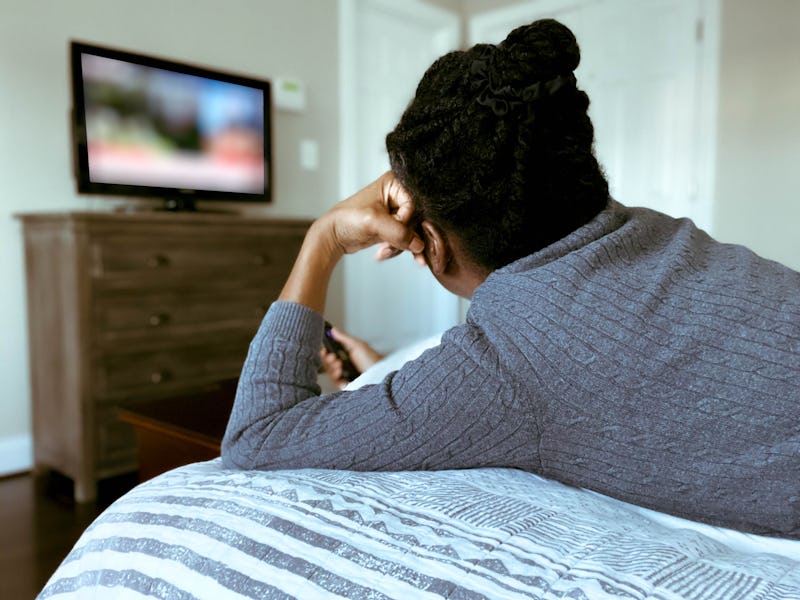 Grace Cary/Moment/Getty Images
We're all familiar with that painful dehydration, pounding headache, and unpleasant nausea that results after a night of consuming alcohol. But those aren't the only effects of too much booze — there are a number of other weird things that can happen to your body after a night of drinking. The classic symptoms of a hangover are the most obvious, but there some other effects of drinking that can happen all throughout your body, even if you aren't fully aware of them.
"The effect of alcohol on the body is dependent on how frequently you drink, what quantity you drink and whether you are pregnant or have chronic medical conditions like diabetes and asthma," Dr. Alexa Mieses Malchukm M.D., a family physician, tells Bustle. Once you're hungover, you might start to experience all kinds of odd symptoms, from the usual headaches to heart flutters and anxiety.
Not to be too obvious, but if you don't want these side effects of drinking, you're best off limiting the amount you drink. A night out can cause all sorts of wild things to happen — besides just drunk texting your ex. Here are nine weird things that happen to your body after a night of drinking.
Experts:
Dr. Scott Braunstein M.D.
Dr. Alexa Mieses Malchuk M.D.
Dr. Michael Richardson M.D.
Studies:
Brunner, S., Herbel, R., Drobesch, C., Peters, A., Massberg, S., Kääb, S., & Sinner, M. F. (2017). Alcohol consumption, sinus tachycardia, and cardiac arrhythmias at the Munich Octoberfest: results from the Munich Beer Related Electrocardiogram Workup Study (MunichBREW). European heart journal, 38(27), 2100–2106. https://doi.org/10.1093/eurheartj/ehx156
Ebrahim, I. O., Shapiro, C. M., Williams, A. J., & Fenwick, P. B. (2013). Alcohol and sleep I: effects on normal sleep. Alcoholism, clinical and experimental research, 37(4), 539–549. https://doi.org/10.1111/acer.12006
Marsh, B., Carlyle, M., Carter, E., et al. (2019) Shyness, alcohol use disorders and 'hangxiety': A naturalistic study of social drinkers. Personality and Individual Differences, 139: 13 DOI: 10.1016/j.paid.2018.10.034
Scholey, A., Benson, S., Kaufman, J., Terpstra, C., Ayre, E., Verster, J. C., Allen, C., & Devilly, G. J. (2019). Effects of Alcohol Hangover on Cognitive Performance: Findings from a Field/Internet Mixed Methodology Study. Journal of clinical medicine, 8(4), 440. https://doi.org/10.3390/jcm8040440
Szabo, G., & Saha, B. (2015). Alcohol's Effect on Host Defense. Alcohol research : current reviews, 37(2), 159–170.
This article was originally published on