Apps, Organisations, & Resources To Keep You Safe While We Wait For Progress
Until we reach a place where gender-based violence is at an end, these tools may help women in emergency situations.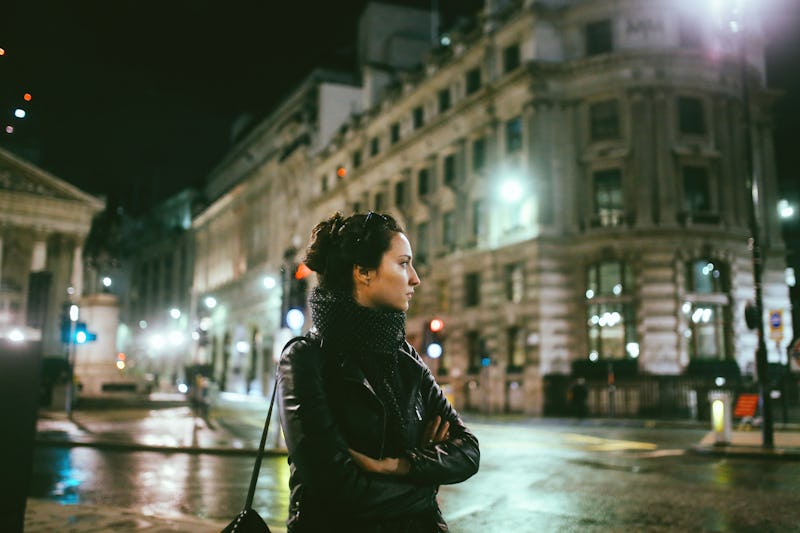 lechatnoir/Getty
Over the past few weeks and months, conversations about women's safety have been all over social media and in the news following the murders of two women, Sarah Everard and Sabina Nessa. Seven months after the murder of Everard, Nessa was found dead in a London park. Police believe Nessa was killed on her way to meet a friend, and have since arrested a man on suspicion of "predatory" murder.
The parallels between the two murders have led to comparisons between the treatment of their cases by police and media. And, as in the days following the disappearance of Everard, after Nessa's death people took to social media to share their own experiences of harassment and gender-based violence. A vigil was held for Nessa in Kidbrooke and a book of condolences opened for people to pay their respects.
Then, following the sentencing of Everard's killer, Wayne Couzens, details about how he used his position as a police officer to falsely arrest and then kidnap Everard were made public. This led the Met Police to issue advice to women on protecting themselves from false arrests, which included challenging lone officers, ringing 999, "shout[ing] out to a passerby, run[ning' into a house or wav[ing] a bus down for help."
As the Independent notes, many were dismayed by the nature of the advice as not only does it place the emphasis on women to do more to protect themselves, it could also lead to their further endangerment. It has also been pointed out that women of colour, and Black women especially, could be put at even more risk by the advice, due to the police's record of subjecting Black, Asian, and other ethnic minority groups to disproportionate use of force. Not to mention, there is anger and hurt over the fact that many white women seem only now to be waking up to the idea that the police is an institution with the power to harm, despite the events of last summer. All in all, the events have been triggering and deeply concerning for many, without even mentioning that Everard and Nessa's deaths are just two examples of the hundreds of women killed every year.
One of the most important takeaways from these conversations, however, has been that the emphasis should not be placed on what women can do. Women should not have to change their behaviour to ensure their safety (though we invariably do). Instead, it is cis men who should be questioning their actions and starting conversations with one another about what they can do to help.
This is a message we can all get behind, and one we will continue to advocate for fiercely. Sadly, however, as recent findings from the UN has shown, almost all women in the UK (97%) have experienced sexual harassment of some kind. And for trans women and women from other marginalised backgrounds, the statistics are even more devastating. This problem is deeply entrenched in our society and, right now, we don't have a roadmap that will solve it fast enough.
With this in mind, what follows is a list of tips and resources that offer advice on personal safety, and the rights of yourself and others when it comes to arrests. While we are all dreaming of a future where these tools are no longer necessary, hopefully they can offer support until we reach that goal.
Contributions from Sophie McEvoy.
This article was originally published on