The Best Foot Spas To Soothe Tired Feet
We only recommend products we love and that we think you will, too. We may receive a portion of sales from products purchased from this article, which was written by our Commerce team.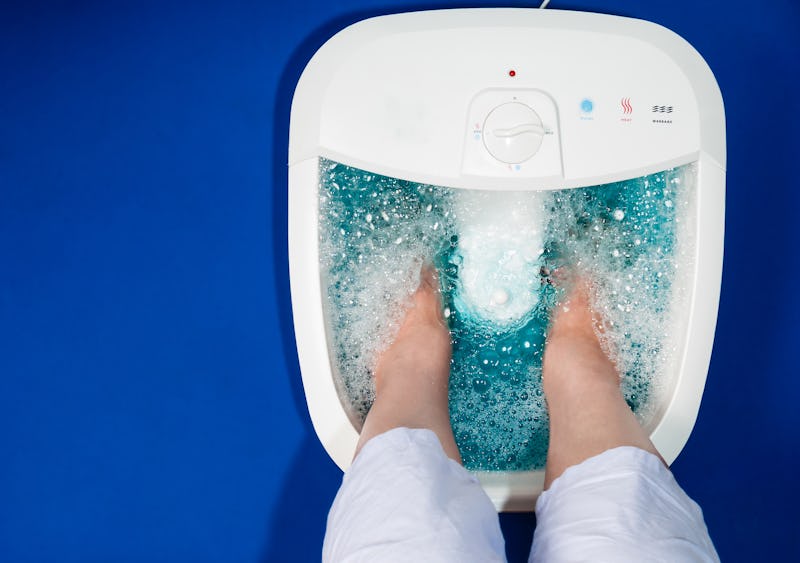 Shutterstock
For those times when you're looking to do more than just a simple foot soak in a basin, the best foot spas come with motorized massing rollers and digital temperature controls for providing comforting heat.
Most foot spas have built-in temperature controls that allow you to pick — and maintain — your preferred level of heat while you soak. Models with a digital display will give you the best control because you can pick a precise temperature (usually a range of 95 to 118 degrees Fahrenheit), however, if you're wanting something more budget-friendly, a no-frills foot spa with a simple bubbling function will still get the job done, you'll just need to be sure to fill it with hot water from the start.
In addition to jacuzzi-like bubbles, some foot spas have a pampering vibration feature, but for a deeper, massage-like experience, look for a model with rotating rollers. Some need to be manually operated — which means moving your feet back and forth— but if you're willing to spend more, you can also find options with motorized nodules that allow you to sit back, relax, and enjoy a foot rub much like you would in a professional spa setting.
The last thing to consider is placement. Most electric foot spas come with a 4- to a 6-foot power cord, and they should be used on a dry, flat surface, so consider proximity to an outlet. Also, it can be a chore to fill and empty, so models with a handle (or even better, on rollers) will make it easier, but otherwise, your best bet is to bring pitchers of water back and forth. Finally, you'll want to take note of each spa's dimensions, so you can ensure the best fit for your feet and for your storage space.
Find your at-home bliss with one of the best foot spas below!
1. The Overall Best
Dimensions: 17.2 x 14.9 x 13 inches (length x width x height)
Foot sizes up to women's 16.5/ men's size 15
Cord length: 5.2 feet
With a handle, wheels, and a drainage spout, this foot spa is one of the easiest to maneuver, which makes the task of filling and emptying a breeze. Also making it worth its higher price tag is all of the customizable features on the digital display. Besides the standard bubble jet, timer (from 10 to 60 minutes), and temperature functions (you can adjust from 95 to 118 degrees Fahrenheit), there are four "amazing" rotating massage rollers, as one fan described them, and you'll be able to switch from high power for rapid heating to medium or low power when you want to maintain your water temperature.
One glowing review: "After 20 minutes of use, my feet and legs feel RIDICULOUSLY GOOD! You can control the heat of the water, I prefer it super warm... I put a narrow pillow under the bend of my knees to gain some height so that my feet can float above and boink around the rotating balls. At first, it's a little trial and error to find the best foot angles and pressure, but when you do it is GREAT! I actually like the feel of the rotating balls more than the water jets I enjoy at professional salons..."
2. The Cult Favorite
Dimensions: 15 x 13 x 8 inches (length x width x height)
For foot sizes up to women's 16.5/ men's 15
Cord length: 5.6 feet
For a deep-kneading full-foot massage, this foot spa has four sets of manual massaging rollers that are lined with 16 nubs that you control with the movement of your foot. There's also a heating feature, with a digital display that lets you select a temperature between 95 to 118 degrees Fahrenheit. Amazon shoppers have given it a whopping 10,000+ positive ratings, with several pointing out how quickly the water heats up and how well it remains warm for the entirety of your session. The display also has buttons for separately selecting a bubble jet or a vibration feature. If there's one downside, it's that there is no handle, so transporting it can be a bit cumbersome, however, it's worth it when you consider all of the outstanding features you're getting for the price.
One glowing review: "This foot spa works wonderfully! It gets a nice hot temperature that is controlled to increase or decrease with the press of buttons. The vibration and rollers at the bottom feel great. The rollers are not automatic but there is ample room for forward and backward movement in the foot spa bowl."
3. The Most Affordable
Dimensions: 15 x 14 x 7 inches (length x width x height)
For foot sizes up to women's 14.5/ men's 13
Cord length: 6 feet
For a more affordable choice, the HoMedics foot spa also has also earned its share of fanfare on Amazon — it's amassed more than 9,000 five-star ratings. Though it lacks many of the bells and whistles of the pick above, most notably no massaging rollers (only raised nodes) or options to select a temperature, it still offers a refreshing experience for tired feet. A simple tap on the toe-touch power button will turn on the bubbles, and so long as you pre-filled the tank with already-steamy water, you'll get up to 15 minutes of even heat, according to reviewers. On the top, there's a removable pumice stone so you can follow up your soak with some nice exfoliation, but note that there is no handle.
One glowing review: "Exactly what I was looking for! I love it! I put hot/ warm water and it stayed nice and warm throughout my whole at-home pedicure, that I give myself. It gives a good amount of bubbles too."
4. The Collapsible One (That also Comes With A Remote)
Dimensions: 16.5 x 15.5 x 9.5 inches (length x width x height, unfolded)
Foot sizes up to women's 14.5/ men's 13
Cord length: 4.6 feet
This foot bath is ideal when you want to maximize your storage space, as it collapses to about half its height when not in use. You'll get additional convenience from a carry handle, a drainage spout, and a remote control, which provides an easy way to make your selections without having to bend over. You'll find buttons to adjust the heat (from 96 to 118 degrees Fahrenheit), set a timer (from 10 to 60 minutes), turn on the bubbling action, and/or enable the six motorized massaging rollers. One thing to keep in mind, however, is that the digital display is actually inside the tub on the bottom, so when the water's flowing, it can be hard to know if you're input was registered.
One glowing review: "Spent weeks searching for a foot bath that had temperature control, was compatible, had bubbles. What a bonus at this price point with massaging features... The bubbles were comforting and weren't so forceful that it leaves your feet prickly/ tingling. The massagers are nice. Again they are soothing and relaxing. It was like reflexology on the tired paws!"