The 5 Best Insoles For Overpronation & Flat Feet, According To Experts
Looking for support, cushioning, and shock absorption? Some can even be trimmed to fit.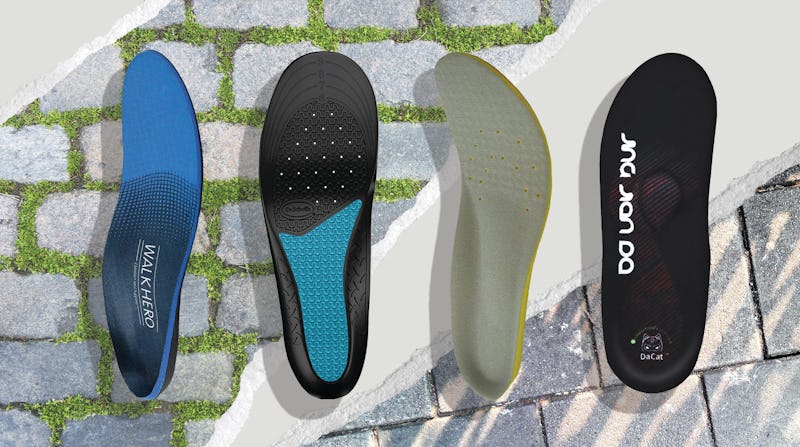 Bustle/Amazon
We may receive a portion of sales if you purchase a product through a link in this article.
If you have flat feet, overpronation, or a combination of the two, adding insoles that fit well to your footwear can offer many benefits. The best insoles for overpronation and flat feet are made from firm yet comfortable material, providing arch and heel support and cushioning, potentially reducing overpronation. They can also "absorb shock and reduce stress on pressured areas of the foot, helping alleviate pain and discomfort," podiatrist Daniel Pledger wrote in an email to Bustle.
The Experts
Jeffrey Brandt, CPO, is a certified prosthetist and orthotist located in Pennsylvania. He's the founder of Ability Prosthetics and Orthotics.
Dr. Daniel Pledger is a practicing podiatrist of over 15 years. He's also the founder of ePodiatrists, which helps to make podiatric care more easily accessible for those in the United States. He's located in Denver, Colorado.
Dr. Damian Roussel, D.P.M., F.A.C.F.A.S., is a podiatrist at The Center for Advanced Orthopaedics. He's board-certified in both foot surgery and reconstructive rearfoot and ankle surgery. He's based in Maryland.
What To Look For When Shopping For The Best Insoles For Overpronation & Flat Feet
Think about the following factors when picking out your next pair of insoles:
Material: For overpronation and/or flat feet, start by looking for "durable firm materials at the base of the insole" for support, according to podiatrist Dr. Roussel. However, you'll also want some cushioning for comfort — it's a personal decision on exactly how much cushioning is best specifically recommends materials like memory foam or gel, which "provide more cushioning and comfort" compared to plastic or rubber, Dr. Pledger tells Bustle. And orthotist Jeffrey Brandt, CPO, favors insoles that pair cork (a firmer material) with light cushioning.
Arch & heel support: In terms of support, focus on both the arches and heels. Typically, insoles described as having a low to medium arch are best, as high arch picks could be too uncomfortable to wear. Dr. Roussel mentions looking for a pair with "a supportive arch that won't collapse" in order to help with the symptoms associated with flat feet and/or overpronation. Brandt also stresses the importance of finding a pair of insoles with "a medium to deep heel cup as the position of the heel also factors into the degree of pronation."
Fit: Insoles are typically sold in various size options, so make sure you go with ones that are designed for your specific foot size. Some are even trimmable, further ensuring they'll work in your shoes. Also, consider insoles that are designed to mold to the exact shape of your foot for a more customized fit.
Shop The Best Insoles For Overpronation & Flat Feet
In a hurry? Here are the best insoles for overpronation and flat feet:
Read on to get the scoop on the five best insoles that you can buy to help with overpronation and/or flat feet — your feet will thank you!
1. A Popular Pair Of Insoles For Overpronation & Flat Fleet
Pros:
Popular on Amazon; boasts a 4.3-star rating overall after 67,000-plus reviews
Available in 13 different size options and three colors
These insoles from WALKER HERO COMFORT AND SUPPORT are incredibly popular on Amazon — boasting a 4.3-star rating overall after 66,000-plus reviews — with fans noting they're a particularly excellent choice if you have flat feet and/or overpronation. The insoles are described as "semi rigid," and they feature memory foam for cushioning and silicone for shock absorption. The deep heel cup ensures your foot stays stable with every step. And the low arch is supportive, yet comfortable.
One Reviewer Wrote: "I have very flat feet, and these are the best insoles i have ever found. they are very comfortable, and the arch support is just right. i like them so much, so i ordered two more pair, and put them in my other shoes."
Material: Foam, silicone | Arch: Low | Trimmable: No | Available sizes: 13
2. A Trimmable Pair Of Insoles From A Cult-Favorite Brand
Pros:
Trimmable for a better fit and tricky shoes
Durable; can be worn for up to 500 miles
Superfeet is a brand synonymous with high-quality insoles that last, and this pair from the brand certainly fulfills that description; they can be worn for up to 500 miles before needing to be replaced. The insoles are a medium arch option that'll stabilize your feet and arches while reducing stress. A layer of high-density foam delivers comfort, a heel cup provides shock absorption, and a plastic stabilizer cap adds structure and support. Another perk? This pick features a coating to help with odor control.
Choose from a range of size options for women, men, and even kids, though this pick is also trimmable for a perfect fit. The medium profile shape won't take up too much room in your shoes, however, Superfeet also makes an even thinner option with a low arch as well.
One Reviewer Wrote: "Recommended by our podiatrist for flat feet. They really help and make the shoes much more comfortable. Helped to eliminate foot pain from shoes with no support."
Material: Foam, polypropylene | Arch: Medium | Trimmable: Yes | Available sizes: 8
3. A Pair Of Firmer Insoles Made From Cork & Foam
Pros:
Feature cork for added firmness
Trimmable for a better fit
These insoles from DACAT are one of the more firmer, structured options on this list because they're made from cork. But don't worry, they're still quite comfortable to wear because they boast a cushioned foam layer and a supportive metatarsal pad as well. The insoles offer low to medium arch support and a deep, u-shaped heel cup for plenty of stability. This pick comes in 10 size options, though they're also trimmable to ensure a great fit.
One Reviewer Wrote: "These inserts are so comfortable and provide tremendous support for my flat feet. They fit perfectly and I did not have to trim them at all to fit in my shoes. Very pleased with this purchase and would buy again."
Material: Cork, foam | Arch: Low/medium | Trimmable: Yes | Available sizes: 10
4. A Fan-Favorite Pair Of Insoles With Massaging Gel Under $15
Pros:
Fan-favorite on Amazon; boasts a 4.4-star rating overall after 71,000-plus reviews
Gel massages the feet for added comfort
The gel material of these insoles from Dr. Scholl's makes them superior when it comes to comfort — they're a particularly great choice for people who are on their feet for extended periods of time because they have a massage-like effect on the feet. Plus, they have serious shock absorption. The insoles offer medium arch support that's reinforced to not collapse (perfect for those with flat feet and overpronation), a heel cup for stability, and a vented design to help your feet stay cool. Replace these insoles after six months of use or at the first signs of wear.
One Reviewer Wrote: "I am constantly on my feet at work everyday. I do not have to time to sit down and take a break. These have saved my flat feet from aching and hurting. I can enjoy my day without complaining."
Material: Gel [[Think there's other stuff in there too?]] | Arch: Medium | Trimmable: Yes | Available sizes: 4
5. The Best Insoles Under $10
Pros:
Extra cushioning for comfort
Available in different width options
With a price tag of just $10, these insoles from Happystep are a budget buy that is too good to pass up. They're made entirely from high-density memory foam, making them a super cushiony option that'll mold to your feet for a more custom fit — don't worry, the medium arch is quite supportive for those with overpronation and flat feet. "Cushions and comforts my flat feet and provides support that no other insole can," explained one fan on Amazon.
The insoles also offer a smooth velvety exterior for softness and a deep, u-shaped cup for stability. This pick is a medium-width option, but a wide width is also available. These insoles come in three size options that are trimmable.
One Reviewer Wrote: "oh my gosh, these happy feet cushions are the bomb. I have flat feet and my heels take a beating cause I am on my feet for hours at a time. This product saved me from so much pain."
Material: Foam | Arch: Medium | Trimmable: Yes | Available sizes: 3
FAQ: Utilizing Insoles For Overpronation & Flat Feet
How often should I wear insoles if I have overpronation and/or flat feet? "People with flat feet should wear supportive shoes and insoles as often as possible to avoid symptoms and progressive collapse of the arch," explains Dr. Roussel.
How long can I wear a pair of insoles before they need to be replaced? Many of the experts that Bustle reached out to indicated the answer to this can vary based on factors such as how often you use the insoles, your activity level, the material's durability, etc. And some brands will even list specific information about the longevity of their insoles. However, as a general rule of thumb, Dr. Pledger indicates that "most insoles will need to be replaced after [six] months to a year of use." And Dr. Roussel notes that "When the insole starts to fade and you see visual damage, or they no longer feel supportive, then it's time to replace them."
The Experts
Jeffrey Brandt, CPO, certified prosthetist and orthotist, founder of Ability Prosthetics and Orthotics
Dr. Daniel Pledger, podiatrist, founder of ePodiatrists
Dr. Damian Roussel, D.P.M., F.A.C.F.A.S., podiatrist at The Center for Advanced Orthopaedics