The 8 Best Journals For Anxiety, According To Experts
Calming and expert-chosen picks including blank, guided, & evidence-based.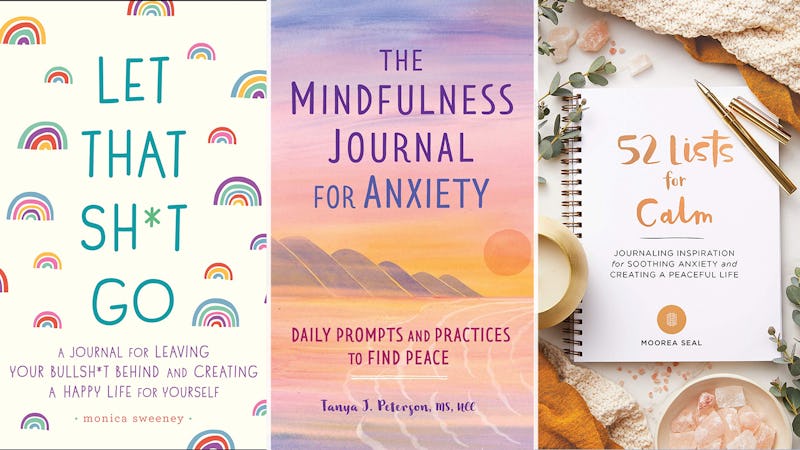 Amazon
We may receive a portion of sales if you purchase a product through a link in this article.
If you experience anxiety, journaling can be a wonderful coping tool. To choose one of the best journals for anxiety, it helps to figure out what will work best for you: A blank journal that allows you to write and draw freely, or a guided one that offers prompts, questions, lists, and more. Therapist Brittany Ellmer, LMHC, MACP, recommends that you "try a variety of different journaling exercises and then reflect on what was most helpful in decreasing discomfort [...] There is no one size fits all for anxiety."
The Experts
Brittany Ellmer, LMHC, MACP, is a therapist and serves as the clinical manager at Two Chairs, which helps to match people with a hand-picked therapist.
Em Skehill is the director of public awareness and education at Mental Health America, where they develop digital content to support individuals seeking mental health resources. Skehill graduated from Northeastern University with a degree in Communication Studies and Psychology.
Dr. Alison Smith, Ph.D., is a Canadian-based neuroscientist who specializes in brain stimulation wearables for mental health. She's the co-founder of Roga, which is a mental health platform designed to help companies and individuals reduce stress and burnout.
What To Look For When Choosing The Best Journals For Anxiety
Guided Journals
If you want to try out a guided journal, there are many options to choose from with varying amounts of structure. Some journals feature writing prompts, lists, triggers, or questions that'll allow you to face your feelings head-on. "It can feel scary to engage with your anxious thoughts, but getting them onto paper helps get them out of your head," explains Em Skehill, director of public awareness and education at Mental Health America.
Some journals for anxiety actually incorporate therapy techniques. Neuroscientist Dr. Alison Smith, Ph.D., suggests finding one that utilizes cognitive behavioral therapy techniques, which help you become aware of negative thoughts in order to respond more effectively to them. She notes it can be helpful to "participate in strategies that can reduce [the daily burden of anxiety] and there is plenty of scientific evidence to show that cognitive behavioral therapy can do just that."
If you find writing weighs you down, consider choosing a journal that features doodling, drawing, or coloring, which can be incredibly relaxing.
Blank Journals
Feeling overwhelmed by the exercises in a guided journal or just want more freedom? Consider trying a completely blank journal instead — you can use it however you desire. There are many different blank journals to choose from, but on this list you'll find a reviewer-beloved pick from an incredibly popular brand.
Shop The Best Journals For Anxiety
In a hurry? Here are the top picks for the best journals for anxiety:
Keep scrolling to see the eight best journals for anxiety — they have gotten the stamp of approval from Amazon reviewers, and some are even specifically expert-recommended.
1. An Expert-Recommended Journal With Daily Prompts
Written by certified counselor Tanya J. Peterson, MS, NCC, The Mindfulness Journal for Anxiety features daily writing prompts that are designed to help you better understand the root of your anxiety and take control of it. There's plenty of space in the journal to get all of your thoughts out and there are inspiring quotes to keep you engaged.
This journal comes highly recommended by Brittany Ellmer, LMHC, MACP. It's "beautifully designed and includes quotes, writing prompts, mindfulness exercises, and reflections," she notes.
One Reviewer Wrote: "I've suffered with life-altering anxiety for 20 years or more and tried many things to counteract it, nothing has helped as much as this book. It shows you your own detrimental thoughts very clearly in easy and short exercises, teaches you simple ways to change those thoughts, and it offers very effective reminders."
Type: Guided | Pages: 144 | Type: Paperback
2. An Expert-Approved Journal That Incorporates Cognitive Behavioral Therapy
The CBT Journal for Mental Health features prompts that incorporate the principles of cognitive behavioral therapy (CBT) to help you reframe negative thought patterns. It's written by a licensed therapist, and it also comes recommended by neuroscientist Dr. Alison Smith, Ph.D. In addition to the CBT components, this journal boasts other engaging activities such as breathing exercises and positive affirmations, too.
One Reviewer Wrote: "I love this journal so much! I've been using it recently and you can feel the care and detail that went into this, from the thought provoking prompts to the fun and insightful activities. I can't wait to continue using this to tap into the deeper parts of me. This CBT journal is def a must have come anyone who is trying to better themselves every day. I'd give it more stars if I could!"
Type: Guided | Pages: 176 | Type: Paperback
3. A Popular 5-Minute Gratitude Journal
The 5-Minute Gratitude Journal takes just — you guessed it — five or so minutes per day to complete; it's the perfect option if you're busy or don't want to partake in long journaling sessions. It features writing prompts that help you focus on the positive things in your life — big and small. Thousands of reviewers on Amazon have found this pick to be effective; in fact, the journal boasts an impressive 4.7-star rating overall on the site after almost 4,000 reviews. It's worth noting this journal has less writing space than some of the other options on this list because it's meant for shorter writing sessions.
One Reviewer Wrote: "Helps with Anxiety [...] Whenever I'm feeling overwhelmed, I write in the journal & it helps me focus more on the positive than the negative."
Type: Guided | Pages: 132 | Type: Paperback or spiral-bound
4. A High-Quality Blank Journal From A Beloved Brand
If a guided journal feels overwhelming or restricting, try a blank journal. This one from Moleskine is a superior choice — hence the near-perfect overall star rating it has earned on Amazon after 23,000-plus reviews. It features a hard cover and an elastic closure strap to keep the pages protected, and even a convenient storage pocket in the back cover. The pages are thick, and there are several page styles available depending on how you plan to use it, including plain, ruled, dotted, double, and squared (graph paper). The sky is truly the limit; you can use this blank journal to write, doodle, make gratitude lists, and more. Choose from 11 different colors for the cover, including neutrals and vivid colors.
One Reviewer Wrote: "I love my Moleskin journal! I always buy this brand because it holds up well to wear and tear. The pages stay put and don't fall out like some other journals. I particularly love this one because it's unlined (hard to find!) and I enjoy sketching and writing when I journal. The little pocket at the back is always a nice place to keep one or two papers, receipts, or extra cash if you're traveling."
Type: Blank | Pages: 240 | Type: Hardcover
5. A Journal That Combines Coloring & Prompts
Combining guided prompts with coloring elements, Out of Your Mind is a journal that'll help you express your inner creativity. It also helps you challenge anxious or negative thoughts with questions and distract you from them with soothing activities. Some pages can be completed in just a few minutes, while others are a bit more in-depth, so you'll always be able to find a prompt for the time that you have available. A good set of markers or gel pens will make the experience even better.
One Reviewer Wrote: "A fun, creative distraction from anxiety [...] A perfect journal for anyone looking to get creative and distract their worried mind. The prompts are insightful without being overwhelming, and the illustrations are inspiring."
Type: Guided | Pages: 160 | Type: Paperback
6. A Journal That Helps You Create Calming Lists For Every Week Of The Year
List-making can be an incredibly calming and peaceful practice. If you want to give it a try, 52 Lists for Calm has a prompt for each week of the year to help you create a list in one of four themes: Be present, look back, move forward, and release. This gorgeous hardcover journal has full-color photos and illustrations, metallic foil accents, and a luxurious ribbon placeholder. It even features a personalized tool kit in the back with specific strategies to help with anxiety relief.
One Reviewer Wrote: "This book is amazing, I've had it for about two weeks and I've been trying to write in it everyday. It helps me focus and get things back on track. I struggle with anxiety a lot and this book has been [incredibly] helpful. Not only does it force you to let the negative go but it also puts your mind on the positive. I would recommend this to anybody!!"
Type: Guided | Pages: 160 | Type: Hardcover
7. A Journal Filled With A Variety Of Prompts & Exercises To Try
Not sure exactly which guided journal activities will help your anxiety the most? The Mental Health Journal is filled with a wide range of exercises to help you figure it out. There are writing prompts, a list of coping strategies, mood and anxiety-level charts, a gratitude component, trigger trackers, and more. Amazon reviewers thoroughly enjoy this pick — it has a 4.4-star rating overall on the site after 800-plus reviews, so you can rest assured it's worth a try.
One Reviewer Wrote: "I absolutely love this workbook with its daily check in pages on how I am doing and feeling. I love that everyday I can record my progress. It has pages for notes after a therapy session, how well you slept, how would you rate moods and anxiety. It is a wonderful workbook that I look forward to doing daily."
Type: Guided | Pages: 175 | Type: Paperback
8. A Fan-Favorite Journal That's Incredibly Cathartic
Let That Sh*t Go is packed with hilarious (and profanity-filled) prompts and activities to get frustrations, grudges, and other negativities off your chest and onto paper. It's wildly popular on Amazon — with a knockout 4.7-star rating overall after 29,000-plus reviews — and while the journal doesn't address anxiety specifically, one fan noted that it "has helped me manage my anxiety a lot" and another commented that it's "very cathartic."
One Reviewer Wrote: "I was going through a VERY VERY rough patch, so rough my executive functioning was trash and I couldn't journal effectively. The prompts and different techniques in this book were super helpful. The colors, patterns and sassy potty mouthed sayings were all cheerful but relatable even to my extremely depressed and anxious mind. It helped me get stuff out and reflect. It also felt casual and I could jump around the book so pages that overwhelmed me or gave me anxiety could be skipped. Small and lightweight this book was in my purse for weeks so I could pop it out and use it to cope wherever, whenever. [...] THANK YOU TO THE AUTHOR, you helped more than you could ever imagine."
Type: Guided | Pages: 128 | Type: Paperback or spiral-bound
Experts:
Dr. Alison Smith, PhD, neuroscientist and co-founder of Roga
Brittany Ellmer, LMHC, MACP, therapist and clinical manager at Two Chairs
Em Skehill, director of public awareness and education at Mental Health America