Chrissy Teigen Shares What She Wishes She Did Before Trying To Get Pregnant
"You have such googly eyes going into your 20s — you don't expect that you're going to be one of those people who experiences anything negative."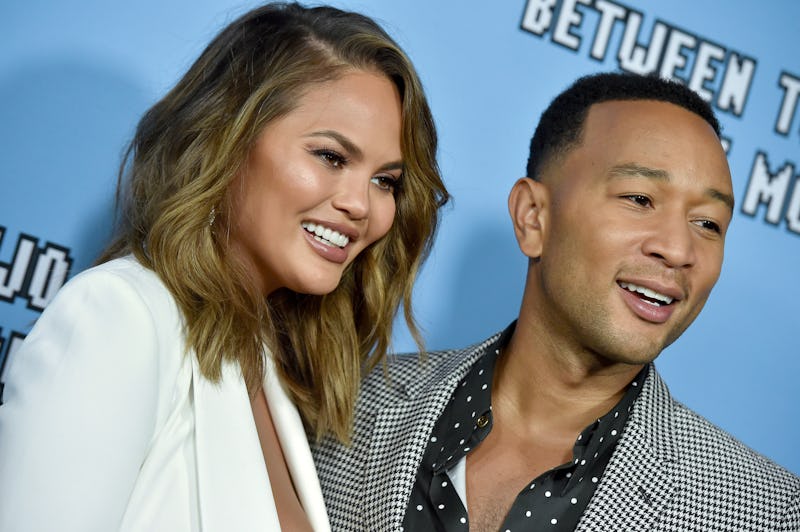 Axelle/Bauer-Griffin/FilmMagic/Getty Images
When she was younger, Chrissy Teigen assumed that by the time she turned 26, she would magically be pregnant with her first child. The model, now 35, tells Bustle that by that point, she and now-husband John Legend were the only couple they knew who hadn't had what Teigen calls "a scare."
"In my mind, it was women in their 40s that had trouble [getting pregnant]," says Teigen. At the time, her friends were diving into parenthood pretty much on accident; she and Legend realized it might not be as easy to get pregnant as they thought. When she was 28, her doctors asked her to consider in vitro fertilization (IVF), a process that involves fertilizing an egg outside of the uterus, then implanting the embryo for pregnancy.
Now the parent of two kids — Luna, 5, and Miles, almost 3 — born through IVF, Teigen says "having children is so beautiful and so magnificent." But the journey to being a parent was marked by wondering if she would ever make a family. What helped her finally move forward was sharing her own struggles with fertility publicly and hearing from those who had been through similar journeys. Now, Teigen is partnering with RESOLVE: The National Infertility Association and Ferring Pharmaceuticals to launch Fertility Out Loud, a campaign for the one in eight couples struggling with fertility, offering a community of peers and educational resources to help them navigate their family building journeys.
"You have such googly eyes going into your 20s — you don't expect that you're going to be one of those people who experiences anything negative," Teigen says. When she first started talking about IVF with her doctor, she spent a lot of time on Reddit looking for answers to questions like "What does progesterone do?" and "How do you get your eggs healthy, plump, and ripe for the harvesting?" she recounts smilingly. "I didn't want to bring [those questions] to our doctor because I felt like I should have known."
"You don't see men defending themselves against guess after guess about what they've done wrong."
Looking back, she says if she had "any money" in her early 20s, she would have frozen her eggs, a process that typically costs between $15,000-$20,000 per cycle. "I would have preferred to have had 21-year-old eggs over 28-year-old eggs, but that's the way it worked out for us," Teigen says. "But of course, it feels weird to tell a 20-year old, 'You have to freeze your eggs!' when [getting pregnant] can happen for so many people."
Having gone through the IVF process multiple times now, Teigen says you can't talk about fertility assistance without talking about financial privilege. The average cycle costs just over $23,000, and most couples average three cycles before successfully conceiving. Add in more money if you opt for chromosomal screening or genetic testing, which help the odds of success, plus medication, and you can spend $30,000 every time you try to have a kid.
Teigen's main wish for this partnership is to help those dealing with infertility feel less alone. For her, learning to be kind to herself was a central part of coping with fertility challenges. "Women beat themselves up over so many different aspects of life that you have to be able to just let up every once in a while … it's just too much for any one person to be able to handle," says Teigen, of the self-doubt she experienced while trying to conceive. "You don't see men defending themselves against guess after guess about what they've done wrong."
Another thing that could help those struggling is if society stopped telling women to pay attention to their so-called biological clocks. That, Teigen says, would have helped her younger self let go of the idea that she had to be pregnant by 26 to begin with. "Women in general are at the point in society where we are waiting longer and longer to have children because we want more for ourselves. And I think that is a beautiful, incredible thing," she says. "I don't think we should say, 'No, nature wants us to have children by this age.' We have to open our minds to different ways of having children, different ways of conceiving, and making sure that we're taking care of ourselves first."