What Sex Is Like With Pierced Nipples
Ten women get real about how it affects them in bed.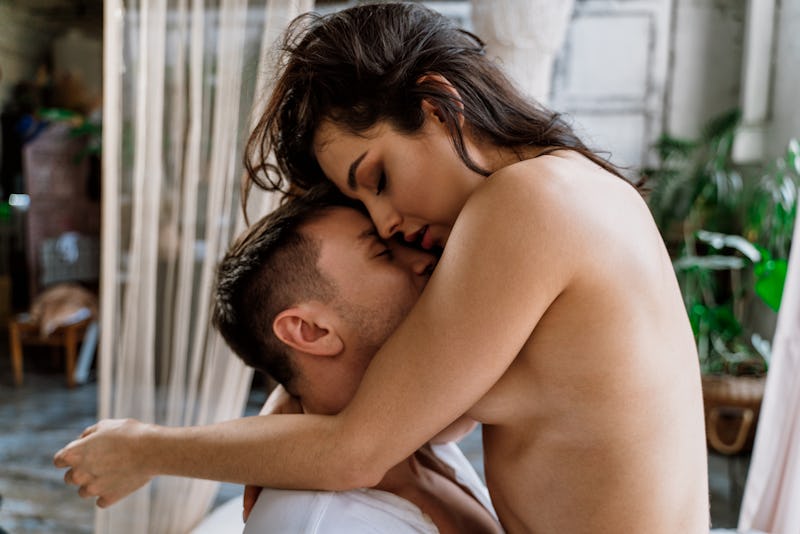 Fabio Formaggio / EyeEm/EyeEm/Getty Images
You already know that nipple stimulation feels good, but do nipple piercings make orgasms better? Research from a 2006 study called, "Nipple/Breast stimulation and sexual arousal in young men and women" found that stimulating your nipples can increase sexual arousal, pleasure, and even lead to orgasm. In fact, for 81.5% of women in the study, stimulation of their nipples/breasts caused or increased their sexual arousal.
Researchers asked female participants switch stimulating different parts of their body — their vagina, cervix, clitoris, and nipples — in the same way while they were inside of an fMRI machine. The researchers discovered that stimulation of the nipple activated an area of the brain known as the genital sensory cortex. This is the same brain region activated by stimulation of the clitoris, vagina, and cervix. Essentially, this means that women's brains seem to process nipple and genital stimulation in the same way.
While nipple piercings can increase sensitivity for some, that's not the case for everyone. Un-pierced nipples only have accessible nerve endings on the outside of the nipple, but a pierced nipple has nerve endings on the inside of the piercing that are stimulated by the jewelry.
So it would seem that nipple piercings have the potential to directly affect your sexual pleasure. We wanted to know how applicable the science is to real life, so we asked real women with nipple piercings about how it affects their sex life. Beyond evoking a physical reaction, it seems like — for the most part — nipple piercings provided the respondents with a sense of confidence and sexual prowess that altogether enhances their sexual experience. Read on for what they had to say.
1. Nipple Piercings Make Orgasms Better
For Amanda, 25, her partner playing with her pierced nipples during sex has led to better orgasms. "Well, I like rough sex. If I'm about to come, either me or my boyfriend will pull on them or twist them, and it makes me come harder," she says.
2. Guys Love Playing With Pierced Nipples
Maria, 25, says her piercings make sex even hotter. "Guys think my piercings are really hot. They love to roll them around on their tongue and play with them," she says. "It's a huge turn on during sex."
3. It Makes Some Feel Sexy
Laura, 22, says it's not her piercings that enhance her orgasms or sex directly — it's more about the confidence boost they give. "My piercings don't enhance my pleasure per se, but they make me feel sexy and powerful, which makes the sex much better," she says.
4. Nipple Piercings Increase Sensitivity
Kaila, 20, had very sensitive nipples long before she got her piercing — but she's still noticed a difference post-piercing during sex. "Now, if i play with them during sex, it makes me feel more wet and aroused," she says.
5. It's A Tingling Sensation
Taylor, 27, says her nipple piercings have the biggest benefit when her partner is on top of her during sex. "My piercings have made my nipples more sensitive, so when I'm having sex and anything touches them, I get more aroused and I feel a tingling sensation. It feels the best when the guy is on top," she says.
6. Pierced Nipples Are Good For BDSM
Julia, 23, loves having rough sex — which is where her piercings come in handy. She asks her boyfriend to pull on her nipple piercings during both foreplay and sex. "They're fun to play with when we get really into BDSM play. My piercings have given me more room for experimenting," she says.
7. Nipple Piercings Make Sex More Intense
Ava, 25, loves the reaction she gets from her partners when they see her piercings. "Men love my nipple piercings. It's not something they see often, so it really turns them on, which makes the sex hotter and more intense," she says.
8. Pierced Nipples Can Add Confidence
For 20-year-old Savannah, it's the confidence boost from her piercing that makes the sex better. "My nipple piercings make me feel more confident and sexy. So I guess it makes me feel more in charge during sex," she says.
9. They Can Be Uncomfortable During Sex For Some
For Mina, 28, nipple piercings haven't led to better orgasms or confidence boosts during sex like they have for some of the other women. "My piercings haven't made sex better. They actually feel uncomfortable during sex because they're constantly being pushed on," she says.
10. Nipple Piercings Are Like Having Another Clit
Macy, 22, gives her nipple piercings rave reviews for how much pleasure they add to her sex life. "My nipple piercings have increased my nipple sensitivity a lot," she says. "When a guy plays with them (the piercings) during sex, they make my nipples feel all tingly, which radiates throughout my body. Its almost like having another clit."
Names have been changed.
If you'd like to take a trip down memory lane, watch the sex myths you believed as a child below (and subscribe to Bustle's YouTube page for more videos):
Study:
Levin R, Meston C. Nipple/Breast stimulation and sexual arousal in young men and women. J Sex Med. 2006 May;3(3):450-4. doi: 10.1111/j.1743-6109.2006.00230.x. PMID: 16681470.
This article was originally published on