Coroner In Ella Adoo-Kissi-Debrah Case Calls On Govt. To Reduce Air Pollution
The government have 56 days to respond to the coroner's report.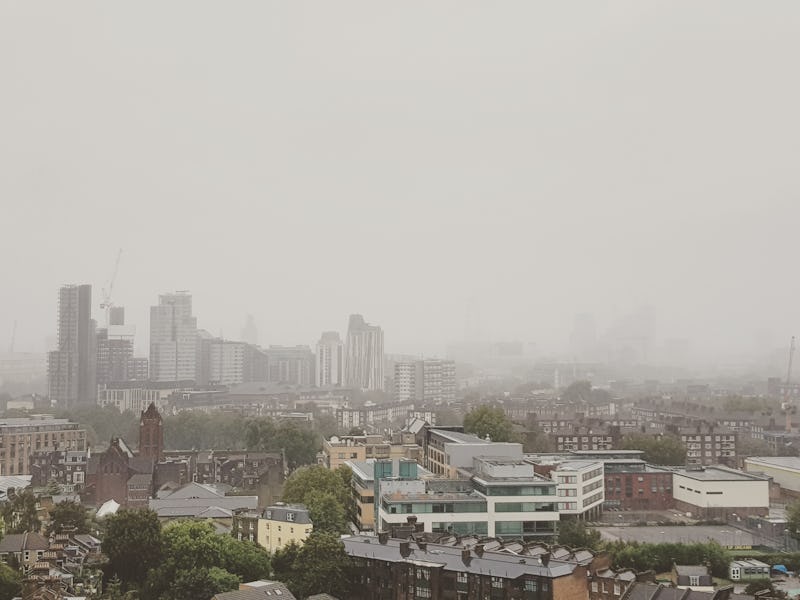 Luca Calogero Mazzarella / EyeEm/EyeEm/Getty Images
In 2013, Ella Adoo-Kissi-Debrah was just 9 years old when she suddenly passed away having suffered an acute asthma attack. More than seven years on, a landmark inquest was launched to understand if "illegal levels" of air pollution was the cause of her death. On Dec. 16, 2020, a South London coroner made legal history when he confirmed air pollution was a factor in the schoolgirl's passing and, in April 2021, he called on the government for a chance to air pollution laws. Ella's case, which highlights the dangers of toxic air, is considered the first of its kind in the world.
What Did The Coroner Say?
On Nov. 30, 2020, an inquest examined evidence that linked Ella's severe asthma to "one of the worst air pollution surges" in her area of Lewisham, South London, and the heavy traffic in London's South Circular near her home. Per the Guardian, the coroner was asked to rule "that toxic levels of nitrogen dioxide" eventually killed the London pupil. This had never been done before.
On Weds, Dec. 15, 2020, Inner South London coroner Philip Barlow confirmed that Ella's acute asthma was contributed to "by exposure to excessive air pollution." Per the Guardian, he ruled that levels of nitrogen dioxide (NO2) near Ella's home exceeded World Health Organization and European Union guidelines. As a result, Ella died of "acute respiratory failure, severe asthma and air pollution exposure."
"The whole of Ella's life was lived in close proximity to highly polluting roads," Barlow stated. "I have no difficulty in concluding that her personal exposure to nitrogen dioxide and PM was very high.
"There was a recognised failure to reduce the levels of nitrogen dioxide, which possibly contributed to her death."
A few months later, on April 21, 2021, Barlow published a report offering solutions to prevent future deaths from air pollution. In it, he said that the government should reduce existing legally binding targets for particulate matter pollution to bring them in line with World Health Organisation (WHO) guidelines.
The WHO guidelines suggest keeping an average concentration of PM2.5 (particulate matter) under 10 micrograms per cubic metre of air (µg/m3), to prevent increased deaths. The UK limit, based on European Union (EU) recommendations, is a yearly average of 25 µg/m3.
In his report, Barlow also called for more information about air pollution and its impact to be made available to the public.
What Has Ella's Family Said?
The results of the inquest in 2020 came as the result of years of tireless work from Ella's mother, Rosamund Adoo-Kissi-Debrah, who had petitioned for it to go ahead. Following the coroner's ruling in 2020, she said was happy to finally have "justice" close to eight years after her daughter's death. (An initial inquest into Ella's death took place in 2014, but the verdict was abandoned five years later).
"We've got the justice for her which she so deserved," she said, via BBC News. "But also it's about other children still, as we walk around our city with high levels of air pollution."
Following the coroner's report in April 2021, Ella's mother called on the government to act on the coroner's recommendations, warning "children are dying unnecessarily because the government is not doing enough to combat air pollution."
She added: "As the parent of a child suffering from severe asthma, I should have been given this information but this did not happen Because of a lack of information I did not take the steps to reduce Ella's exposure to air pollution that might have saved her life. I will always live with this regret. But it is not too late for other children."
Previously, Rosamund had spoken of the "long, hard fight" she had fought to be heard. Ella had been admitted to hospital close to 30 times in the three years before she died. At the age of six, she was placed in a medically-induced coma for three days to stabilise her condition. By 2012, Ella's asthma was so severe she deemed disabled.
"I think people need to understand when Ella was rushed into hospital, a lot of the time she was barely breathing," said Rosamund, via BBC News. "It was an emergency, cardiac arrest."
How Has The Government Responded?
In December 2020, Mayor Of London Sadiq Khan responded to the "landmark" ruling, also acknowledging the relentless work of Ella's mother, Rosamund.
"Today must be a turning point so that other families do not have to suffer the same heartbreak as Ella's family," he said in a statement. "Toxic air pollution is a public health crisis, especially for our children, and the inquest underlined yet again the importance of pushing ahead with bold policies such as expanding the ultra low emission zone to inner London.
"Ministers and the previous mayor have acted too slowly in the past, but they must now learn the lessons from the coroner's ruling and do much more to tackle the deadly scourge of air pollution in London and across the country."
At the same time, a spokesperson for No. 10 has revealed the UK's plans to tackle NO2 pollution in the country.
"Thoughts remain with Ella's family and friends," said the spokesperson.
"We are delivering a £3.8bn plan to clean up transport and tackle NO2 pollution, and going further in protecting communities from air pollution, particularly PM2.5 pollution, which we know is particularly harmful to people's health," they added. "Through our landmark environment bill, we are also setting ambitious new air-quality targets, with a primary focus on reducing public health impacts."
At the time of writing (April 21, 2021), there has been no official statement from the government in reaction to the coroner's report. They have 56 to respond. "Your response must contain details of action taken or proposed to be taken, setting out the timetable for action," the report states. "Otherwise you must explain why no action is proposed."
This article was originally published on