The World's Most Coveted Sex Advice, At Your Fingertips
As a doula and health educator, Erica Chidi was sought out by tech CEOs and celebrities. Now she can be your most knowledgeable BFF, too.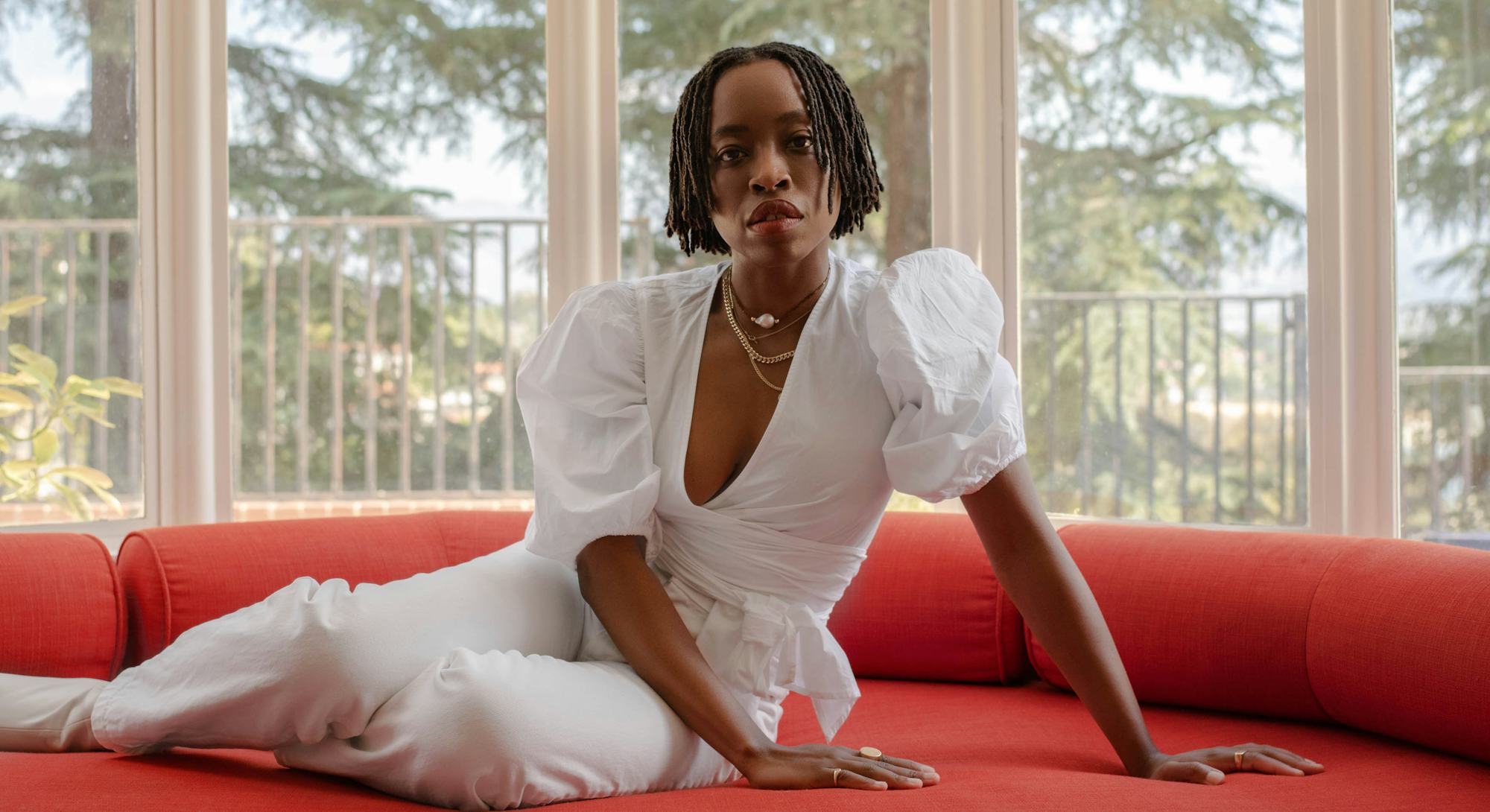 If you were to believe most female-centric pop culture, you'd think a woman's sexual life was a series of finite eras evenly spaced out on a timeline. First she gets boobs and her period. Then she grows up and spends her time avoiding pregnancy, and maybe even figuring out her desires and kinks and surefire paths to orgasm. Suddenly she gets married and enters the relentlessly cheerful world of pregnancy, where she's assigned not only a new body, but a new desexualized identity, too. And then, she's pushed into the even less sexualized, less talked-about space of menopause, where her body changes yet again.
Doula, author, and entrepreneur Erica Chidi's $3 million insight was that, for most of us, life doesn't actually play out like that.
"One person can have a baby," Chidi recently explained over video chat from her home in Los Angeles. The same person "can have a period, go through menopause, have sex, have an IUD, have fertility challenges, have an abortion, have a miscarriage." That pregnant woman "who enjoyed anal and nipple stimulation like five months ago is still that woman." Pregnancy doesn't have to be sequestered in a patronizing, "pink dust ruffle" world, she says. The goal of Loom, the Los Angeles sex, pregnancy, and parenting education space and community center Chidi founded, was to see that woman and connect with her on a larger, not necessarily linear journey.
The pitch for a new, fully digital version of Loom — what Chidi describes as "MasterClass, but for sexual and reproductive health," covering not just pregnancy but all stages of the continuum — was what got Chidi $3 million in venture capital in just three months. That would be a quick fundraising round for someone who came up in the insular Silicon Valley boys club; Chidi, meanwhile, is a Black, queer woman who didn't go to Stanford, who doesn't have an MBA and doesn't do code. The round closed in January 2020, when we did not yet know that a huge portion of our lives was about to be conducted remotely and, this month, Loom's digital rendition will become available for the first time.
Chidi says the brick-and-mortar Loom location — where one Baby Care Basics class cost $175 — attracted "all walks of life," from designers and influencers to firefighters and military folks who'd driven in from San Diego. You could see a 50-year-old menopausal woman sitting next to a 25-year-old lesbian couple. Just the fact that Chidi was a Black founder, who was influenced by reproductive justice activists like Loretta Ross and the '70s feminist handbook Our Bodies, Ourselves, gave the place "a sense of inclusivity from the beginning," she says. The pivot to online learning will begin with a $90 comprehensive pregnancy and postpartum program whose 22 videos, 31 audio conversations, and 39 written guides cover things like "signs and stages of labor" and "sex and pleasure strategies." That lower price point will bring a whole new level of accessibility, Chidi says. (At Loom's physical location, an equivalent course would have cost $550.)
But let's face it: the wellness world in general isn't exactly inclusive. Loom's sunbathed modernist headquarters, which was designed by the trendy design firm Wall for Apricots and inspired by Finnish sanatoriums, had the same cultural and class signifiers as a high-end yoga studio or fertility startup, from the cedar-rose floor chairs to the desert-inspired flora. Chidi herself telegraphs aspirational wellness-chic; during our Zoom call, she lit sticks of palo santo as she sat in front of a to-die-for hearth, languidly rolling up the sleeves of her gorgeous cream-colored button-down shirt. Still, there's nothing inherently aspirational about Loom's philosophy, which is that sex ed should be an integral and affordable part of health care. The promise is that, with more information, reproductive wellness can be something you do, not something that is done to you. Going online-only offers Loom a chance to have a far broader reach.
"There's this paternalistic framework of, 'The doctor will take care of that, I don't need to know,'" Chidi says. "That creates this irreversible funnel for trauma. The premise behind Loom is that health education should not be optional."
Health education was baked into Chidi's life from the beginning. Her Nigerian parents were very religious, so they didn't talk about sex. But because they are both clinicians (her dad is an infectious disease specialist, her mom a registered nurse), they did talk a lot about the body. Chidi was born in Illinois in the late '80s when her father was finishing his residency at the state university in Champaign. As a little girl, she tagged along on his hospital rounds every Saturday. Now 34, she credits that exposure for her "deep comfort" with the medical space, and she also credits her mom, who passed on Nigerian culture's frank, body-positive approach to sexual hygiene.
She remembers her early childhood as having "a lot of love," but also a lot of dysfunction — like addiction and domestic violence, things that Chidi would rather not discuss in detail. Her father moved to South Africa to do HIV/AIDS research when she was around 9 years old, and a year later, her parents separated. Chidi and her brother went to live with their father. Chidi often tells her students the story of getting her first period on that long transcontinental flight. She remembers finding two massive pads in the airplane bathroom, then "locking and loading for 20 hours of flying." Her dad was cool about it when they landed; he even bought her some tampons.
For years, Chidi had been the one in her social circle who fielded questions about things like yeast infections and condom recommendations and lube and weird periods. Still, it didn't immediately occur to her that she could spin that natural inclination into a career. She went to culinary school, but was turned off by the restaurant industry's nocturnal hours and "intense personalities and drugs." She got an art history degree in Cape Town and thought she might become a curator, but then moved to New York to work in fashion instead. But that industry didn't feel right to her, either. The women in it seemed "exhausted, and also didn't really care about the same things that I cared about, which was just like, How are you feeling in your body? How are you doing emotionally? How is that impacting everything else that's going on in your life?"
She decided she'd take some nursing prerequisites and look into midwifery, and during that process, she learned about doulas. She'd never heard of them before, but she loved the idea of taking someone through the "emotional and psychological experience of pregnancy." Doulas are there to be "educators" but also to be "communicators or translators." This, she thought, is something she'd be good at. "One of my greatest gifts," she says, "is my ability to operate and to speak and unpack things."
In the two hours we speak on Zoom, Chidi talks with this same kind of impressive confidence that just barely kisses the border of arrogance — an authoritativeness that, I imagine, would be enormously comforting during the uncertainty of pregnancy. Once Chidi completed her doula training, she quickly started building up a clientele in San Francisco. She amassed some "upper-end 1%" clients while also volunteering an hour north at the jail in Sonoma County with the Birth Justice Project, a nonprofit of which she was a founding member. As she shuttled between these vastly different worlds, she noticed that these women often had the same questions: What's going to happen to my body? What if the baby doesn't want to breastfeed? How can I best care for this small human growing inside me?
"I just felt the same quality of anxiety," Chidi says. It occurred to her that pregnancy — and how unprepared we all are for it — was an experience that could transcend all sorts of barriers. "This is happening to everyone," she says. "And we need to approach it in that way."
Eventually, she moved to Los Angeles with the man that would later become her husband. He's now what she calls her "was-band"; they went through a "conscious uncoupling" towards the end of 2019, and Chidi now identifies as a lesbian. "I almost wish everyone would go through divorce," she says. "I'm really grateful for it, it's like a rebirth."
In LA, she started teaching childhood education classes out of her house, a Venice bungalow with a magical communal garden. One of her students, Quinn Lundberg, ended up being her Loom co-founder. In those early days, Chidi wasn't thinking about raising venture capital or scaling; she was just trying to change the culture around sex, pleasure, and health, one workshop at a time. "It's rare for someone to be as invested in both big-picture cultural shifts and tiny, process details as Erica is," says Kiki Koroshetz, the wellness director at goop, where Chidi alternates hosting the company podcast with Gwyneth Paltrow.
But when a mentor encouraged Chidi to explore funding, she found that the same skills she'd been honing as a doula — connecting, communicating, intuiting need — translated into being able to raise money. "I would pick up all the lingo really fast," she says. "I got what everyone was looking for. I understood how to think about the past, the present, the future in a very kind of catalytic, but clear way."
And then, a few months later, the world shut down. Loom closed its physical space in March and went dark on social media. Even Chidi herself, who at that point was an avid Instagram user and seemed on her way to becoming a full-blown influencer, drastically whittled down what she shared online. It was a chance to "metabolize and heal ourselves and prepare to come back to the world with a sense of intention versus having to be really reactive to everything that was happening in the world." She did pop up once in a while, mostly in the context of racial justice: a few moments of dancing at the height of the Black Lives Matter protests, a collection of books next to a Post-it that read "Breonna Taylor." Each time, she tried to ask herself: How can this post be of service to people, and bring them to things that exist offline?
It was in this spirit that she, along with physician and Stanford assistant professor Dr. Erica Cahill, M.D., published their Guide for Black Mothers in the New York Times, a project spurred by the data showing that Black women in America have more than a three times higher risk of death related to pregnancy and childbirth than their white counterparts. The purpose of this document lay in the everyday interactions we all have: giving Black women the vocabulary to combat systemic racism when they go to the doctor, and giving clinicians an opportunity to confront their own biases. "That piece was a communication tool to help solve for racial anxiety on both sides," Chidi says.
This well-timed guide is another example of Chidi's shrewd sense of the zeitgeist. "She sees not only the invisible links between concepts but also the history and future implications," Cahill says of Chidi. "One of Erica's superpowers is the ability to take complex processes and communicate their essentials — layered on with context, feelings, and choices." She and Cahill received two grants from Stanford to run a survey on the most effective anti-racist birth practices — which, in turn, Chidi plans to fold into Loom's curriculum. Chidi has lots more planned, including written guides, on-demand videos, and audio conversations on all kinds of topics, with all kinds of experts, from author and economist Emily Oster to reproductive psychiatrist Alexandra Sacks. There will also eventually be an encyclopedia, "where people can hopefully go instead of WebMD or Google." That content will be free: "It's super important that there are free opportunities for people to be able to be supported by our ideology."
For now, though, Loom is relaunching with just one postpartum and pregnancy program. The teaser is a two-minute video featuring a montage of pregnant bellies. At one point, Chidi herself appears and says: "There shouldn't be any hidden secrets about this process." She later describes Loom as a "well-being platform that empowers women through sexual and reproductive health education."
And Loom really is focused on cis women, Chidi says, even at a time when the cultural conversation is focused on gender inclusivity. Though she's "a deep trans ally," she says, "to fan out and try to serve everyone explicitly will really dilute the potency of what we can develop for cis women."
Ultimately, Loom's goal seems to be not only to educate, but to combat the influence of patriarchy and racism on women's health conversations by teaching women how to communicate and advocate for themselves. Loom is using "a more elastic, embodied, inclusive voice," Chidi says. "Everything, particularly sexual reproductive health, is due for an overhaul, for a re-interpretation, for a softening, for a re-examination."
Photographer: Amy Harrity
Hair: Erinn Courtney
Fashion: Ganni top; Loq boots; Chidi's own vintage Levi's