I Tried CBD-Infused Bath Salts Made To Get You "In The Mood" — And They're 50% Off Right Now
Foria's "Intimacy" is packed with CBD and aphrodisiacs.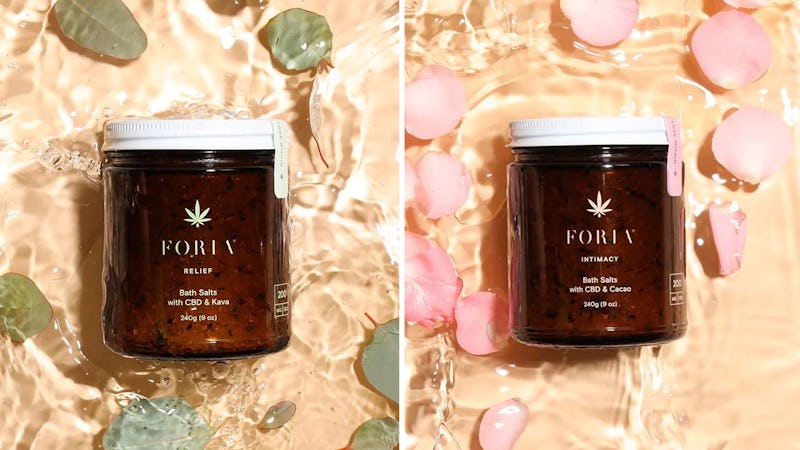 We may receive a portion of sales if you purchase a product through a link in this article.
I've tossed countless handfuls of Epsom salt into the warm, welcoming waters of bathtime. It tends to come out of bulk-size bags that aren't the slightest bit sensual in nature. When Foria's little-glass-jarred Intimacy bath salts with CBD and cacao landed in my bathroom, I recognized someone new had entered the chat.
CBD, or cannibidiol, is in everything from pain relief balms to ranch dressing these days (don't quote me on that). Slipping it into the bathwater — especially in support of sexytimes — is a new frontier. And hey, who am I if not a Wild West explorer?
There's evidence that oral CBD intake can encourage relaxation and that topical use permeates the skin, depending on formulation. The studies are a little more limited as far as CBD and sex drive... but regardless, at least the placebo effect is real. Each jar of Foria's various bath salts contains 200mg of CBD and a variety of botanicals, and is designed to enhance the relaxing, healing, or sensual rituals of bathtime.
What's In Intimacy Bath Salts?
Three types of salt — Epsom, Himalayan, and dendritic (very fine-grained)
Organic coconut oil
Botanicals including organic cacao, kava root, dried peppermint leaves, and rose petals
And of course, CBD, which is organic-certified and THC-free
The blend of botanicals is said to deliver an aphrodisiacal awakening of the senses, while the CBD helps foster relaxation to better get you and/or a friend laid back and ready to snuggle.
How Do You Use Intimacy Salts?
Using bath salts is pretty straightforward, but Foria's blend has a few unique things to consider. Firstly, the soak contains bits of plant matter — the organic peppermint leaves and rose petals — which can make the bath look a little messy if you're not used to it.
The jar comes with a small muslin bag so you can opt to steep the soak instead, but I found it challenging to get the product in there and also to clean out the bag when done. So I got on board with the rustic look of pouring the salt and all directly into the bath.
Giving some Lady of the Lake vibes.
Cassandra Seale
Cassandra Seale
Frankly, I didn't realize these salts were formulated with a romantic slant, so I used them for regular bathtime. Apologies for that. However, I can speak to their sensuality-stimulating properties. Upon opening the jar I was met with a unique, earthy and rich cacao scent spiked with awakening herbaceous notes. Pardon sounding like an overeager food blogger, but the fragrance just about set me to drooling. It somehow smells indulgent.
The salt dissolves nicely, leaving the water gently scented. I was concerned the floating petals and organic matter would be annoying, but they did not get stuck in my hair and my drain catcher seemed to snag everything on the way out so it's more a matter of getting used to stuff in the bathtub. I toweled off feeling deeply relaxed (no surprise) and like I'd experienced a special treat.
My main caveat is that these are pricey. Each jar has about 3-4 helpings and I definitely consider them a special occasion bath soak — with a partner or yourself!
Explore The Rest Of Foria's CBD Bath Salts Collection
Relief (Good for period cramps!)
Wellness