Hannah Berner Wants "Hot Girl Stretching" To Be A Thing
The comedian chats with Bustle about all things self-care.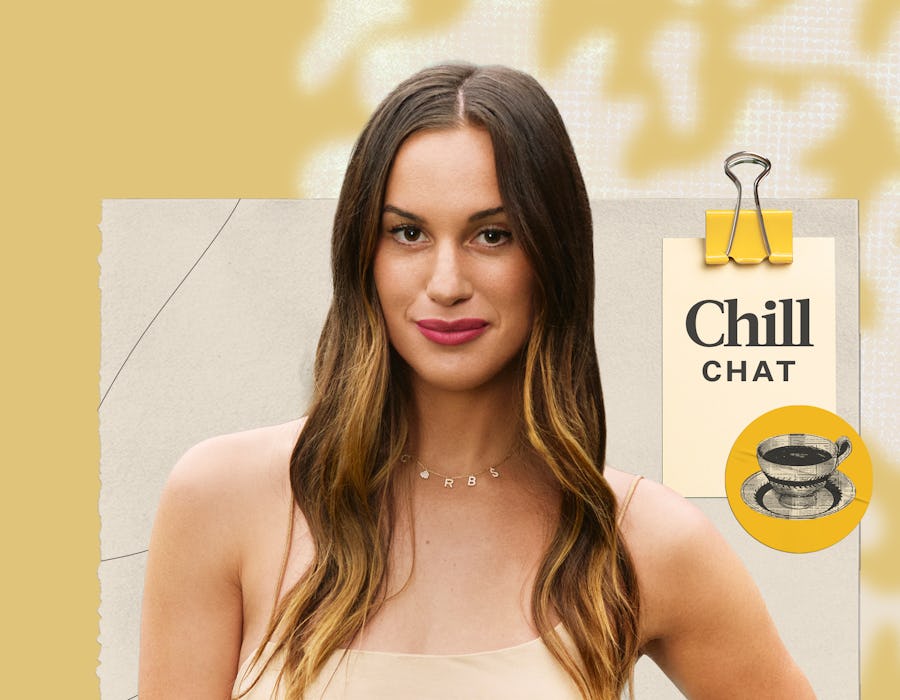 In Chill Chat, Bustle sits down with stars to chat about all things wellness, from their favorite skin care products to their hacks for getting a good night's sleep. Here, comedian Hannah Berner talks about her non-morning-person daily routine, her love of hip-hop yoga, and the best wellness advice she's ever received.
"This is definitely not a clean girl aesthetic interview and I apologize," Hannah Berner, 32, tells me over the phone. Despite her warning, the comedian drops multiple pearls of wellness wisdom as I ask about her self-care routine — wisdom that Berner largely credits to doing "a lot of therapy." Some examples: She says she tricks herself into drinking enough water, gamifies workouts, and loves self-help content on TikTok.
This unabashed honesty is something her nearly 3 million TikTok followers are well familiar with. Whether you watch her "Han on the Street" videos, listen to one of her podcasts (Giggly Squad and Berning in Hell), or watched her on Bravo's Summer House, you'd know that Berner's unfiltered, hilarious realness is why people keep coming back for more.
Now, as she travels the country on tour for her standup show Han on Tour, Berner's learned how to fine-tune her wellness habits to work with a hectic schedule. Here, the comedian shares how she gets a good night's sleep, the power of positive self-talk, and the workout that burns out her glutes.
How do you stay healthy when you're constantly traveling?
I work all night, kind of like a bartender, so I've had to adapt. Would I love to have a Pilates class that's scheduled at the same time every week? Yeah, but I can't do that with my schedule, so I have to get creative.
What's your sleep schedule like?
It's not good. I would like to get up around 9, but there are days I'll get up at noon like a teenager — it's whatever I need. When I get home after standup, typically around 11 or midnight, I'm really buzzed up from performing, so I don't just pass out. I do think sleep is super important though, because by around 7 p.m., I have to have my best energy and mindset, so I do anything I need to during the day that will get me there.
What does your morning routine generally look like?
I definitely am a person who has morning anxiety. I'm immediately like, "Oh, my God, I have so many things I have to get done today," but I try to just get out of bed. I feed my cat. I am immediately on my phone, because I'm not perfect.
One thing that's healthy for me is to go on a walk in the beginning of the day just to give myself perspective, get vitamin D, and see the world moving at a time when no one cares about anything, everyone is in their own head.
What are you eating and drinking in the morning?
I normally will Uber Eats some eggs or a quiche. I'll often get a feta wrap from Starbucks. I don't need coffee, but if I have a particularly busy day, I'll have some.
I've also started drinking this thing I saw on TikTok called SporTea, which is basically this lemon tea that you put in one of your big water bottles that the girls like to call their emotional support water bottles. I hate water, I think it's boring, so I have to trick myself with these electrolytes or flavored drops in order to drink it. I'm a literal child.
Relatable, though. What is your favorite workout right now?
I was obsessed for a long time with Y7 Yoga, which is hot hip-hop yoga, because it's like yoga for girls with ADHD where you have to listen because you do some moves on your own. They're always playing the best hip-hop music, and I'm from Brooklyn, New York, so I just love hip-hop and rap.
Lately, I'm starting to get on the Pilates grind, but I just haven't been able to get enough dates available in a row to make it a thing. My mom's been doing Pilates, and she looks incredible.
I was a former tennis player, so I need to play and hit things to be sane. During the summer, I try to play tennis, and that's the easiest workout for me because you're playing a game so you forget that you're working out. If tennis is too intimidating, play pickleball. I'll also play volleyball in the summer. I'm more of a "trick me with a game" kind of girl — I could not do a treadmill for 10 minutes without getting bored.
That said, I was doing the 12-3-30 workout for a while. I'll do that on days where I'm like, "I can't work out but I need to," and it makes you feel like you did something. I always feel it in my butt. I'll just watch a comedy special and walk.
How do you deal with feeling really stressed or overwhelmed?
I can get really in my head about things, so it's really healthy for me to call my mom, one of my best friends, or my husband and say out loud whatever my anxiety thought is to have them be like, "That's not true."
I pretty much have to just change the situation I'm in. When you're depressed, it's really difficult to do that, but what I've learned is that your self-talk can change your perspective on anything. So now I talk to myself in a really kind way and decide how intense the situation is. Is it a life or death situation, or is it something that I've created in my head?
How do you like to relax at the end of a long day?
I like to watch very disturbing documentaries or tennis with my cat. I'm not someone who gets energy from partying or being out with groups of people. I'm definitely an outgoing person, but I really, really love my alone time.
Is there a wellness treatment or a wellness practice that you have always wanted to get into?
There's this place called Stretch*d in New York City where you can go and get your body stretched out, which I heard can be better than a massage. I need to stretch more — I think hot girl stretching needs to be a thing.
What do you need in order to get a good night of sleep?
I like to play the New York Times crossword puzzle because I'm really bad at it. I inevitably get exhausted from trying to figure it out.
I definitely have to have my Invisalign in and my cat needs to sleep with me. She really helps me go to sleep because her purring puts me to sleep — it's like ASMR. My husband will also sometimes play a really boring podcast, like about the news or rocks, and that'll put me to sleep.
What's the best wellness advice you've ever received?
I heard this from Chris Distefano, a comedian, and he may have taken it from someone else: If it's not going to matter in five years, don't stress about it for more than five minutes. It gives you a really helpful perspective. If I can be easy on myself, I find it's better for my skin, my body, and my overall health.
This interview has been edited and condensed for clarity.