Doctors Explain How Your Body Changes When You're Stressed Out
#4: It messes with your brain.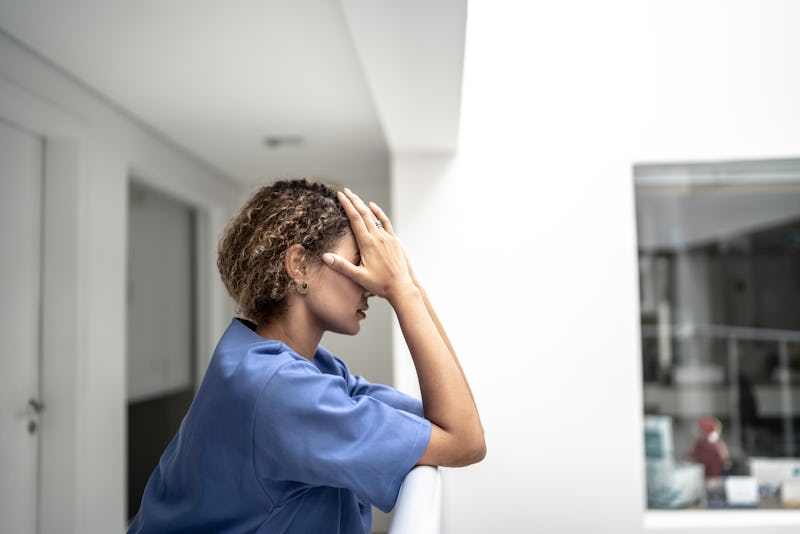 FG Trade/E+/Getty Images
Stress is a heck of a state of mind. Not only can it make you feel frantic, overwhelmed and on the verge of tears, new science shows that it can wreak some serious havoc on the body. Stress can affect your body in many different areas, some of which might not be immediately obvious.
"It is well known that stress and stressors directly affect our health, whether we want to admit it or not," Dr. Sherry Ross M.D., a women's health expert at Providence Saint John's Health Center, tells Bustle. From your heart to your brain and immune system, worry can mess with your body, in both short-term and more permanent ways.
Anxiety may seem like a good motivator to power through your to-do list, but the stakes for reducing feelings of pressure are high. Decades of research have found that anxiety can impact your organs, nervous system, gut, and brain. Carrying stress around can make you more vulnerable to illnesses and infections — or make your immune system overreact and hurt your cells. Recent research has shown how it can hurt your gut, whiten your hair, and even shrink your brain.
Here's what stress can do to your body; be ready to grab a soothing cup of tea.
Busting anxiety is a good way to reduce its effects on your body and physical health. "Creating daily rituals will help reduce unwanted stress," Dr. Ross tells Bustle. Dr. Blank suggests finding hobbies that make you feel fulfilled, and getting daily exercise if you can. You'll probably have your own individual ways of relieving the burdens of everyday life, whether it's doing a few laps in a pool or sitting in the lotus position for an hour. And the results will relieve your body as well as your mind.
Studies cited:
Frank, M. G., Fonken, L. K., Watkins, L. R., & Maier, S. F. (2019). Microglia: Neuroimmune-sensors of stress. Seminars in Cell & Developmental Biology, 94, 176–185. doi: 10.1016/j.semcdb.2019.01.001
Karl, J. P., Hatch, A. M., Arcidiacono, S. M., Pearce, S. C., Pantoja-Feliciano, I. G., Doherty, L. A., & Soares, J. W. (2018). Effects of Psychological, Environmental and Physical Stressors on the Gut Microbiota. Frontiers in microbiology, 9, 2013. doi:10.3389/fmicb.2018.02013
Martire, V. L., Caruso, D., Palagini, L., Zoccoli, G., & Bastianini, S. (2019). Stress & sleep: A relationship lasting a lifetime. Neuroscience & Biobehavioral Reviews. doi: 10.1016/j.neubiorev.2019.08.024
Morey, J. N., Boggero, I. A., Scott, A. B., & Segerstrom, S. C. (2015). Current Directions in Stress and Human Immune Function. Current opinion in psychology, 5, 13–17. doi:10.1016/j.copsyc.2015.03.007
Peña, M. S. B., Mbassa, R. S., Slopen, N. B., Williams, D. R., Buring, J. E., & Albert, M. A. (2019). Cumulative Psychosocial Stress and Ideal Cardiovascular Health in Older Women. Circulation, 139(17), 2012–2021. doi: 10.1161/circulationaha.118.033915
Sarkodie, E. K., Zhou, S., Baidoo, S. A., & Chu, W. (2019). Influences of stress hormones on microbial infections. Microbial Pathogenesis, 131, 270–276. doi: 10.1016/j.micpath.2019.04.013
Yaribeygi, H., Panahi, Y., Sahraei, H., Johnston, T. P., & Sahebkar, A. (2017). The impact of stress on body function: A review. EXCLI journal, 16, 1057–1072. doi:10.17179/excli2017-480
Zhang, B., Ma, S., Rachmin, I., He, M., Baral, P., Choi, S., … Hsu, Y.-C. (2020). Hyperactivation of sympathetic nerves drives depletion of melanocyte stem cells. Nature, 577(7792), 676–681. doi: 10.1038/s41586-020-1935-3
Experts:
Dr. Julia Blank M.D.
Dr. Sherry Ross M.D.
This article was originally published on