What To Know About The J&J Vaccine's Link To Blood Clots
The one-shot vaccine was linked to extremely rare, but serious side effects.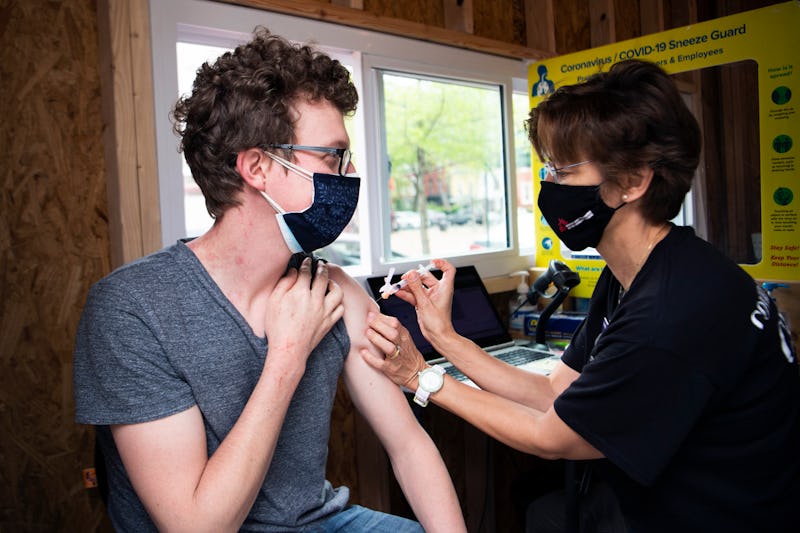 Tom Williams/CQ-Roll Call, Inc./Getty Images
On April 13, after several reports of rare blood clots, the Food & Drug Association (FDA) and Centers for Disease Control & Prevention (CDC) recommended that vaccine centers pause giving out the Johnson & Johnson COVID vaccine, pending an investigation into its side effects, per the Washington Post. Johnson & Johnson says it's working with the regulators to figure out whether the vaccines are behind the clots, and has also paused the vaccine's rollout in Europe.
"We are aware of an extremely rare disorder involving people with blood clots in combination with low platelets in a small number of individuals who have received our COVID-19 vaccine," the company said in a statement. "We have been working closely with medical experts and health authorities, and we strongly support the open communication of this information to healthcare professionals and the public."
If you or loved ones have already had the one-dose Johnson & Johnson shot, or are on the list to get one, this might come as a bit of a shock. But being really cautious about new vaccines is a good thing — and the side effects currently being investigated appear to be hugely rare.
Johnson & Johnson's vaccine has had various issues since its emergency use authorization in February. In April, 15 million doses needed to be tossed after an ingredient mix-up at a vaccine plant in Maryland. Separately, five vaccine sites across the U.S., in Colorado, North Carolina, and Georgia, also paused giving the shot after reports of adverse reactions including nausea and dizziness. None of those side effects were classified as serious or lasting, but the blood clots that led to the decision by the FDA and CDC to recommend a pause are different.
Out of nearly seven million Johnson & Johnson shots that have been administered in the U.S., six cases of blood clotting have been reported, all in women between 18 and 48. The clots occurred between six and 13 days after the vaccine was given, per the CDC and FDA's statement. One of these women has since died, according to Business Insider. The clots are an uncommon variety called central venous sinus thrombosis (CVST), which occur in the brain.
It's important to note that the FDA and CDC haven't outright banned the Johnson & Johnson shot. They said in a joint statement that the pause was being recommended "out of an abundance of caution," and noted that the break is a chance for health care providers to prepare for the rare blood clot. This side effect is still extraordinarily rare: less than one chance in one million. By contrast, the risk of blood clots linked to birth control pills is 1 in 1,000.
All six women developed blood clots in combination with low levels of blood platelets, which help blood clot together when you're injured. That combination means that the normal treatment for blood clots, an anticoagulant called heparin, won't work, the FDA and CDC said. Heparin will just send blood platelet levels even lower. Other treatments need to be used instead.
The clots linked to the J&J shot are the same kind linked to the AstraZeneca COVID vaccine in Europe. Both AstraZeneca and Johnson & Johnson's vaccines are made with modified adenovirus, whereas the shots from Moderna and Pfizer use mRNA from the virus that causes COVID to teach your immune system to fight off illness; no similar adverse effects have been reported for the Moderna or Pfizer vaccines. The BBC reports that people who developed a CVST after an AstraZeneca dose had low blood platelets, too — and were also producing an antibody that activates platelet clotting. Essentially, their bodies were signaling that clots should happen, even though there wasn't a reason for them.
More research is needed to determine whether the Johnson & Johnson shot caused these clots, or what else might lie behind their occurrence. The FDA and CDC are investigating the cases and there will be a health authority meeting on April 14 to determine next steps. Anybody who has had the Johnson & Johnson shot more than three weeks ago is likely in the clear, but for those who've had it recently and developed severe headache, abdominal pain, leg pain, or shortness of breath, Johnson & Johnson and the FDA and CDC recommend seeing a doctor ASAP.