19 Latinx Therapists & Mental Health Experts To Follow On Instagram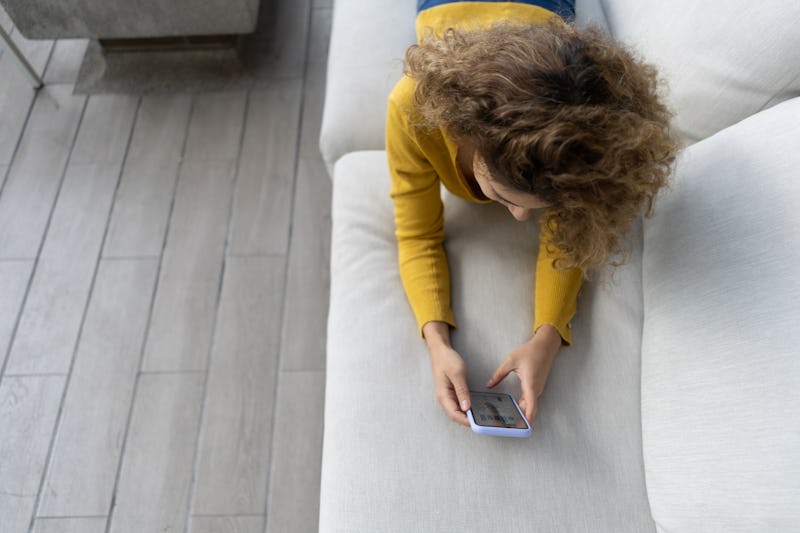 Hispanolistic/E+/Getty Images
You open up Instagram to catch a break from the news cycle, only to be faced with another endless scroll of bad news. Wouldn't it be nice if, instead, your feed was filled with resources for healing? Mental wellbeing has never been more important than it is right now — just look around — and having a diverse and dynamic mental health support system built into your digital world is crucial.
Unfortunately, mental health care isn't equal, and for members of the Latinx community, getting access to such vital care can, at times, feel impossible. According to the Anxiety and Depression Association of America, only 20% of Latinos with symptoms of a psychological disorder will talk to their doctor about it, and just 10% will reach out to a mental health professional. In addition to the mental health stigma that's all too prevalent in the Latinx community, part of the problem may also be attributed to the lack of Latinx representation in mental health care. In 2013, only around 5% of psychologists in the U.S. identified as Hispanic, an increase from decades prior.
Nevertheless, thanks to the help of social media platforms like Instagram, and organizations like Latinx Therapy and Therapy For Latinx, that's changing. Latinx Therapy and Therapy For Latinx are on a mission to close the mental health gap by connecting members of the Latinx community with therapists who can provide them with culturally-competent care, while at the same time breaking down mental health stigma.
"Growing up in a very Latinx household, I know that there are some topics that were completely off the table," says Genesis Games, L.M.H.C, a bilingual psychotherapist based in Miami. She adds that when she was younger, having access to quality mental health information from professionals for free would have been a game changer.
"Information on such a huge platform can increase people's comfort and understanding that mental health is universal," Stephanie Villaseñor, L.M.F.T., a licensed marriage and family therapist, and a member of both Latinx Therapy and Therapy for Latinx's therapist networks, tells Bustle.
"Since launching Latinx Therapy in 2018, I have noticed an increase in demand for services," Adriana Alejandre, L.M.F.T, founder of Latinx Therapy, tells Bustle. "There's more interest from younger generations in the field, and I think a big part of this is due to social media, and the mental health accounts that have [been] increasing awareness of services and myths that exist in the culture," Alejandre says, adding that most of her clients tell her they found her through Instagram.
Games believes that many Latinx clients initiated therapy because of their exposure to it on the social media app. "It's not just the access to information, but also getting to know the therapist beforehand — learning their style and approach before you even get on the phone with them, removes a lot of the anticipatory anxiety."
Supporting Latinx mental health providers on Instagram helps to promote not only their resources, but also their reach, so more people can get the help that they need. In honor of National Latinx Heritage Month, here are 19 Latinx therapists and mental health experts to follow on Instagram.
1. @therapyforlatinx
Brandie Carlos is the founder of Therapy for Latinx, an organization that helps Latinx community members find mental health resources and providers who are also a part of the community. On Instagram, Therapy for Latinx posts valuable infographics about finding mental health support, quotes on fighting stigma, and other resources and affirmations to help you along your mental health journey. Follow them for radically honest captions that make the social media app seem less like a sea of strangers and more like a community of supporters.
2. @latinxtherapy
Latinx Therapy is a podcast and organization that helps to pair clients of the Latinx community with mental health providers. It posts informative content that breaks down heavy and complicated topics like suicidal ideation and managing anxiety during the pandemic. This account also regularly goes on Live to facilitate talks between mental health experts on a variety of topics.
3. @nalgonapositivitypride
Nalgona Positivity Pride is run by Gloria Rinis and is dedicated to eating disorder awareness and body positivity. Follow them for educational and relatable content pertaining to self love and body acceptance, plus resources for virtual support group meetings and easy ways to get help online.
4. @themiamitherapist
Genesis Games, L.M.H.C., regularly posts vital information for first-generation Latinx folks and children of immigrants. She offers resources targeted towards this group on how to navigate common struggles and shared experiences. Many of her posts are compact lessons on emotional health that make complex subjects easier to understand and relate to.
5. @she_is_strong_and_mindful
Lorena Ramos, M.A., L.C.S.W., is a bilingual therapist and emotional development coach. While Ramos specializes in trauma-focused therapy, coaching, and supportive services for women, her feed features a curation of empowering quotes and reminders to prioritize self-care that are applicable for all.
6. @jacquelinemndz
Jacqueline Mendez, A.A.S.E.C.T., is a certified sex therapist, licensed marriage and family therapist, and a professional life coach. Her Instagram feed is filled with thought-provoking quotes about feminism, sexuality, and self-care, as well as a series in which she explores "the sacred dance of intimacy."
7. @villasenorcounseling
Stephanie Ann Villaseñor, L.M.F.T., is a licensed marriage and family therapist who posts about boundaries, individual healing, mindfulness, and overcoming trauma. She also focuses on normalizing mental health initiatives in the Latinx community, and shares many resources and events for people based in Los Angeles County.
8. @corazoncounseling
Corazon Counseling, L.C.S.W. PMH-C, promotes mental health and emotional wellness for pregnant people and parents, blending indigenious wellness practices with psychotherapy to connect with people who prefer an integrative approach to therapy.
9. @drjanetbrito
Dr. Janet Brito, A.A.S.E.C.T., is a certified sex therapist who also trains other therapists on how to talk about sex. From information on how to engage in mindful sex to sexual health resources, Brito's Instagram is a one-stop-shop for all things sex ed. She is also the founder of Hawaii Center for Sexual and Relationship Health, a group practice based in Hawaii.
10. @healing_and_growth
Genesis Espinoza, M.A., L.M.F.T. shares resources on mental health and educates her followers about therapeutic practices and terminology, so they can better understand how her practice works. Espinoza specializes in individual therapy for children, teens and adults, and offers resources and support for immigrants seeking asylum and escaping extreme hardships.
11. @nataliegutierrezlmft
New York and New Jersey-based licensed marriage and family therapist Natalie Y. Gutierrez, L.M.F.T., specializes in complex PTSD diagnoses for BIPOC folks, but shares a combination of resources and information for navigating complex trauma for marginalized communities. She also posts a variety of long-form videos talking about mental health-related subjects, which you can find on her IGTV.
12. @betternowtherapy
Jasmine Cepeda, L.C.S.W., is a licensed psychotherapist based in Brooklyn, NY that specializes in anxiety, life transitions, and coping with Latinx family trauma. In addition to having digestible infographics on her feed on topics ranging from attachment styles to the difference between depression and laziness, Cepeda is also the author of two guided journals, 12 Ways to Cope With Your Latina Mom & Her Difficulties and Making Peace With Your Emotional Disconnection With Your Parents.
13. @josierosarionyc
Josie Rosario is an Afro-Latina therapist and social worker who explores therapy through an anti-oppressive, trauma-informed, and anti-racist lens. Rosario comes from a lineage of healers with roots in Las 21 Divisiones of the Dominican Republic, and as a result, her integrative approach therapy combines spirituality with western practices in order to "help the Black Diaspora break generational trauma patterns." Her posts are aesthetically pleasing as well as emotionally affirming.
14. @alvaradotherapy
Patricia Alvarado is a licensed professional clinical and mental health counselor who specializes in trauma-focused treatment and parent-child relationships. She is the director of her own group practice, Alvarado Therapy, that is committed to decreasing the barriers to therapy for the Latinx community. Her Instagram feed offers a beautifully curated selection of infographics on topics such as the effects of gender discrimination on mental health and how to heal your inner child.
15. @chairworktherapynyc
Amanda Garcia Torres, LMHC, is a certified chairwork psychotherapist, and the co-director of training at The Transformational Chairwork Therapy Project. In using the chairwork method, Torres helps her patients face their emotions or a difficult person in their life by speaking to an empty chair representing that feeling or figure. On her IG, she posts helpful informative content about chairwork as well as activism-focused and mental health-related posts.
16. @bipocrestorativetherapylcsw
A bilingual Latinx therapist, Ashley Zayas, LCSW shares posts both in Spanish and English about decolonizing mental healthcare, trauma, and dealing with burnout. Their current "People of Complexity: Courageous Conversations Series" on their Instagram page facilitates discussions about the complications that white-passing POC may face, all in a safe and trauma-informed setting.
17. @drlesliecelis
Dr. Leslie Celis, Psy.D is a queer and non-binary Latinx therapist in LA. She shares helpful infographics with inspiring and motivational messages, LGBTQ+ affirming posts, and educational content about suicide prevention. They are also the co-host of the POC-led My Therapist Friends podcast.
18. @lamaripositahealing
Evelyn Mejia, LMFT, is a trauma-informed Latinx psychotherapist sharing both educational posts and Reel videos on all things therapy and mental health. Mejia specializes in working with first-generation Latinx patients to break through their trauma and start their healing journey.
19. @primaveracounseling
Primavera Counseling, a Latinx and bilingual therapy practice run by Daphne Muñoz, LCSW, and Maria Elias, LCSW, offers plenty of informative and aesthetically-pleasing content surrounding mental health and self-care. Their affirmations and mindfulness tips aim to encourage followers to work through issues like anxiety, depression, and trauma.
This article was originally published on