Lo Bosworth, Vagina Mogul
The Love Wellness founder — and fan favorite of The Hills — found her voice taking on embarrassing women's health issues. "Eventually your narrative changes," she says. "Especially if you're authentic."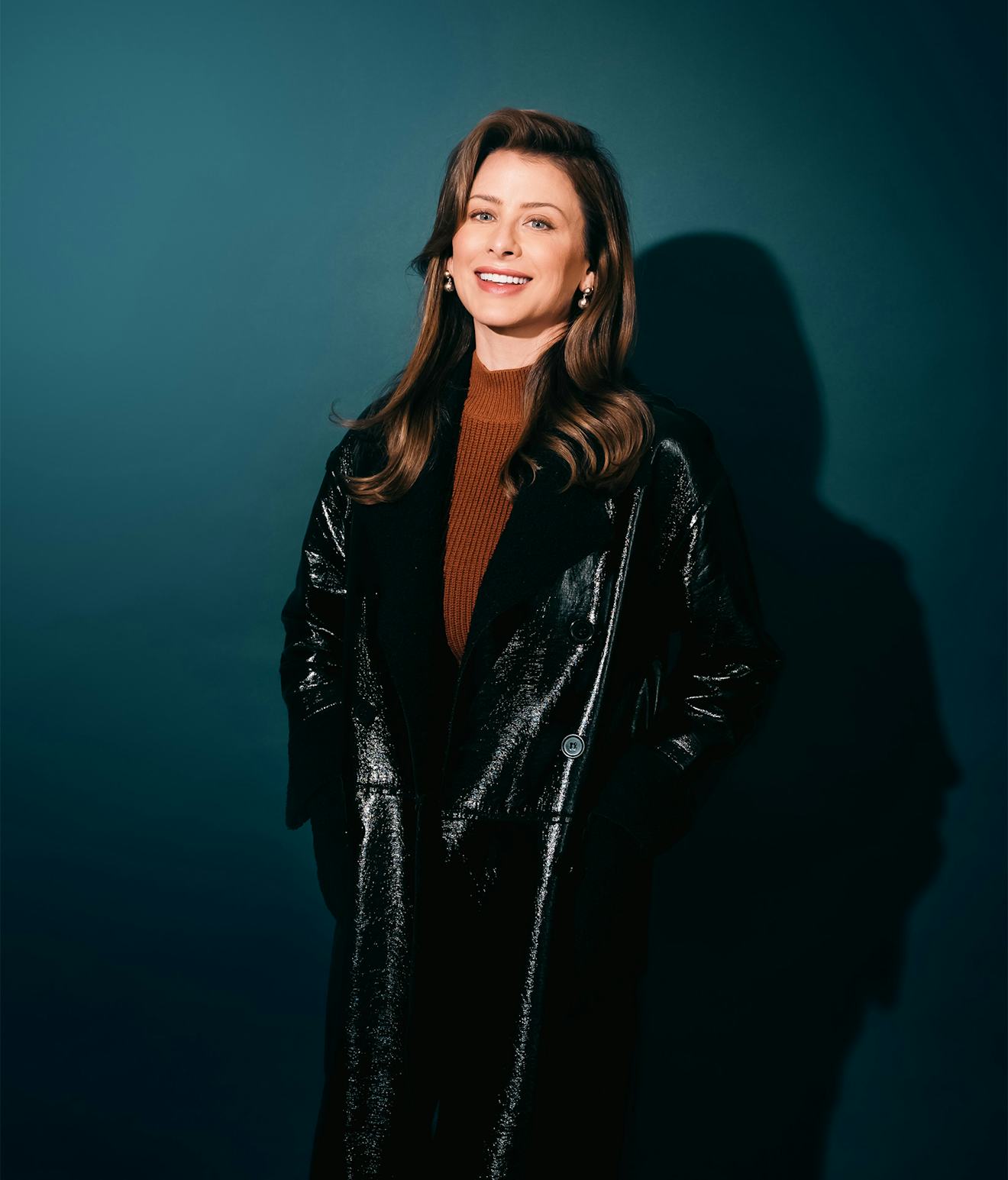 Have you seen the TikTok? A familiar blue-eyed and makeup-free face appears, talking in conspiratorial tones. Her sunlit skin is damp from the pool, her hair is effortlessly slicked back. In the same moment that you realize that she is not an old friend, but The Hills fan-favorite Lo Bosworth, you realize that Lo Bosworth is talking to you about vaginal itching, odor, and imbalance. At a high volume.
Or else you might have seen her products: opaque, colorful pill bottles on end caps at Target and Ulta, cutely disguising the kind of products women recommend to each other in moments of desperation. Boric acid for persistent yeast infections, probiotic suppositories for bacterial vaginosis.
Bosworth launched Love Wellness, a line of gut and vaginal health aids, including mental health supplements and pH-balancing vulva cleansers, after it took doctors over a year to identify that her chronic yeast infections, UTIs, anxiety, and depression were caused by vitamin deficiency-triggered gut issues. Founded in 2016 with the last of her MTV earnings, the company has sold more than $100 million in retail since 2021, and recently hit 1,650 Walmart shelves. Earlier this year, Bosworth crossed another milestone: Once Love Wellness' staff hit 40 people, she decided to step down as CEO to make room for someone with more management experience, hiring former Lancome and Clarins executive Maria Dempsey.
"I was really worried," Bosworth tells me over breakfast in downtown Manhattan. "Not about a power dynamic or a shift in that, but more about what am I gonna do with the free time that I have because I live alone. Being alone is no fun, you know?"
Luckily, she has a new hobby. It's what feels like the first day of fall, and Bosworth tells me her apartment-grown peppers and cucumbers are still thriving. She proudly grew her crops from seed and is eager to share photos of the caterpillars making a home in her tomatoes. She's been learning about earthworms. Amy Stewart's The Earth Moved is "the best thing I've ever read," she says.
"I was this nerdy about the company when I started, just understanding all the elements and how they come together to nurture you," she says. She's excited to get back to the research-driven work of product innovation now that the daily operations are out of her hands.
Love Wellness benefited from jumping on the gut health conversation early within the wellness community. "Nobody was talking about the vaginal microbiome then," she says. And it is part of a wave of companies rebranding pharmacy items that make you grateful for the invention of self-checkout. The brand's bestseller, The Killer, isn't your mother's boric acid vaginal suppositories; their version of the old-school yeast infection treatment is only one ingredient and comes in a millennial-pink box.
Bosworth is as unfiltered offline as she is in the educational TikToks that helped grow the company's community of nearly 100,000 followers. Talking about how starting her own company offered a way out of the pressure to stay relevant that influencers face, she briefly trails off. Then she laughs. "I also had a door fall on my head a couple years ago, so sometimes I lose my train of thought," she says. (The freak accident at a friend's birthday party left her with a concussion and months of recovery.)
Over a tower of bagels and smoked fish ordered to satisfy her PMS cravings, she says, "It's all about balance. I'm going to eat the organic food and I'm gonna get the Botox. It's fine." Such words of wisdom are familiar to fans of The Hills and Laguna Beach, where Bosworth was a voice of reason, telling her lovesick best friend Lauren Conrad, "Eat your PinkBerry and enjoy life."
This morning, Bosworth blends in unnoticed among the other professionals of SoHo ("I shop at Zara mostly," she tells me), but, while attending UCLA, she stood out. She couldn't escape Laguna Beach's theme song "Come Clean." "Being in college and getting yelled at and harassed when you walk down the street because you're on TV is not fun," she says. "Them playing the Hilary Duff song every time you walk into a party in college, just because you're there, to make fun of you is not fun."
Following her television stint, she attended New York's International Culinary Center where she discovered food sensitivities and a curiosity in nutrition knowledge that laid the groundwork for her interest in developing herbal supplements. She's called New York City home for the past 12 years. Moving here "was probably a trauma response to kind of get away from Hollywood and all the things that were causing me stress," she says.
These days, Bosworth goes back to Orange County often. "I'm able to look back with more fondness and joy and think of [being on reality television] as like a fun memory versus something that was really, really challenging for me for a long time," she says. Bosworth adds that she didn't have it as bad as her co-stars who were villainized and pitted against each other in love triangles and orchestrated frenemy wars, thanks to her tendency to "sit back and have a little chuckle" about it. "I'm the silent observer," she says.
Unlike her cast members, who have leaned into reboots and recap podcasts, she's stayed clear of the early aughts nostalgia industry. Conrad remains a friend, but Bosworth hasn't maintained relationships with anyone else. As the 20th anniversary of Laguna Beach approaches next year, though, she's not entirely opposed to getting in front of the camera again.
Bosworth tells me she feels vindicated by stars pulling back the curtain on what really goes down when the tapes stop rolling on reality TV. Her diplomatic demeanor didn't always protect her against manipulation. For the record, she never had a problem with Audrina Patridge, who she always thought "was perfectly lovely and nice," despite editing that suggested otherwise. Bosworth remembers the producers using footage gathered for sound quality out of context.
"It would be like, OK, we're cutting, we're done shooting for the day, and now we're gonna get your resting face during room tone and we're gonna cut it into the actual show and make it look like you are giving somebody the death glare across the table from you when in reality you're waiting for the room tone to be over," she says. "Like, come on."
Twisted storylines aside, Bosworth is grateful that MTV gave her the name recognition she needed to get Love Wellness started, even if people didn't take her seriously at first. "The first few years I faced deeper scrutiny than I think your typical founder, female founder, any founder because my background was on TV," she says.
It didn't help that Bosworth was advocating for products to balance the vaginal flora, and medical experts aren't in agreement that probiotics are the solution. Although backed by a board-certified OB/GYN and a nutritionist who serve as the "Love Wellness Advisors," her brand received criticism from consumers and the media alike.
But years in the public eye forced Bosworth to develop a high tolerance for scrutiny and skin thick enough to keep trudging through the noise. Love Wellness' first vulva cleanser had vanilla fragrance in it, an ingredient she didn't realize can be disruptive to vaginal health. She had the soap reformulated and has since maintained an adaptive business model that's responsive to feedback.
"If you are focused on sharing your story for long enough, eventually your narrative changes in the eyes of people who are consuming that content, especially if it's authentic," she says. "I spent a lot of time with journalists that originally thought that what I was doing was bullsh*t and then by the end of the lunch they're like, wow that's actually interesting. Education is important of course, but as a brand we're developing better ways to communicate."
Last year, she released a book, Love Yourself Well, to go deep into the science behind the gut-brain-vagina axis, and she is rolling out a new categorized system geared toward assisting users in finding the right products for their needs. Bosworth chokes up reflecting on the sense of purpose the brand has provided. Consumers have thanked her for her level of transparency around uncomfortable topics. "I think it was like a relief for so many women because we suffer in silence with these issues," she says.
Love Wellness was born during a low point in Bosworth's personal life, in the wake of ending a relationship with "the man I was gonna marry with our dog in Tribeca." Now she's at peace with her relationship status and homebody-leaning lifestyle. "At the end of the day, I'm tired. I don't wanna go to an industry event. I just downloaded the PBS app, any Ken Burns documentary, I'm in there." It helps that she's part of a "pandemic" of successful single friends in their mid-30s — and that she's already a master of spinning what embarrasses her into gold.
"I've stopped feeling embarrassed about being 37 and single recently," she tells me. "This is the first interview where I've been like, 'I'm single,' and not, like, died of shame."
She is politely wrapping up our breakfast in order to take a work call, but, first, she says, "It's like, you know what? Being 37 in the city is kind of like being 27 in the city." Only better. "At this point, I have more spending power and flexibility and independence."
Photographs by Xin Xin
Hair: Patrick Kyle
Talent Bookings: Special Projects
Photo Director: Alex Pollack
Editor in Chief: Charlotte Owen
SVP Fashion: Tiffany Reid
SVP Creative: Karen Hibbert