What If My Dad Walks In On Us?
Young people who moved back home reflect on their year of dry spells and interrupted sex.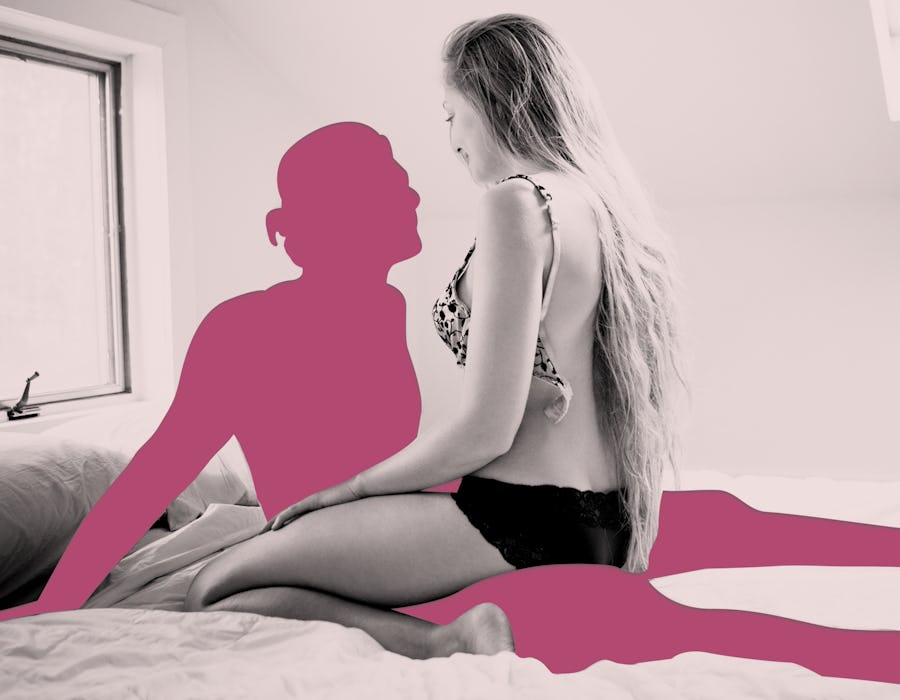 Cavan/Getty Images
At the beginning of March 2020, Mateo, 21, was a college student studying for finals when the world shut down. After COVID-19 caused his campus to close, Mateo decided to move back home to the Sacramento area, and bunk with his parents and grandmother. For the sake of his elderly roomie, he decided to put his sex life on hold. "I didn't want to weigh getting off against my grandma's life," Mateo tells Bustle.
Since the start of lockdown, first-date jitters, innocuous small talk, and the uncharted potential for sex may have felt pale in comparison to risking the health and safety of yourself and others. While some singles have chosen to take precautions for the occasional shag, others have found themselves in an unforeseen year-long sex drought.
According to a 2020 study conducted by Pew Research utilizing U.S. Census data of 60,000 households, 52% of young adults ages 18-29 lived at home during the pandemic, the likes of which haven't been seen since the Great Depression. As scores of Millennials and Gen Z-ers moved back in, family members have become strange bedfellows, and chats regarding sex and intimacy are now blowing up the family group chat.
Nat, 23, spent the majority of quarantine involuntarily abstaining from sex. Last June, after returning home to their parents' house in Los Angeles following a multi-continental breakup, they quickly realized that any semblance of a sex life would be out of the question. A self-described serial monogamist, Nat's first substantial bout of singledom coincided with lockdown.
If we have sex outside, and you're wearing a mask, and we're doing it Doggy-style, our heads will be six feet apart.
"I was really hit with the desire to date in the beginning of the pandemic," they tell Bustle. They attempted to dip a toe into dating apps, and even met up with someone from Tinder. "We had both talked a lot about having a socially-distant interaction because we were both living with our families."
Nat, who thought their date's safety precautions were a major turn-on, was shocked when they met up in person and their date went in for a hug. Ultimately, Nat called it. "That was the extent of the intimacy that night," they say.
Over the past year, Nat has been looking for a ticket out of their sexless lockdown, even jumping at the chance to house-sit. "I'm desperately looking through all my old contacts, Tinder, and Hinge, but never end up doing it," they say. Nat only ever went as far as making out with a childhood friend, but immediately regretted it. "It wasn't doing it for me," they say. "We just decided to shake hands and be homies." Nat and their friend decided to keep the incident to themselves, though they are unsure if the decision stems from the shame of a mid-pandemic hookup, or because they worried about causing conflict within their friend group.
Monica, 32, was already living at home to care for her mother, who passed away shortly before the start of the pandemic. When lockdown began, she had been casually dating her now-boyfriend, Dave, to her family's disapproval. "We would get in these big fights about who was in our family pod," she tells Bustle. "That meant I couldn't be with Dave's pod because my dad wasn't comfortable, even though Dave was being as safe as we were."
Monica was forced to choose between her boyfriend and her family. "My dad was unable to see me as an autonomous adult," she says. "But then, I got frustrated. Are you f*cking kidding? I'm 32 years old!'"
While trying to remain respectful of her family's wishes, Monica and Dave struggled with a horniness reminiscent of their teenage years, which Monica describes as "sexy, in a weird, apocalyptic way." Eventually, they caved and decided to test out the parameters of the CDC's approved sex guide. "We were like, 'If we have sex outside, and you're wearing a mask, and we're doing it Doggy style, our heads will be six feet apart,'" she says. Monica and Dave successfully maintained social distancing guidelines during their escapades and continued to test out their unconventional sex methods, out of fear that Dave would catch the virus at work. "After a couple of weeks of him being back at work, he and I both felt like it was safe and that we could be together," Monica says.
But it wasn't just homebound adults reverting back to their adolescent behavior: Their parents also began treating them like high schoolers. Last March, Cheryl,* 22, moved back to her family's home in Los Angeles, where she met her boyfriend on Hinge. She was disgruntled when her father established a rule that her boyfriend wasn't allowed to spend the night, and that the two were only allowed in common spaces, in order to nix the possibility of sex. "The second you move back in, you're thought of as the baby again," she tells Bustle.
One evening, as the two finished a late-night movie, Cheryl's boyfriend declared that he was too exhausted to drive home safely. The two decided that it would be safer for him to stay over and sneak out early the next morning — but then disaster struck. "At 4:00 a.m., my dad barged in," she says. "He had woken up in the middle of the night and discovered my boyfriend's car was still there. My boyfriend is confrontation-averse, so he pretended to be asleep because he was too afraid to talk to my dad." But the rude awakening didn't stop the lovebirds from trying again. "Eventually, we got to the point where we couldn't hang out at my house anymore," Cheryl says. Shortly after the incident, Cheryl's boyfriend moved out of his parents' house to the Bay Area for work, which has transformed their sex life for the better. "It's honestly saved our relationship," she says.
Thank god I got my first orgy in before lockdown.
For those used to living independently, quarantining with family has been a nightmare. Jasmine,* 24, found living at home in the San Fernando Valley during lockdown nearly impossible. As a first-generation American, her parents' more conservative expectations have kept her from having sex with the people she casually dates. "They'd ask where we were going for dinner,'" Jasmine tells Bustle. She struggled to convey American dating culture to her parents, which differs from their Middle Eastern experience. "I'm not going to tell them that we're going to hang out, smoke weed, and maybe f*ck.'" When feeling particularly horny, Jasmine fondly thinks back to an invite-only sex party she attended in February, right before the start of the pandemic. "Thank god I got my first orgy in before lockdown," she says. While living with her parents and being an essential worker means her sex life has taken a nosedive, Jasmine has recently resumed hooking up with an old flame and is content with that.
As sexual encounters are few and far between, many singles have returned to an age-old classic: masturbating in their childhood bedrooms. Matteo says that if he could do one thing differently over the past year, it would be making his dad "get better Wi-Fi," but thankfully was able to turn to his imagination in times of need. Jasmine credits her internet-famous vibrator for getting her through the pandemic, and learned that taking nudes keeps her self-confidence afloat. Nat has turned to erotic audio books, which they find preferable to porn because it makes them feel more present. Like Jasmine, Nat is extremely pro-sex toy, but has been too afraid to have them delivered to their parents' house. They look forward to browsing in a brick-and-mortar store one day.
With vaccine rollout ramping up, singles are finally able to look forward to something a little steamier than a trip to the grocery store. Monica has just signed a lease on a new place with Dave, where they can look forward to sex indoors, sans masks. Nat is excited for a future teeming with endless opportunities to gossip about hookups. "I am looking forward to entering more crowded spaces with music, filled with familiar and new faces, where you know you can start a conversation or dance with someone, with the possibility of going home with them," they say. And Jasmine says she's also eager for sex with strangers. "The type where you can make eye contact without thinking about their grandma."*
*Name has been changed. Interviews have been edited for clarity and length.