6 Myths About Coronavirus Herd Immunity, Debunked By Doctors
Maybe don't believe what your uncle's posting on Facebook.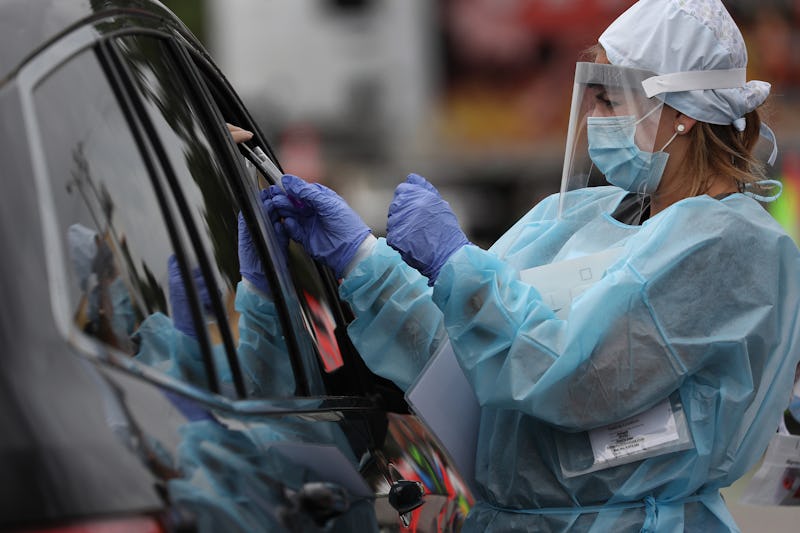 Joe Raedle/Getty Images News/Getty Images
Early in the coronavirus pandemic, people wondered if herd immunity might make it safe to travel and work again. If enough people got COVID-19, survived, and became immune, surely that'd stop the virus in its tracks, right? It's a bit more complicated than that, researchers tell Bustle.
"Herd immunity can occur when enough people become immune to a disease to make its spread unlikely," Dr. Teresa Bartlett, M.D., senior medical officer at Sedgwick, a claims management service, tells Bustle. It's why vaccinations work; if someone can't get vaccinated for an illness — because they're allergic, or too young for it — the fact that everybody around them is immune can protect them from becoming infected with it.
People become immune to diseases in two ways: either by vaccinations or by catching the virus in question. Both methods encourage your immune system to produce antibodies that can recognize and kill the virus if you're exposed to it again. But there's still so much researchers are learning about how immunity to coronavirus works, which means myths about herd immunity are getting more airtime than they should.
Here's why herd immunity is a long way off, no matter what somebody tells you on Facebook.
Experts:
Dr. Teresa Bartlett M.D.
Dr. Gwen Murphy, M.D.
Dr. Christian Rojas Moreno, M.D.
Dr. Jan Schwartz-Miller, M.D.
Dr. John Sellick, D.O.
Studies cited:
Kreijtz, J. H., Fouchier, R. A., & Rimmelzwaan, G. F. (2011). Immune responses to influenza virus infection. Virus research, 162(1-2), 19–30. https://doi.org/10.1016/j.virusres.2011.09.022
Fine, P., Eames, K., Heymann, D.L. (2011) "Herd Immunity": A Rough Guide, Clinical Infectious Diseases, Volume 52, Issue 7. Pages 911–916, https://doi.org/10.1093/cid/cir007
Robbiani, D.F., Gaebler, C., Muecksch, F. et al. (2020) Convergent antibody responses to SARS-CoV-2 in convalescent individuals. Nature (2020). https://doi.org/10.1038/s41586-020-2456-9