How A Mobile Salon Founder Makes It Work With Help From A Transformative Tool
"I'm spending a lot less time on admin, finances and booking clients. I can use my time more productively or simply rest."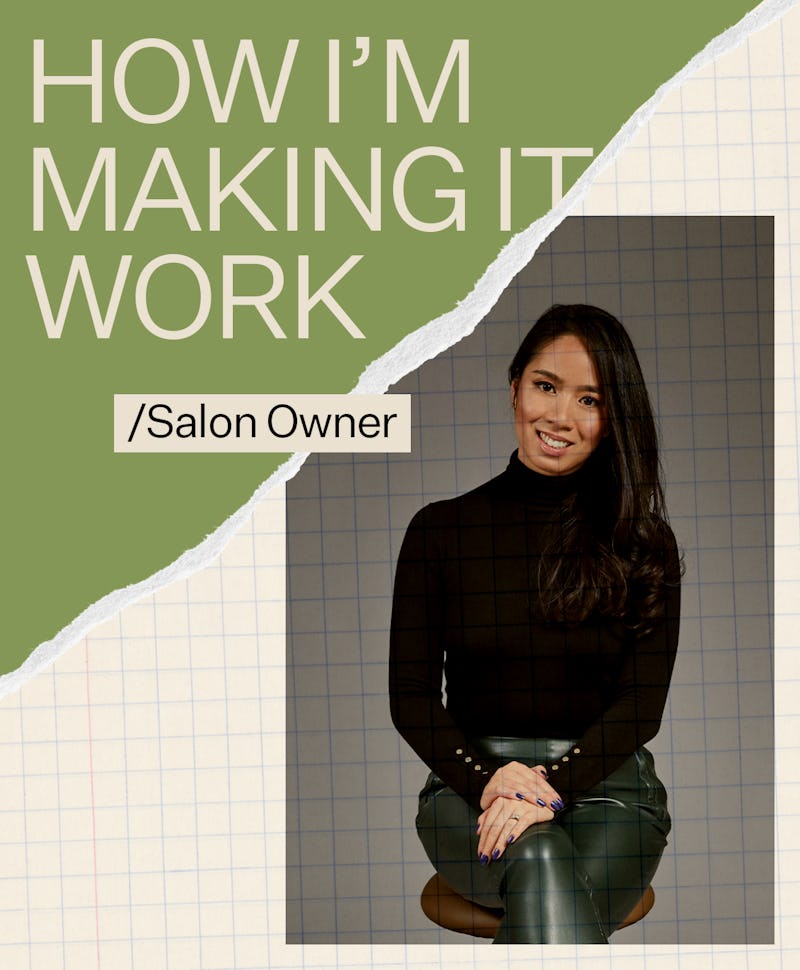 Welcome to How I Made It Work, the Bustle UK series that puts women's financial and professional journeys front and centre. In it women from all different walks of life share their wisdom, learnings, and sometimes even earnings, all with the aim of demystifying the often overwhelming worlds of money and work.
In this special edition of HIMIW, we partnered with Square to hear from Metta Francis, the woman behind Nails by Mets — a mobile nail service operating in London. Francis made the leap from an "unfulfilling" corporate job to running a business that showcases her creativity. She is also a Square seller — using their appointments, payment and website tools to streamline her time and focus more on what's important. Square's business tools help sellers of all sizes start, run and grow their business.
Here she offers advice to women hoping to do the same and shares the tools and tricks she uses to keep her professional and personal lives running smoothly.
Age: 35
Location: London
Profession: Nail technician/nail artist
What made you decide to set up your business?
I was in a typical corporate job which was no longer fulfilling — I couldn't see myself being in the IT Industry for the rest of my life and I started to develop unhealthy habits. I needed an exit plan and decided to start my own business. After brainstorming ideas, I decided to become a mobile nail technician. I loved looking after my nails and taking the time to paint them and always wanted to treat myself to a professional mani-pedi, but I was always so exhausted after work that the thought of going to a salon wasn't appealing to me. I knew I wasn't the only person and ran with it.
What does the average working day look like for you?
It varies from week to week, but it could be a mixture of private clients (home visits) and filming content for brands such as nail tutorials and photography. Or I could be on set working on a photoshoot in the day, followed by an evening private client.
Has the way you take bookings changed since you started your business?
When I started I would manually take bookings and manage them using my paper diary. I would manually send clients appointment reminder texts/emails and payment was cash. Everything is now digital, automated and synced in one place which makes it so much easier and efficient for me to manage bookings.
When did you onboard Square's products into your business? How did you know Nails By Mets was ready for this change?
I was introduced to Square a few years ago when I was booked to provide manicure services at their exhibition stand at Olympia Beauty — a big hair and beauty expo. They were offering attendees the opportunity to learn more about the brand, set up a Square account, and trial a card reader... [I] thought it was a great opportunity to try Square's system.
How has the pandemic changed your working life?
I had to pivot Nails by Mets immediately. With no face-to-face clients, I focused on creating an online store to retail products to existing and new clients, ran online workshops for other beauty and nail professionals and I started to create content for brands. All things I could do from home. I did also take a lot of time to just step back, reflect and rest — I was so used to being constantly on the go, the break was welcomed and I vowed to not get into the usual burnout cycle again.
Is there anything that has helped make adapting your business easier since the pandemic?
Since I had a lot more time on my hands, I was able to streamline my booking process and system. I also found an amazing community of fellow beauty and nail professionals and people who generally needed nail advice (and products).
How has Square enhanced your business?
My processes have become more efficient with Square which means I'm spending a lot less time on admin, finances and booking clients. I can use my time more productively or simply rest.
What do you wish other people knew about working in the beauty industry?
It's not just about making people look pretty. Beauty professionals are business owners and often one (wo)man bands, so often take on the roles of social media manager, marketing exec, PR, accountant, customer service, etc. Beauty as a service can be very therapeutic for our clients — many see their treatments as self-care and feel more confident following their treatment. It's the way we make people feel, not just look. Many see their beauty professional as a friend, therapist… We wear many hats.
Is there anything you would change about the industry?
I wish people would take the beauty industry more seriously sometimes — outsiders and professionals. I wish professionals would see the true value of themselves and their services and confidently charge accordingly. For outsiders, I wish they held our industry in higher regard.
What advice would you give to another woman looking to set up her own beauty business?
Do your research. Research brands, educators, training centres, etc. Don't be enticed by the cheap one-day or even online courses that say you will be a qualified professional. Invest in excellent training from the start, organise suitable insurance, and start as you mean to go on. Just like any other business, you need to have money to invest in the business from day one. Buy cheap, buy twice.
Are there any business tools and community forums you have found useful & would recommend to other women starting their own small businesses?
Small Business Britain, Beautystack (The Stack World), Square, British Beauty Council, Instagram, and Facebook.
How do you stay organised and on top of your admin when you've been out at appointments all day?
I always try to set some time aside to catch up on admin. Between clients I'll check in on emails, and prioritise them accordingly. I'll respond to urgent emails as soon as I can and anything else when I'm back indoors or the next day. Sometimes I'll be on the laptop late at night but I'll schedule emails to be sent in the morning. I'll also schedule in admin hours in the week.
Would you recommend Square to other sellers?
100% — it's not just a card reader, it has so many other invaluable features.
What's the best thing you've learned from being a small business owner?
It's not easy but it's truly fulfilling and the world won't end if you don't respond to every email instantly.
Learn more about Square's small business tools here
This post is in paid partnership with Square