6 Useful Resources For Anyone Living With PCOS
Where to look if you want to learn more about Polycystic ovary syndrome.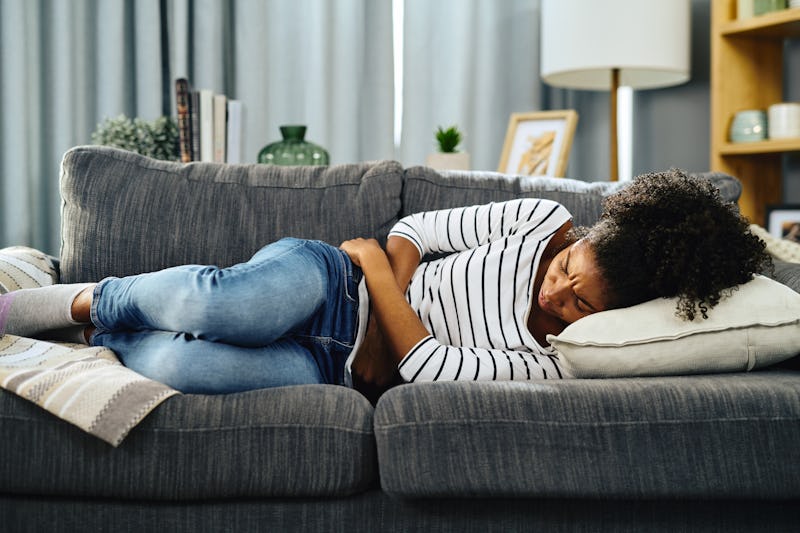 katleho Seisa/Getty
According to Verity UK, PCOS (Polycystic ovary syndrome) affects one in ten people with ovaries in the UK. This figure proves just how common the condition is, and how many of us deal with it on a daily basis. Having polycystic ovaries can affect the health and lifestyle of people in a range of ways, and there are many resources out there to help you manage these symptoms. These six PCOS resources for support and information are a great place to start, and can make seeking help feel a little less overwhelming.
The three main features of PCOS are irregular periods, excess androgen (the 'male' hormone) and polycystic ovaries, according to the NHS. If you have at least two of these, you will likely be diagnosed with PCOS. Polycystic ovaries are when "your ovaries become enlarged and contain many fluid-filled sacs (follicles) that surround the eggs."
The symptoms are varied and wide-ranging, and can include weight gain, excess hair growth, and acne. While there is no cure for PCOS, there are ways to manage it, including some medicines and maintaining a healthy, balanced diet.
If you need somewhere to turn for support, or want to read up about PCOS in more detail, the NHS is a good starting point if you wish to break down the basics. Their page on Polycystic ovary syndrome covers the symptoms, causes, diagnosis and treatment, and is particularly useful if you have been newly diagnosed, or suspect you have the condition.
However, if you want to take your research further, below are six resources – including two medical papers – that may prove useful.