How To Make Small Talk When You Haven't Seen Anyone In A Year
And not one has to do with the weather.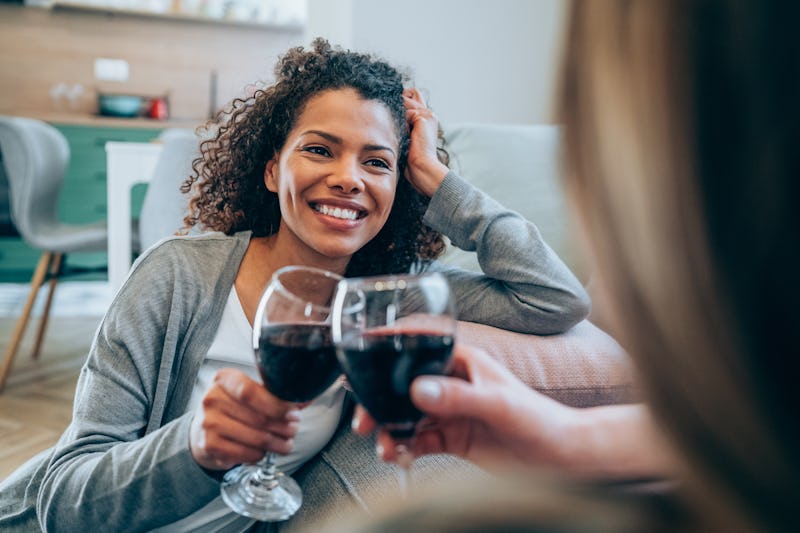 VioletaStoimenova/E+/Getty Images
As more people get vaccinated, the invitations will likely start flooding in — and you may suddenly realize you haven't chatted idly to a stranger at a party for well over a year. After a year in isolation, 38% of Americans are worried about being unable to make small talk when it's safe to get together and 34% feel they've become more awkward in the past year, according to a survey by Evite in conjunction with OnePoll. But post-pandemic conversations don't all have to be about the weather.
Can't remember how to make small talk to save your life? "There is a learning curve now around reentering society and doing things again that once felt normal, but now may very much feel abnormal," therapist Heidi McBain LMFT LPC tells Bustle.
But everybody is in the same boat, which may help you feel more comfortable. Social belonging is really important to humans, behavioral scientist Jon Levy, author of You're Invited: The Art & Science Of Cultivating Influence, tells Bustle. "Exile or solitary confinement or the biggest punishments we can give people, and we lived in that for more than a year." Your struggle isn't unique, and it will take time to refresh your social skills.
In the meantime, here are some conversational training wheels to get you started at that first in-person dinner party.
Experts:
Therapist Heidi McBain LMFT LPC
Behavioral scientist Jon Levy, author of You're Invited: The Art & Science Of Cultivating Influence