What 8 Super Common Stress Dreams Are Trying To Tell You
The mystery of why you dream your teeth are falling out, revealed.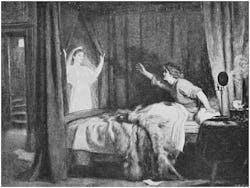 ilbusca/DigitalVision Vectors/Getty Images
Everybody's had those dreams where you're endlessly packing a bag that overflows, or you're late for a crucial exam, or your passport disappears in the middle of an imaginary airport. Stress dreams are your brain's vague way of telling you you're stressed in your waking life. Sometimes, decoding a stress dream can help you understand what's going on.
Read more: What Do Dreams About Cats Mean? Here's What Experts Say
"All of our dreams are just mash-ups of our previous experiences, whether good or bad," Bill Fish, certified sleep science coach and head of the National Sleep Foundation, tells Bustle. "Our brains never shut down per se; when we are sleeping, they are flushing our thoughts and experiences through our dreams." Stress dreams, he says, are often just a reflection of stuff that stressed you out that day. A study published in PNAS in 2019 found that when people are stressed, their bodies start to spend more time in REM sleep, leading to more extensive, vivid dreams.
While it's pretty easy to see that worry in your waking life can led to stressful dreams at night, it can be really hard to understand what they mean. Why are you dreaming that your teeth are falling out? Who's responsible for your fourth-grade teacher showing up to dream-yell at you for forgetting your pencil?
"The truth is dreams are very difficult to study scientifically," Steve Joordens, professor of psychology at University of Toronto and creator of a course on mental health during COVID-19, tells Bustle. But certain cues can give you an idea of what's really going on. Here are eight stress dreams and what they might mean for your life.
Experts:
Bill Fish
Dr. Steve Joordens
Studies cited:
Arnulf, I., Grosliere, L., Le Corvec, T., Golmard, J. L., Lascols, O., & Duguet, A. (2014). Will students pass a competitive exam that they failed in their dreams?. Consciousness and cognition, 29, 36–47. https://doi.org/10.1016/j.concog.2014.06.010
Robert, G., & Zadra, A. (2014). Thematic and content analysis of idiopathic nightmares and bad dreams. Sleep, 37(2), 409–417. https://doi.org/10.5665/sleep.3426
Scarpelli, S., Bartolacci, C., D'Atri, A., Gorgoni, M., & De Gennaro, L. (2019). The Functional Role of Dreaming in Emotional Processes. Frontiers in psychology, 10, 459. https://doi.org/10.3389/fpsyg.2019.00459
Schredl M. (2010). Nightmare frequency and nightmare topics in a representative German sample. European archives of psychiatry and clinical neuroscience, 260(8), 565–570. https://doi.org/10.1007/s00406-010-0112-3