10 Texts To Send Your Ex If You Want To Get Back Together
Plus, five questions to ask yourself before you hit send.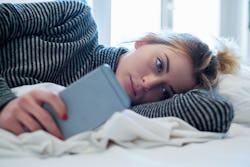 Shutterstock
Even if your last breakup is far behind you, there may be times when you find yourself wondering how to get back together with your ex. Plus, rekindling the romance with a former flame seems to be a hot topic at the present — just take Bennifer, for an example. The recently-reunited couple has become the blueprint for folks to give their exes another shot. While there are a lot of major factors that should be considered when you're thinking about getting back together with an ex, even some experts admit that entertaining the thought is understandable.
"With Ben and Jen making headlines about their triumphant love journey back to one another, I'm sure that sparks some thoughts in the pondering minds of people who want to revisit an old connection or take another stab at a past relationship, professional matchmaker, dating coach and lifestyle advisor Anika Walker tells Bustle. Despite this, however, Walker urges caution before making this decision. "There's this saying, 'An ex is an ex for a reason,'" Walker says.
Regardless of that reason, it's easy to look back on a relationship with rose-colored glasses when you're far removed from the events that transpired, so be sure to examine the situation truthfully. "While I normally would advise against circling back around to an old relationship … I have seen people get back with exes and make it work," says Walker.
Before reaching out to your former partner, Walker suggests asking yourself some of the following questions: why do you want to get back together? Why did you break up? Are you only reaching out because you're lonely? Did you take an honest mental visit back to the relationship to see what really went wrong in the first place? And, most importantly, do you miss the person or do you miss the memories and familiarity? Once you feel sure about your intentions, here are some examples of texts to send your ex if you want them back.
Not 100% sure if you're ready to reach out to your ex? While tempting, it may not always be the wisest option after a breakup. Unless you are completely sure that getting back together is what you truly want, Walker advises taking at least 24 hours to sit with your thoughts before calling or sending any messages. "Regardless of what you text your ex when trying to get back together, the most important thing to remember is: Be honest with yourself, your intentions, and your emotions," Walker says.
Expert:
Anika Walker, professional matchmaker, dating coach and lifestyle advisor