9 Weird Ways Nostalgia Changes Your Brain
A neuropsychologist explains.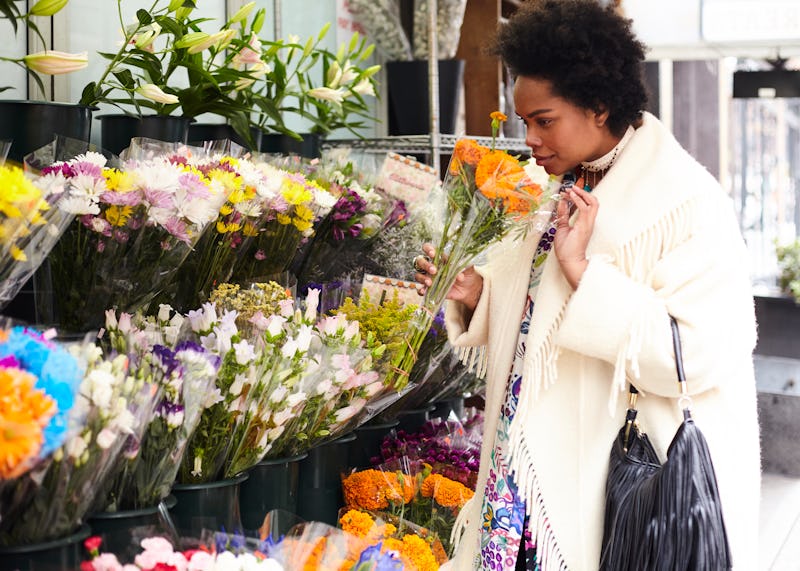 Hannah Burton/Bustle
Nostalgia, the feeling of longing and wistfulness for times gone by, is a very common sensation; a study in PNAS in 2017 found that nostalgia is one of the 27 "main" emotions that humans feel. It's why you click on those "which '90s film heroine are you" quizzes, and enjoy smells that remind you of your grandma's house at Christmas; it connects you pleasurably to elements of the past. And it turns out that feeling nostalgia can actually change your brain in a few interesting, complicated ways.
"Nostalgia is a unique emotion," neuropsychologist Dr. Sanam Hafeez Psy.D. tells Bustle. "A visual, smell, or sound can initiate a memory that brings a longing for something in the past. You're remembering a time, event, or person gone by with yearning or appreciation."
Researchers told The New York Times in 2013 that powerful nostalgic memories can help us cope with transition in our lives, give us comfort, and help our sense of identity. They noted it that nostalgia is found in children as young as seven years old, who can look "back" on big happy events in their previous years. In the brain, that tendency for connection to the past in humans can affect your emotions, decisions, and even your habits.
Feeling a hankering for the heady days of 2002? Here's what that does to your brain.
Behind your longing for hot summer nights as a teen is a feeling that may help you survive, stay positive, keep warm and avoid bad feelings. Those memories are more powerful than you think.
Expert:
Dr. Sanam Hafeez Psy.D.
Studies cited:
Baldwin, M., White, M. H. II, & Sullivan, D. (2018). Nostalgia for America's past can buffer collective guilt. European Journal of Social Psychology, 48(4), 433–446. https://doi.org/10.1002/ejsp.2348
Cheung, W. Y., Wildschut, T., Sedikides, C., Hepper, E. G., Arndt, J., & Vingerhoets, A. J. (2013). Back to the future: nostalgia increases optimism. Personality & social psychology bulletin, 39(11), 1484–1496. https://doi.org/10.1177/0146167213499187
Hussain, S.A. & Lapinski, M.K. (2017) Nostalgic Emotional Appeals for Smoking Prevention,Communication Research Reports, 34:1,48-57,DOI: 10.1080/08824096.2016.1235557
Kersten, M., Swets, J. A., Cox, C. R., Kusumi, T., Nishihata, K., & Watanabe, T. (2020). Attenuating Pain With the Past: Nostalgia Reduces Physical Pain. Frontiers in psychology, 11, 572881. https://doi.org/10.3389/fpsyg.2020.572881
Hong, E. K., Sedikides, C., & Wildschut, T. (2020). Nostalgia strengthens global self-continuity through holistic thinking. Cognition & emotion, 1–8. Advance online publication. https://doi.org/10.1080/02699931.2020.1862064
Lasaleta, J.D., Sedikides, C., & D. Vohs, K.D.. (2014) Nostalgia Weakens the Desire for Money. Journal of Consumer Research.
Oba, K., Noriuchi, M., Atomi, T., Moriguchi, Y., & Kikuchi, Y. (2016). Memory and reward systems coproduce 'nostalgic' experiences in the brain. Social cognitive and affective neuroscience, 11(7), 1069–1077. https://doi.org/10.1093/scan/nsv073
Sedikides, C., Wildschut, T., Cheung, W. Y., Routledge, C., Hepper, E. G., Arndt, J., Vail, K., Zhou, X., Brackstone, K., & Vingerhoets, A. J. (2016). Nostalgia fosters self-continuity: Uncovering the mechanism (social connectedness) and consequence (eudaimonic well-being). Emotion (Washington, D.C.), 16(4), 524–539. https://doi.org/10.1037/emo0000136
Zhou, X., Wildschut, T., Sedikides, C., Chen, X., & Vingerhoets, A. J. (2012). Heartwarming memories: Nostalgia maintains physiological comfort. Emotion (Washington, D.C.), 12(4), 678–684. https://doi.org/10.1037/a0027236
This article was originally published on