12 Clues Someone You're Into Is Attracted To You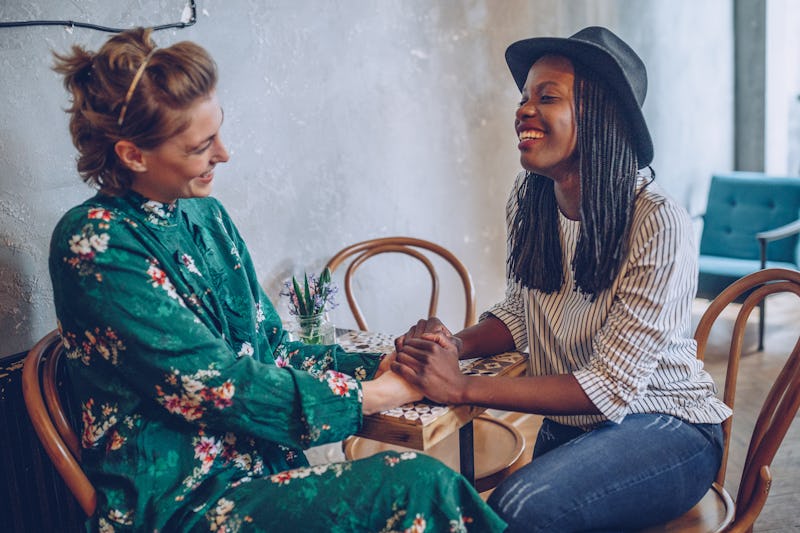 South_agency/E+/Getty Images
When you feel attracted to someone, it's only natural to wonder if they feel the same way, too. After all, making a move would be a lot less scary if you knew for sure that they were into you. While you may never truly know how someone feels unless they say it, experts say there are several signs of a mutual attraction that you can look out for.
A 2018 study published in the journal Psychological Bulletin found that people behave in specific ways when they're attracted to someone and/or interested in making a connection. The top signs of unspoken mutual attraction? Mimicking or mirroring the other person's behavior, initiating conversation, and wanting to be in close physical proximity. These were followed by more nonverbal cues such as making eye contact as as much as possible, nodding while the other person is talking, smiling, and laughing.
According to researchers, these behaviors not only indicate romantic interest, but they're also related to trust. For instance, if someone's initiating conversation with you or wanting to be physically close, they're also saying they trust you and are interested in making a connection.
There are many different things that can clue you in to how someone thinks or feels about you. Here are some signs of a mutual attraction, according to experts.
What To Do If You Feel Like The Attraction Is Mutual
If you're shy about making the first move but feel like the attraction is mutual, Manly suggests coming clean by being direct about your nervousness. For example, you can say something like, "I'm a little nervous about this, but I've been wondering if you'd like to have coffee with me?" According to Manly, a great deal of internal pressure can be released if you state your fear or concern. The person you're interested in may be just as nervous as you are, and can relate to this.
If a fear of rejection is holding you back, Manly suggests approaching them in a less direct way. For example, "Would you like to go on a walk or have coffee together as friends?" By reaching out with a more friendship-oriented tone, the possibility of being flat out rejected may feel less worrisome for you. "Starting a new romantic relationship built on a friendship is always a plus," she says. "There's no downside to going this route if it feels appropriate."
Studies referenced:
Montoya, R. M., Kershaw, C., & Prosser, J. L. (2018). A meta-analytic investigation of the relation between interpersonal attraction and enacted behavior. Psychological Bulletin, https://www.ncbi.nlm.nih.gov/pubmed/29733622
Sources
Michelle Henderson, licensed mental health counselor, owner of Next Chapter Counseling
Julie Krafchick, dating expert and co-host of the Dateable podcast
Christine Scott-Hudson, licensed psychotherapist, owner of Create Your Life Studio
Susan Trombetti, matchmaker and CEO of Exclusive Matchmaking
Jeannie Assimos, dating expert and chief of advice for eharmony
Jenny Muscolo, relationship coach and co-founder of Connection Copilot
Dr. Carla Marie Manly, clinical psychologist, speaker, and author of upcoming book, Date Smart
Michelle Davies, relationship coach and co-founder of The Best Ever Guide to Life
This article was originally published on