You Might Not Need A Vaccine Passport To Go Clubbing After All
The rules are changing – again.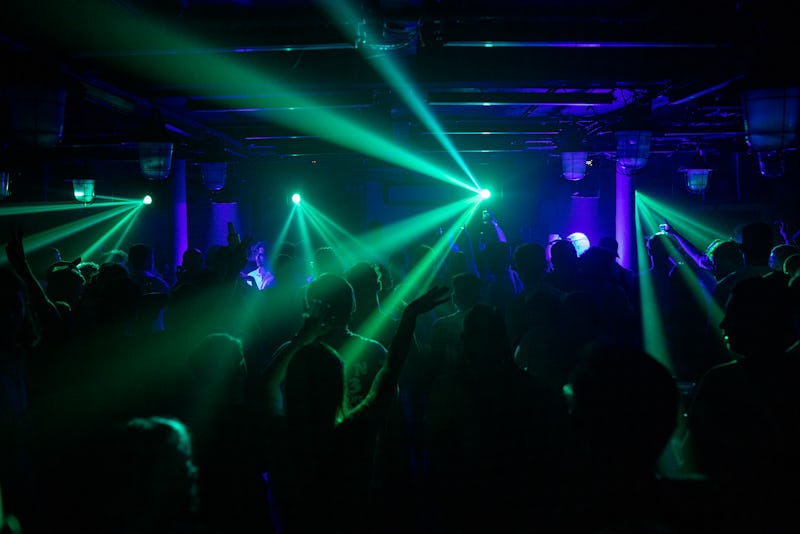 Rob Pinney/Getty Images News/Getty Images
With lockdown restrictions almost fully lifted, nightclubs and festivals have returned in most parts of the UK for the first time since March 2020. People flocked to packed and crowded nightclubs in droves, sparking concerns it would spike more positive cases of COVID-19 in the country. This September, UK clubbers had anticipated that vaccine passports would be required on nightclub entry this winter, but the plans have since been scrapped in a major U-turn.
As it currently stands, ID is still the only requirement on nightclub entry this winter but could the government still introduce a 'two jabs or you're not coming in' rule?
What Are The New Clubbing Entry Rules?
England
You wouldn't be blamed if you're unsure what the current nightclub entry rules are this September.
Back in July, the UK's Vaccines Minister Nadhim Zahawi stated clubbers in England would have to prove that they are fully vaccinated using the NHS Covid Pass app before they would be allowed entry into nightclubs from the end of September – however, those plans have since been scrapped (for now).
Health Secretary Sajid Javid announced the major U-turn on BBC News on Monday, Sept. 13, stating "We shouldn't be doing things for the sake of it."
"We've looked at it properly and, whilst we should keep it in reserve as a potential option, I'm pleased to say that we will not be going ahead with plans for vaccine passports," he added, per BBC News.
On the subject of clubber's safety, Javid believes the "high uptake of vaccinations, testing and more" were proving to be a great "wall of defence."
The latest news will be seen as a win for the nightclub industry — many of which publicly rejected the government's vaccine passport plans.
Scotland
While England's plans have been scrapped, in Scotland, Nicola Sturgeon has announced that vaccine passports are to be required for entry into large-scale events. On Sept. 1, Sturgeon shared that from Oct. 1, the COVID pass will be required nightclubs and adult entertainment venues; unseated indoor live events with more than 500 people in the audience; unseated outdoor live events with more than 4,000 people in the audience; and any event, of any nature, which has more than 10,000 people in attendance. As of Sept. 14, there has been no indication that England's change of plan will impact Scotland's decision.
Wales
Wales' First Minister Mark Drakeford has announced that they will decide on the week of Sept. 20 if vaccine passports should be used to gain entry to some events in Wales, due to rising COVID rates. Back in August, Drakeford had said there were "no plans" for vaccine passports to be required for entry into nightclubs or similar venues due to "ethical and equality considerations."
Northern Ireland
Northern Ireland's leaders are yet to announce an official position on vaccine passports and nightclubs yet, but there has been strong opposition from some politicians and members of the hospitality industry.
What Will I Need To Go Clubbing In September?
England
From the looks of it, clubbers in England will only need their IDs when they head out on the town this winter, as per the BBC, Javid said he "never liked the idea of saying to people you must show your papers" to "do what is just an everyday activity".
However, the government says the proposed vaccine passport scheme will still be kept "as reserve" in case it's needed over the winter months.
Previously it was proposed that people attending large crowded events would have had to present the NHS Covid Pass in the form of a scannable QR code, which would have proven whether a person was fully vaccinated or had a negative PCR test before being allowed inside the packed venues.
The NHS COVID Pass, which is available via the NHS app, can still used to prove your vaccination and Covid status when travelling abroad.
Scotland
From the end of September, clubbers in Scotland can download a QR code or a PDF version of their vaccination status to show at nightclubs and similar venues. However, the Scottish Government is aiming to launch its own app by that time to make the process slightly easier.
Why Were COVID Passports Being Considered For Clubs In The First Place?
The main reason is that nightclubs are considered "super spreading events," according to the government's chief scientific adviser Sir Patrick Vallance.
At a news conference in July, Boris Johnson said "he didn't want to have to close nightclubs again as they have elsewhere" and urged nightclubs to do "the socially responsible thing" despite opposition from major nightclub bosses to introduce vaccine passports.
At the time, official figures showed that 35% of 18 to 30-year-olds – that's three million people – were unvaccinated in July, so it's safe to assume the now scrapped rules were intended to help vaccination uptake amongst young people.
Although there were 30,825 new people with a confirmed positive test result for coronavirus on 13 September 2021, Javid defended the decision to not go ahead with the vaccine passport plans. "We were right to properly look at it, to look at the evidence," he told BBC News. "Whilst we should keep it in reserve as a potential option, I'm pleased to say that we will not be going ahead with plans for vaccine passports."
This article was originally published on