Here's What UK COVID Restrictions Look Like Now
The new Omicron variant has led to a few rule changes.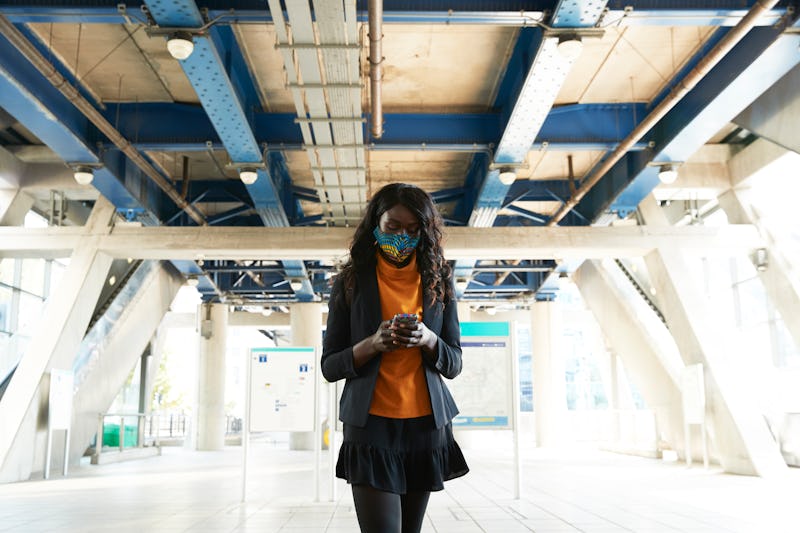 Westend61/Westend61/Getty Images
Health experts are keeping a close eye on coronavirus cases this winter. While the overall rate of hospitalisations and deaths remain significantly lower than at the height of the pandemic, NHS leaders are concerned about a potential "winter crisis".
As it currently stands, England has been free from the most restrictive lockdown rules since July 19, 2021, with Scotland following suit on August 9 and Northern Ireland and Wales easing their rules also. Although ministers in England have stressed that lockdown easing was "irreversible", the government has since announced the reintroduction of some measures in response to the new COVID-19 Omicron variant, including mandatory mask wearing in shops and public transport from Nov. 30. Officials in Wales, Scotland, and Northern Ireland haven't ruled out reintroducing stricter measures, either.
With the discovery of the Omicron variant and cases in Europe continuing to rise, could there be another winter lockdown on the horizon?
Where Do UK COVID Cases Stand Now?
As of November 29, the daily rate of positive tests stands at 37,681, and the 7 day average death toll stands at 848, down by 181 deaths from last week. However, these figures only account for deaths that occured within 28 days after a positive COVID test.
At present Wales' case rate stands at 476.7 per 100,000 people over the last seven days. Equivalent figures for England, Scotland, and Northern Ireland stand at 437.8, 357 and 633.6 per 100,000 respectively.
Data from the UK Health Security agency suggests that the Delta variant still makes up the majority of COVID cases across the country, with a new Delta mutation also cause for concern. A new variant called B.1.1.529, now known as the Omicron variant, was discovered in South Africa on Nov. 24. It has since been detected in England and Scotland, and is already suspected to be spreading within local communities as some of the Scottish cases have no history of travel or links to people who have travelled to South Africa, as Sky News reports.
The R rate in England is now 1.0 to 1.1, which means that, on average, every 10 people will infect between 8 and 10 other people. The growth rate in England had been decreasing in the last few weeks but has but has slowly risen. As of November 29, the Covid-19 growth rate stands between -1% and +2%.
As for vaccinations, nearly 60million people have had their first dose, while more than 46 million have been given their second also. To help boost immunity over winter, over 17 million vulnerable people in the UK have had a booster shot, according to government data.
Why Has The New Omicron Variant Prompted A Flight Ban?
A mutation of the COVID-19 virus has been recorded in a group of countries including South Africa, Botswana, and Hong Kong as well as the Netherlands and Canada. The variant known as Omicron (or B.1.1.529), has three confirmed cases in England, and six confirmed cases in Scotland.
Data collected so far indicates that this mutation is more transferable than the Delta variant, as the Financial Times' chief data reporter John Burn-Murdoch noted in a Twitter thread. As a result, six new countries were added to the UK flight red list on November 25 including South Africa, Zimbabwe and Botswana. Four more countries have since been added, including Malawi, Mozambique, Zambia, and Angola.
The government has also reintroduced testing measures to curb the spread of the Omicron variant. From 4 a.m. on Tuesday, November 30, all travellers arriving in England will have to take a PCR test on or before day 2 and self isolate until they receive a negative test result. All close contacts of anyone who has tested positive for the Omicron variant are also required to isolate for 10 days regardless of their vaccination status.
What Have Experts Said About A Possible Winter Lockdown?
The discussion between scientists and government officials about whether the UK could or should go into another lockdown over winter has continued for much of 2021. Despite cautious optimism from the Scientific Advisory Group for Emergencies (SAGE) in August, bosses at the NHS published a more alarming message in October.
"The NHS is preparing for what could be the most challenging winter on record and it will do everything it can to make sure its services are not disrupted but these outside pressures are not solely within its gift to influence," Matthew Taylor, chief executive of the NHS Confederation said in a statement on Oct. 19. He added that, as cases continue to climb, "leaders are worried about what could be around the corner."
Taylor continued: "There is a crucial opportunity for the public to pull together and show extra support for the NHS by behaving in ways that will keep themselves and others safe." He stressed that "the government should not wait for COVID infections to rocket and for NHS pressures to be sky high before the panic alarm is sounded."
Taylor and other NHS leaders are currently to try and encourage the government to implement a strategy they have dubbed Plan B.
What Is The "Plan B" Winter COVID Strategy?
Plan B is a strategy to protect the strained NHS in England and could mean the following safety measures will be put in place:
Clear communications to the public that the level of risk has increased.
Introducing mandatory COVID vaccine passports.
Legally mandating people to wear face coverings in certain settings.
Asking people to work from home if they can.
While masks will be mandatory in certain settings from Nov. 30, there has been no official confirmation on whether Plan B will indeed be rolled out across England. Speaking on Oct. 20, Business Secretary Kwasi Kwarteng said it was not time for Plan B yet due to the vaccination rollout, claiming "so far our approach is working." In general, the government is placing its faith in the vaccine and are focusing their efforts on encourage people to get their jabs.
What Is The COVID-19 Winter Strategy In Wales?
In Wales however, much of the "Plan B" strategy encouraged by health advisors in England is already still in place to tackle its high Covid rates – currently the worst in the UK. Unlike in England, face coverings should still be worn in all indoor public places and public transport, and people are still asked to work from home where possible. Since October 11, people in Wales have been required to show the NHS COVID Pass to prove they are either fully vaccinated or have a recent negative Lateral Flow Test in order to attend nightclubs and events of a certain capacity. On November 15, COVID Pass requirements were extended to cinemas, theatres, and concert halls. Wales will also require travellers to take a PCR test on or before day 2 of returning to the country and self isolate until they receive a negative test result.
On October 8, the Welsh government updated its Coronavirus Control Plan with two winter planning scenarios, Covid Stable and Covid Urgent, which could lead to different responses depending on the Covid case trajectory in Wales. Whereas Covid Stable would mean Wales remains at the present alert level zero, Covid Urgent would mean the introduction of previously drawn up "alert levels" due to a sudden increase in cases.
Wales' First Minister Mark Drakeford warned on October 29 that some scrapped Covid rules could be brought back if infections continue to rise in the period up to November 19, in an effort to "save" Christmas. "We are not planning to have a Christmas of the sort we had to endure last year…" he said, adding that "taking the actions we're talking about today will be critical to allowing us to be in that position."
The Welsh government said it would monitor the situation very closely over the next three weeks. "It is clear we are in for a very challenging winter period," added a spokesperson.
What Is The COVID-19 Winter Strategy In Northern Ireland?
A similar situation to Wales already exists in Northern Ireland, where some are still in place, including additional limitations on numbers in private settings, visitation to care homes, and dancing not permitted at indoor venues (nightclubs remain closed until October 31). On November 29, Northern Ireland's Covid-19 certification scheme came into effect meaning that people have to show proof of vaccination or a negative test to enter certain venues or events, per BBC News. Unlicensed premises like cafés and restaurants are exempt at this stage, according to Health Minister Robin Swann.
However, the British Medical Association (BMA) has advised that coronavirus restrictions should be reintroduced following "extreme pressure" at Northern Ireland's main hospitals, with a health trust chief saying the system is "on the edge".
Under Northern Ireland Executive's autumn/winter Covid contingency plan, a number of measures could be reintroduced if hospital pressures become "unsustainable", including the following legal requirements:
a return to mandatory social distancing
the introduction of Covid passports in "higher risk settings"
strengthened advice for self-isolation arrangements
The Executive's Pathway Out of Restrictions plan, published in March 2021, said that decisions would be "evidence-based, necessary, proportionate and sustainable". As such the Executive will regularly and carefully consider what mitigations are required based on ongoing baseline measures.
What Is The COVID-19 Winter Strategy In Scotland?
A similar situation to Wales already exists in Scotland too, where restrictions on face coverings, social distancing and certain limitations in the hospitality industry are still in place, with education suffering additional measures such as all school staff and secondary pupils to wear face coverings indoors and no large in-person lectures at colleges and universities.
The NHS in Scotland will remain on "emergency footing" until March 31 2022, according to Cabinet Secretary for Health and Social Care, Humza Yousaf. The Scottish government and Public Health Scotland will continue to work with a "flexible approach" to the Covid-19 pandemic throughout the winter months, working closely with health boards to "ensure they have robust plans in place to deal with a range of pressures on capacity", including COVID-19.
On November 9, Deputy First Minister John Swinney set out possible 'Plan B' measures to be considered in Scotland to prevent further strict lockdowns. According to Edinburgh Live, Swinney, First Minister Nicola Sturgeon, and the Scottish parliament "will be discussing possible measures with business sectors" that could potentially be announced this week.
Since the discovery of Omicron cases in the country, First Minister Nicola Sturgeon has urged people to "test much more" to keep on top of the spread. "At this stage we are asking people to significantly step up and increase compliance with all existing precautions," she said on Nov. 29, per BBC News. Sturgeon has also called for employers to "maximise the potential of home working" in light of the new variant.
What About The Possibility Of A Flu Outbreak?
There are concerns that flu could pose a serious threat in the UK this winter, as continued lockdowns may have caused a "drop in immunity" among the population.
Dr Jenny Harries, head of the newly formed UK Health Security Agency, also stressed the importance of the flu jab, stressing, via BBC News, "It is really important people get vaccinated. This is the first winter where we will have seasonal flu and COVID co-circulating."
To combat this, the government is implementing the "biggest flu programme in history" this winter. From September 2021, providers will offer the flu vaccine for free to 35 million people across the UK including:
Primary and secondary school children
Clinically vulnerable
Pregnant women
Those aged 50 and over
Close contacts of immunocompromised individuals
Frontline health and adult social care staff
This programme corresponds with any booster COVID-19 programme "as part of wider autumn and winter planning," according to gov.uk.
For those not eligible for a free vaccine, you can book a jab through your local pharmacy like Boots or Lloyds Pharmacy, for a cost of £14.50.
With contributions from L'Oréal Blackett, Asyia Iftikhar, Sophie McEvoy, and Orla Pentelow.
This article was originally published on