Couple Loses Everything In A Fire On Wedding Day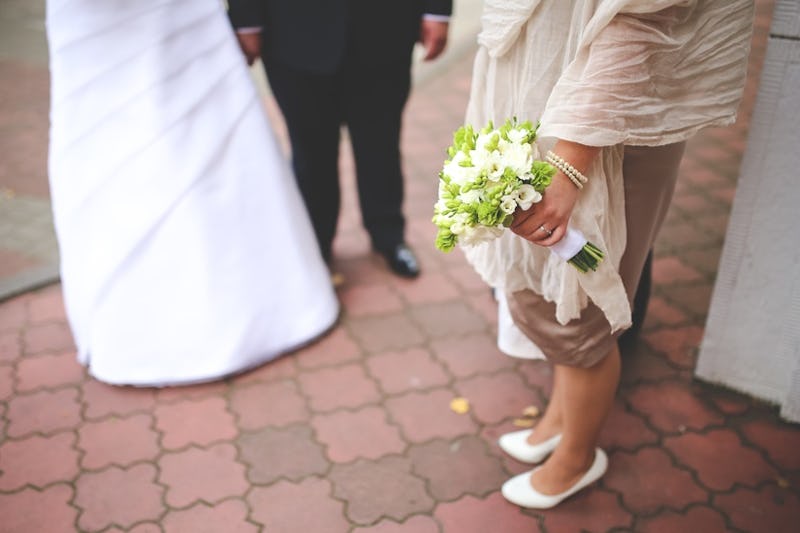 We've heard a lot of beautiful wedding stories in the last few months. High tech weddings, celebrity weddings, themed weddings, destination weddings. But this is an entirely different kind of wedding story: a couple's apartment burned down on their wedding day. Dayleen Marrero and Andrew Taylor were getting ready for the festivities when their apartment in Chicago caught fire, and almost everything inside the apartment was destroyed. According to the Chicago Tribune, Taylor was in the building when the fire broke out and knocked on the doors of 20 or so neighbors warning them to get out of the apartment building immediately. He took his tuxedo and his dog and ran out of the building. Inside, he left their wedding rings, marriage license, a letter Taylor intended to read at the wedding, and everything else they owned.
Fortunately, the couple was still able to go through with the ceremony as planned. According to Newser, the wedding was black-and-gold retro Hollywood theme with 100 guests in a loft space near their apartment. Friends even broke into a rehearsed flash mob dance as planned. They had to supplement a few things, using an uncle's wedding ring and Marrero's engagement ring for the ring exchange, but they pulled off the ceremony.
Here they are at the reception:
Congratulations to the happy couple! Even though they are stuck on a friend's couch for a while, they are extremely thankful to have each other and will rebuild their life together, now as newlyweds. They're raising money on GoFundMe (a friend set up the page). They've long since exceeded their goal of $5,000 and have raised close to $11,000.
We're wishing the beautiful couple all the best:
Find their GoFundMe page here.
Image: Pexels