Wedding Gets Insanely High Tech For A Sweet Reason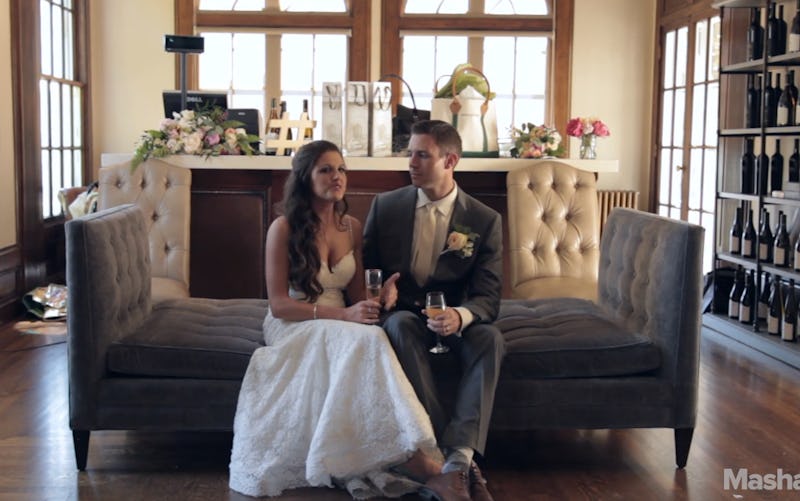 Samantha Carisch and Taylor Sinclair wore Fitbit heart rate trackers as they got married. Doesn't sound like your typical wedding, right? Well, it only gets more unique from there: Carisch's dress was crowdsourced, as were the invitations, flowers, bridesmaids dresses and the honeymoon destination. It all happened after they won a contest held by The Knot for a tech wedding — after that, voters logged onto the site to pick and choose details of their wedding. Mashable picked all of the tech that went into it, and then compiled a video complete with GoPro footage from drones in the sky to a camera hidden in the bouquet.
But the wedding wasn't just remarkable for all the tech, but rather the very important reason behind it: Carisch's mother has been battling cancer for many years, and all of the technology involved in the wedding allowed her mother to be part of the experience. Carisch is her mother's caretaker and her top priority was that her mother be able to take part in her special day. Her mother got to watch Carisch walk down the aisle — and every other bit of her daughter's wedding — along with the rest of the digital crowd following along. Carisch also pointed out that crowdsourcing the wedding allowed her to spend more time with her mother, because other people were taking care of the decisions.
According to Mashable, "Even the cake had a touch of technology, with a 3D printed cake topper from startup Doob3D that looked just like the couple. Prior to the wedding, Carisch and Sinclair went to the company's pop-up store in Los Angeles for a body scan that was later replicated onto a figurine."
Here are a few scenes from the wedding (as seen through Snapchats, of course):
There was even a robot bartender serving drinks.
While opening your wedding up to the public might seem over the top, it gave the couple the opportunity to focus more on what was important to them and increased the intimacy of the whole experience.
At the end of it all, Carisch told Mashable, "It might seem a little strange to some people, but we couldn't be happier. My mom was able to be a part of the entire process comfortably. That was always the most important thing."
Watch the full video by Mashable below:
As well as a few of their choice Snapchats from the event:
All diligently SnapChatted by Mashable reporter Samantha Kelly.
Images: YouTube(3)