Andi Had Words For Nick Viall On Twitter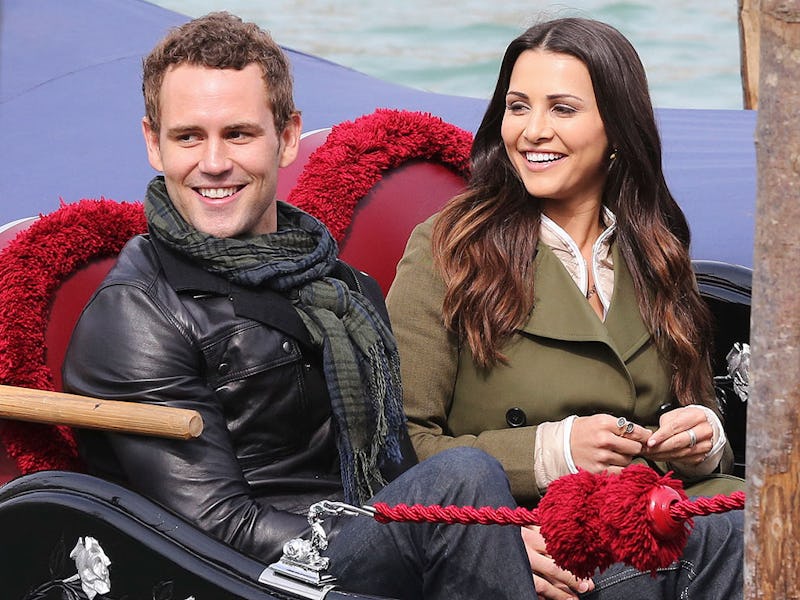 It's not a secret that Andi Dorfman hasn't been a fan of Nick Viall during his second Bachelorette stint. But even though she warned Kaitlyn to "run" when Nick showed up on her season, Andi still felt bad when Nick ended up getting dumped by Kaitlyn during Monday's Bachelorette finale. I mean, who wouldn't? He was totally blindsided by Kaitlyn's sudden admission that he wasn't the one for her. He was so (understandably) upset that he threw the engagement ring onto the limo floor when he got into it. (A move Dorfman totally approved of, by the way.) In fact, Andi had a lot of nice things to say about Nick on Twitter, no matter what may have happened in their past.
She opened up her rant (not really a rant, but let's call it that anyway), by talking about how sad it was to watch Nick get dumped on live TV (which it totally, totally was). Then she joked that he should have swallowed the ring instead of throwing it. (That would have showed Kaitlyn and the producers! Neil Lane would've been super mad, though.)
It was a big turnaround from her earlier tweets warning Kaitlyn of her ex. Check out the 180 she pulled on Nick. From her original thoughts:
To after Nick was sent home. I guess watching someone else's public breakup is enough to win anyone over (kinda).
They may not be best friends, but at least she feels for him! And let's be honest: We all do. Hope you're recovering OK, Nick.
Image: Screengrab/ABC