What If Uncle Jesse Was On Tinder?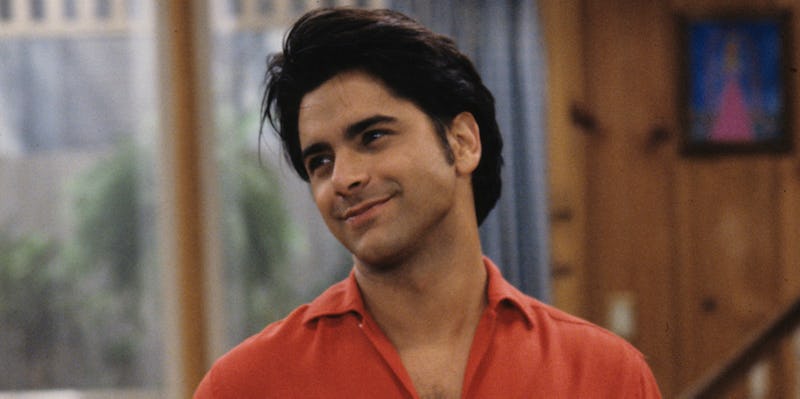 For many of us '90s and 2000s girls, John Stamos' character Uncle Jesse Katsopolis from Full House was our first crush. (The other option is the lovable goofball Uncle Joey Gladstone, which is also valid.) Who could resist the motorcycle riding bad boy with a heart of gold, who sang both rock and roll to crowds and lullabies to Michelle? Uncle Jesse is the ultimate bae — a family man who doesn't lack sex appeal. But Jesse was hard to lock down. If Full House took place in 2015, Uncle Jesse definitely would have been on Tinder.
He had a reputation as a womanizer from high school all the way up until the moment he married Danny's Wake Up, San Francisco! co-host, Becky Donaldson. He even danced and flirted with his high school sweetheart at the 10 year reunion, which was after he and Becky got engaged. With his Tinder profile, a single Jesse would have been scooping the women in the radius outward from his San Francisco house for a one-night stand, which would conveniently give him a night off from the duties of taking care of the kids.
We know for sure that Uncle Jesse won't be Tindering in 2016's Fuller House: Stamos Instagrammed a pic of Jesse and Becky's wedding bands still intact, which made me tear up like the first time I heard Jesse sing "Forever." But if Jesse were online during the pre-Becky era, here's what his Tinder would have looked like.
His Bio Would Just Say "Have Mercy"
The phrase serves as both instructions to his matches and his catchphrase. Along with the pics, it will establish his sexy Elvis vibe right off the bat.
All His Pictures Would Show Off His Hair
Like his idol, Elvis, Jesse is obsessed with his hair. He even talks to it to make it behave, and never misses an opportunity to flaunt it.
He'd Have a Picture With Michelle to Show Off How He's Good With Kids
Women can't resist a guy whose good with kids. I know I can't.
He'd Try to Convince You to Go to an Elvis-Themed Restaurant on Your First Date
"What do you say about that, Little Mama?" Jesse asked Michelle, when trying to convince her to have an Elvis-themed party for her third birthday. "No thank you, Big Daddy," she replied. Maybe he'd have more luck getting a potential date to agree to the unconventional location.
His Messages Would All Be Elvis Quotes
Elvis quotes make for good pickup lines — "Lord Almighty, I feel my temperature higher," "I got a hunk of burning love," and "love me tender." Who "can't help falling in love" with that?
He'd Plug Jesse and the Rippers
Everyone's favorite band of bad boys doing Beach Boys covers: playing at a Smash Club near you. If his picture alone wasn't enough to sway you, all of the above would definitely have you swiping right if you were lucky enough to catch Jesse on Tinder.
Image: Warner Bros. Television