Does Crayola Lipstick Actually Work? — VIDEO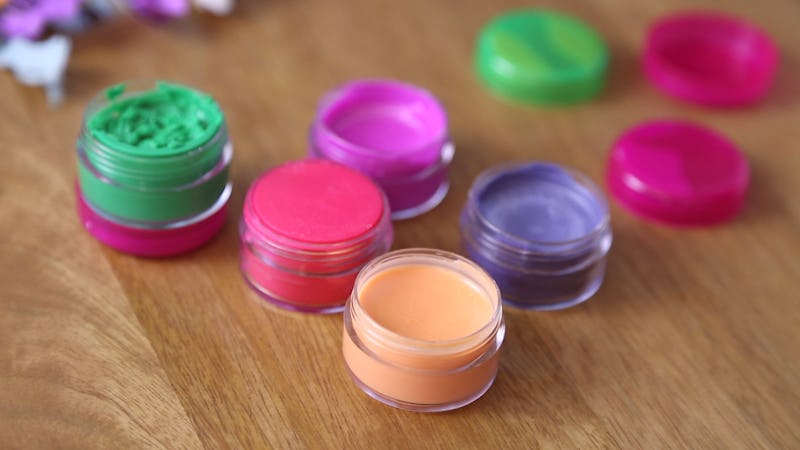 Who doesn't love a great DIY makeup hack? If you find a great one, it can be an easy way to save some money. But what about the latest trend of making lipstick out of crayons is controversial. That's right, people are using your go-to writing utensil from your childhood to make lippies.
Curious about whether this is worth a try? A few Bustle editors took the homemade lip product to the test with a pretty easy recipe. Simply combine coconut oil and the crayon color of your choice (Tickle-Me-Pink, anyone?), and melt the two together. Depending on the amount of crayon you use, you can make the lipstick more or less sheer, and mix whatever shades you want together to get your ideal lippie. Once the mixture has cooled, voila — a new lip color! Is it just me, or is this definitely a Orange Is The New Black -worthy makeup hack?
And the verdict? Well, it's not the best lipstick option out there, but this DIY makeup hack isn't terrible either, especially if you're in a pinch, or need a specific lipstick you're never going to wear again for a costume party.
Strange, I know, using craft store supplies as big-kid makeup, but think about it — crayon wax is actually pretty similar to the products found in the legitimate stuff you find at the store. But instead of spending a ton of money of a variety of lipstick shades, why not just use what you've got lying around before shelling out for a crazy shade. Though a bit trickier than a pre-made cosmetic, this fun DIY recipe is a risk worth taking in a pinch. Check out Bustle's video below.
Images: Bustle/YouTube