'Vacation' Directors Talk Chris Hemsworth Cameo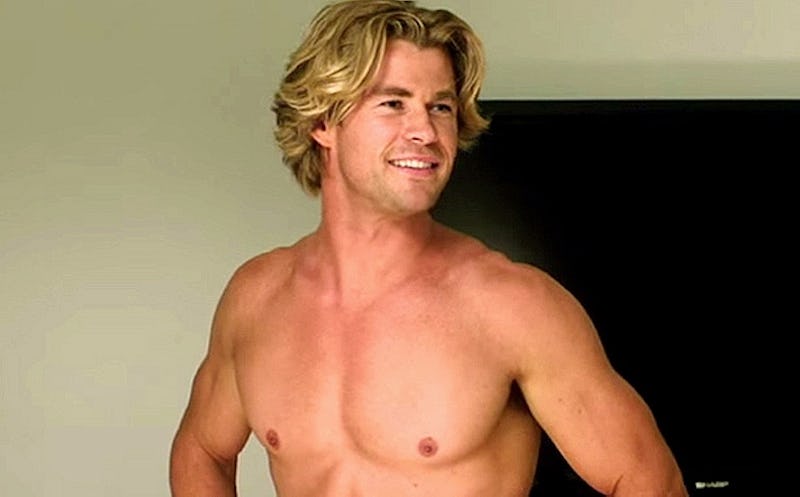 The most noteworthy cameo in 2015's Vacation reboot is undoubtably Thor's Chris Hemsworth. Not only is the actor an impressive specimen of physical perfection, he is shockingly convincing — and thoroughly entertaining — in the comedic role. Playing Audrey Griswold's husband Stone, Australian Hemsworth is a Texas cowboy who proves to be a temptation to Rusty Griswold's bored wife Debbie. "He was very willing. He came to play," says writer/director Jonathan M. Goldstein. Co-writer/director John Francis Daley adds: "We've never seen him do this kind of comedy before, so it was a pleasant surprise to see that he nailed it."
While most audiences know Hemsworth for his work as Marvel's Thor, the 31-year-old tried on his comedic hat — and another accessory, located a bit further south — for the role. "There was a conversation about the size and shape of his appendage," says Daley. "We had a couple options and tested them out on the day we were shooting. It was one of the weirder moments in our directing careers, going up to this bedroom with Chris Hemsworth as he models his penis to us."
But the — dare I say — foot-long (by my modest guestimation) appendage was only part of his persona. Daley reveals Hemsworth's character is inspired by Los Angles weatherman Dallas Raines. Goldstein adds: "We had conversations before he arrived about his hair and what it would look like. To us, that shell of weatherman hair is so specific. He couldn't cut his hair because it was before the Thor movie, and it worked out."
With the body of a greek god and the flowing tresses of Goldilocks, Hemsworth is the model of physical greatness. And as Daley and Goldstein were quick to assure, he was a complete pro on set. "He knew exactly what we were going for with this role," Daley says. "I remember one time we gave him 10 notes, and we thought he'd execute maybe two of them, because no human being can... but he's not a normal human being. He's a superman. He's perfect in every way."
"We're a little in love," Goldstein concludes.
See Vacation in theaters July 29, and catch a glimpse of Hemsworth's distraction in the NSFW redband trailer below:
Images: Warner Bros.; YouTube