Read These 9 Novels If You're Feeling Homesick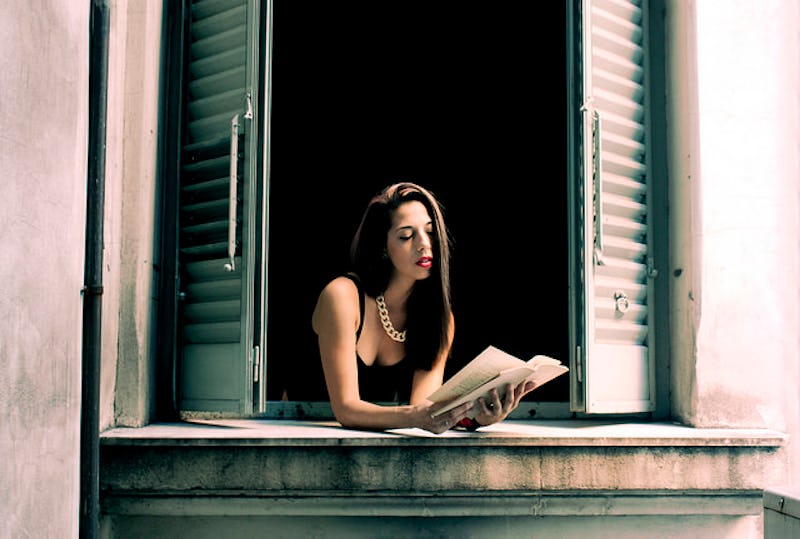 Traveling anywhere, whether you're headed across the country or across the world, offers exciting new experiences, the chance at a new kind of independence, and invaluable life lessons. But, more often than not, traveling also leads to a bout of homesickness. Whether you're a homebody or an adventurer abroad, it's easy to feel that pull of loneliness when you're in a place where you don't speak the language or recognize the street names. Don't let the emotional stress of being far away from the comforts of your own bed ruin your travels, however. Instead, try picking up a book that reminds you of home to help quell your anxieties.
There are plenty of ways to reduce homesickness. Some studies have shown that the best way to cure homesickness, which is less about missing a physical space or geographic location and more about feeling stress over a break in your normal routine, is to participate in things that you love doing at home. While some people pack photos of their family in their suitcases, travel with their childhood security blankets, or try and eat familiar comfort foods, for others, it still isn't enough. Some people need more of a distraction from all of the unfamiliar, some alone time to get lost in something that reminds them of home, and an evening curled up with a book about the place, people, or culture that was left behind can be just what the doctor ordered. Books that help you to cope with your feelings of anxiety and depression while traveling are filled with words written in your native language, imagery that brings you to neighborhoods you grew up in, and characters that are relatable in a way that makes you feel a little less alone in the new, foreign place you've found yourself in. In a way, bringing a book along with you while you take on the unfamiliar is a little bit like bringing along a piece of your home.
If you find yourself far from home this summer and in need of a little comfort, here are 11 books to help cure your homesickness:
Swamplandia! by Karen Russell
Even if you don't call Florida home, there's something about 13-year-old Ava's determination to save her island home in the face of tragedy that is both comforting and sentimental, albeit bizarre in only the way a story about the Sunshine State can be. Eva will stop at nothing to keep her family together and preserve her community, and the young girl's own bravery may just rub off on you, and make your own adventures seem a little less scary.
An American Childhood by Annie Dillard
From playing a game of catch with the neighborhood kids to helping her parents with the household chores, every page of Annie Dillard's memoir about growing up in 1950s Pittsburgh is laden with rich descriptions and a sense of intimacy and familiarity. An American Childhood is a nostalgic celebration of coming of age in the U.S. that any kid who was born and raised in the States can relate to.
Travels with Charley in Search of America by John Steinbeck
If you're traveling abroad and really missing home, then spend an evening riding from New York to California and everywhere in between alongside John Steinbeck and his lovable poodle companion, Charlie. Travels with Charley will taje you from the tall pine forests through wide open fields, vast plains, and along the golden coast on the ultimate American road trip. You'll hear the accents, smell the trees, and meet the people that make the U.S. what it is, all from the comfort of your swanky European flat.
Prodigal Summer by Barbara Kingsolver
A sentimental novel concerning nature, humanity, and the interconnectedness of it all, Prodigal Summer alternates between the stories of three different people over the course of one summer in Appalachia. Each page is filled with the beauty of nature and traces of human love and compassion. Distract yourself from your homesickness with this romp into nature, both human and not.
The Complete Poems of Emily Dickinson by Emily Dickinson
Emily Dickinson, a woman who never traveled herself, still knows a thing or two about loneliness, and her collection of poetry will speak to your own heartache of missing home. Moving, honest, and tender, Dickinson's (mostly) short poems may pull at your heartstrings and could cause a tear or two, but you will find comfort and empathy in the beloved American poet's words.
A Connecticut Yankee in King Arthur's Court by Mark Twain
Feeling a little out of place on your travels away from home? Put yourself in Hank Morgan's shoes, a man who was ripped from Connecticut and dropped into the world of knights, wizards, and dragons in King Arthur's court. Charming and witty, Mark Twain's classic satire will give you a laugh and remind you that you can make it anywhere as long as you have your wits about you, and a good sense of humor to carry you through.
Love Story by Erich Segal
Give yourself something else to cry about other than homesickness with Erich Segal's celebrated classic, Love Story. Two people from opposite worlds collide in this endearing story about love and loss — because sometimes, you just need a good romance (and a good cry) to help you through your own emotions.
The Namesake by Jhumpa Lahiri
Not many writers are able to tackle the themes of alienation, displacement, and the immigrant experience as powerfully and sincerely as Jhumpa Lahiri. Her novel The Namesake handles these complicated issues, and the equally complicated emotions that go with them, with honesty and insight. Another book that reminds you that you aren't the only one missing home, The Namesake is beautifully told story and a must-read for the displaced.
Empire Falls by Richard Russo
Sometimes, you just want a reminder of the simple life back home, and Richard Russo's novel brilliantly captures the everyday of blue-collar Americans. Empire Falls is a heartwarming and hilarious narration of the complicated and intertwined lives of the people in a small Maine town, and it will fill you with all the same comforts of walking into your hometown's local restaurant and knowing everyone's name and story.
Image: Lucy Marti/Flickr