I Tried 7 Uses For Smith's Rosebud Salve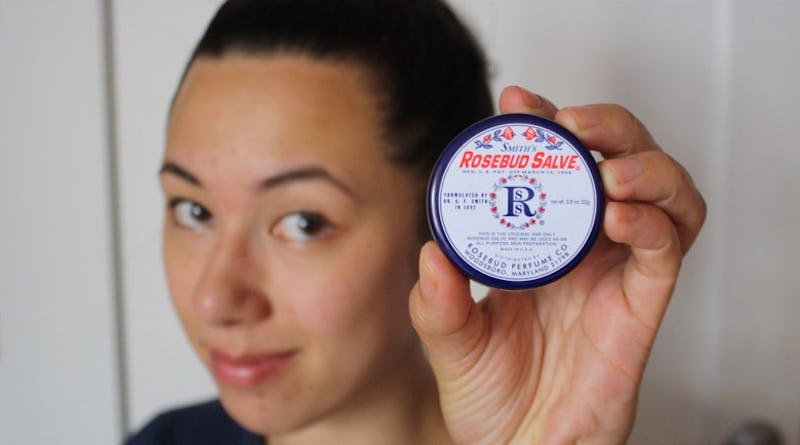 As a self-proclaimed lazy girl, I'm always on the search for the next great holy grail multipurpose beauty product, and Smith's Rosebud Salve claims to fill that niche, all in one delightfully vintage-looking tin. On its website, Smith's Rosebud Salve promises to have cosmetic and healing purposes, ranging from a fighter of frizz to a base for powdered eyeshadow.
I'm no stranger to Smith's, having been introduced to it in middle school, but I've only ever used it as a lip balm and, to be honest, I retired it after graduating from high school because it can get pretty goopy and messy. But now that you can get Smith's Rosebud Salve in a convenient tube, and it can be found while standing in line for the cashier at almost every Sephora I've ever been to, I figured it was time for me to give it another shot.
It's also important to note here that there are actually many different formulas of Smith's. (I've always been a fan of Menthol and Eucalyptus Balm, though the Strawberry Lip Balm was a big hit among my friends in middle school.) However, it's the original Smith's Rosebud Salve that claims to be able to do everything, so that's the one I decided to put it to the test and see, once and for all, if it's really the ultimate lazy girl beauty product.
Smith's Rosebud Salve, $7, Amazon
I first bought Smith's Rosebud Salve as a lip balm, and it's always served me well in that capacity. My lips look glossy without feeling sticky, with a delicate pink tint, and I can feel the moisture soaking in. The scent is also delightful and by the end of the day, the salve has disappeared and basically melted into my lips, leaving them soft and chap-free.
Although the pink pigment of Rosebud Salve is enough to enhance the color of my lips, it's not enough to do anything for my cheeks. Instead of looking like a dewey wood nymph, my cheeks were sticky and my hair stuck to them. My skin looked kinda oily and shiny, not soft and light.
I've been pretty pleased with my eyebrow game these days, but I usually need some makeup to beef them up a bit and to tame them. Usually, they're totally wonky by the end of the day, no matter what I try. Enter Smith's Rosebud Salve. I dabbed a little bit on the inner end of my brow and then brushed it out using the spoolie brush on the end of my eyebrow pencil. Not only were my eyebrows molded into my favorite shape, but they were also slightly darker without the application of any pigment. Plus, the whole thing took less than five minutes, which is any lazy girl's dream.
Want other beauty hacks? Check out our best DIYs right here (and subscribe to Bustle's YouTube for even more!):
I was skeptical about this product's abilities as an eyeshadow primer. It seemed too goopy and dense to really be effective as a base coat, and I was pretty much on point with my prediction. When I put on my metallic taupe eyeshadow, the color just glommed onto my eyelid and turned into this deep, intense gold. I tried putting some darker shadow into my crease, but that also just stuck to my lid and became hard to blend with a brush because the base was so thick. The salve gave my eyelids a much heavier, dewier appearance that was way too intense for a daytime look.
I'm also pretty certain the salve has ruined my eyeshadow brushes though, because after application, the brushes were sticky and stiff with salve:
If I was going out for a hot and sweaty night on the town, I would consider using Smith's Rosebud Salve as a primer. But for day-to-day wear, it created a look that was hyper-pigmented and too shiny, and I can't afford to go through a whole set of brushes every time I want to put on some eyeshadow.
After the whole eyeshadow primer debacle, I was eager to take it all off, so I scooped out some Rosebud Salve with my fingers and rubbed them on my eyelids. Almost like magic, my heavy eyeshadow and waterproof mascara melted off my eye. I wiped it off with a cotton pad and was shocked by how quickly so much makeup came off.
A couple of swipes, and I was done without having to wash my face or do small touch-ups with a cotton swab. Although effective, taking off my eye makeup was a bit of a mess, and I was left with goopy hands and a sticky face. But the best part of Rosebud Salve is that is soaks into your skin, and after an hour or so, my skin felt way softer and smoother.
I spent the weekend at a friend's house on a lake, and I'm still not entirely sure how I got this scrape on my ankle. Regardless, it's been bothering me to no end because it's itchy and has been peeling and doesn't look great. So I, of course, put some Rosebud Salve on it. Putting it on wasn't exactly satisfying, but after a few hours, the scabs felt noticeably smoother.
The entire time I was taking pictures of myself, I kept on thinking about how many flyaways I spotted and how distracting they looked. Well, turns out I should've tried this trick first because Rosebud Salve is a perfect flyaway tamer. I put a little on my palm, rubbed it into my hair, then combed the whole thing back, and was so pleased with how it looked. To give you a sense of how well it worked, the top picture is after combing it through my hair, and the bottom picture is what it looked like before.
The topknot with Rosebud Salve is much neater and sleeker, without looking greasy. I did get a little too excited with the salve when I first put on a dollop, and used too much product, but that gloopy patch was quickly incorporated into the rest of my hair.
Pretty much! There were definitely some things that were better suited for Rosebud Salve than others, but in a pinch, it can do a lot. I liked it best as a flyaway and eyebrow tamer, as well as a super hydrating lip balm. I was shocked by how good it was at removing makeup, but I wouldn't use it before other products, and the same is true with using Rosebud Salve as a eye makeup primer or a scrape healer. The only task the salve totally failed was as a blush, but I think it could be a great primer for a super powdery product.
The best bit of advice I can give when it comes to Smith's Rosebud Salve is that a small dab of salve goes a long way, and for most of these, I could have used half the amount of product and still had the same, or better, results. Long story short, if you're a lazy girl looking for a holy grail product, I'd recommend picking up some Smith's Rosebud Salve because it's one of those magical things that actually lives up to the hype.
Images: Maxine Builder