3 Multipurpose Skincare Basics For Lazy Girls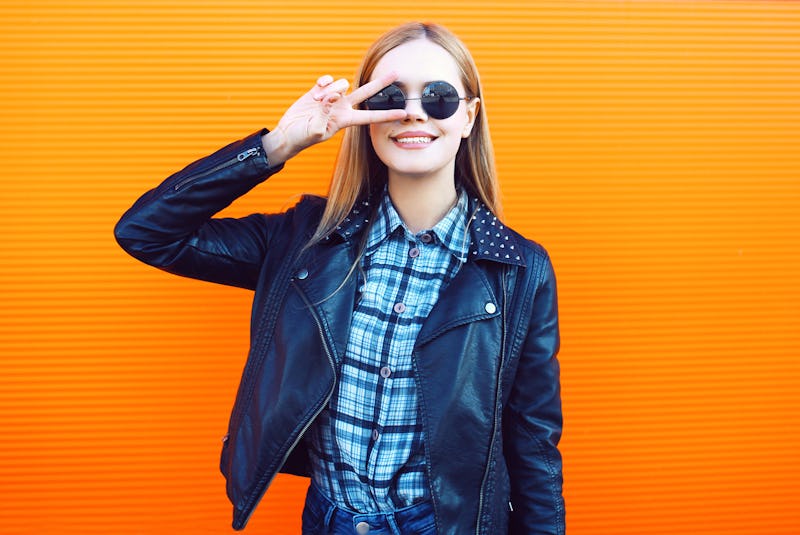 "I wish my skincare routine could last a full hour every day and night," said no lazy girl ever. It's not that we don't understand all the benefits of skincare routine, we just want a short and simple list of skincare products. I mean, clearly all of the makeup removers, cleansers, exfoliators, toners, serums, masks, treatments, and different types of creams and lotions are doing something. As lazy girls, we want all of those skincare benefits without the time it takes to apply all of those individual products. Is that really so much to ask? I think the answer is no — thanks to multipurpose skincare products.
If you're already taking steps toward bettering your skin with the least amount of effort, skincare products that provide at least two benefits can further reduce the time that needs to be spent on maintaining skin. And besides, while all of those fancy treatments can help, they're not 100 percent necessary for healthy, glowing skin. All you really need is a good cleanser and moisturizer (and SPF if you spend a lot of time in the sun). So if a two-step (or occasionally three-step) skincare routine sounds like just the ticket, here are some great multipurpose products to try to save more time for important things like sleeping or reality-TV binging.
1. Multipurpose Cleanser
Cleaning the face isn't really a step that can just be skipped, even for a lazy girl. But if you're going to do it, you might as well reap some other benefits. Cleansing milks like this one from Korres will not only clean the skin but also remove makeup and tone. Micellar water and cleansing oils like the ones from Simple and Boscia will remove makeup and hydrate in addition to cleaning the skin of impurities. Facial wipes like this one from Yes To will remove makeup and even treat acne while cleansing. And this cleansing balm from Ren removes makeup and conditions lashes and brows while purifying the skin.
From left: Korres Greek Yoghurt 3 In 1 Cleansing, Toning and Eye Makeup-Removing Emulsion, $24, sephora.com; Simple Cleansing Micellar Water, $8, ulta.com; Yes To Tomatoes Blemish Clearing Facial Towelettes, $4, target.com; Boscia Makeup-Breakup Cool Cleansing Oil, $28, sephora.com; Ren Rosa Centifolia No.1 Purify Cleansing Balm, $48, sephora.com
2. Multipurpose Moisturizer
Besides cleansing, moisturizing is really the only other essential step. But if you want to give your skin more than a little hydration, pick a moisturizer with added benefits. This priming moisturizer from Embryolisse can be used to prep the skin for makeup application (it's a cult favorite), and can later even remove the same makeup. Clearing moisturizers like this one from Clean & Clear will battle breakouts with salicylic acid while keeping skin moisturized. This mattifying moisturizer from DDF will keep oil production at bay while guarding the skin from sun damage with SPF 15. If your skin needs a little extra TLC, this hydrating mask from Glamglow can actually be left on overnight to calm, smooth, and energize the skin for a complexion that is healthy and glowing. If fine lines and wrinkles are a concern, try an anti-aging moisturizer like this one from Olay. It reduces the appearance of them in addition to age spots and pores, improves skin's texture, and provides SPF 30.
From left: Embryolisse Lait-Creme Concentre, $28, sephora.com; Clean & Clear Dual Action Moisturizer, $5, target.com; DDF Mattifying Oil Control UV Moisturizer, $44, ulta.com; Glamglow Thirstymud Hydrating Treatment, $69, sephora.com; Olay Total Effects 7 In One Anti-Aging Moisturizer With Sunscreen, $20, target.com
3. Multipurpose Treatment (Optional)
Although treatments are not as necessary as just cleansing and moisturizing, sometimes we want to do them anyway. So you don't have to sacrifice your laziness for your skin benefits, there are some products that target multiple concerns at once. If your concerns are aging, priming, and sun protection, Murad's Invisiblur Perfecting Shield improves signs of aging, blurs imperfections, and has SPF 30. If you're more worried about congested, dull, and aging skin, Peter Thomas Roth's Irish Moor Mud Mask draws out toxins and impurities, hydrates and revitalizes skin, and helps reduce the appearance of fine lines, wrinkles, and pores. For a convenient catch-all, Smith's Rosebud Salve can hydrate lips and cuticles, smooth dry and cracked skin, heal irritations and minor cuts, and soothe minor burns. If your eye area needs a little more love than what your regular moisturizer can offer, try a cream that also works for lips. The Sephora Collection Cream for Eyes & Lips reduces the appearance of fine lines, wrinkles, and bags while also priming for makeup to ensure it lasts longer. And for blemished skin and premature aging concerns, La Roche-Posay's serum exfoliates to renew skin, unclogs and tightens pores, and smooths fine lines.
From left: Murad Invisiblur Perfecting Shield, $65, sephora.com; Peter Thomas Roth Irish Moor Mud Mask, $58, ulta.com; Rosebud Perfume Co. Rosebud Salve In a Tube, $6, sephora.com; Sephora Collection Total Age Defy Cream for Eyes & Lips, $26, sephora.com; La Roche-Posay Effaclar Serum, $45, ulta.com
Images: rohappy/Fotolia; Courtesy of Brands (15)