Meghan King Edmonds Is A Great Stepmom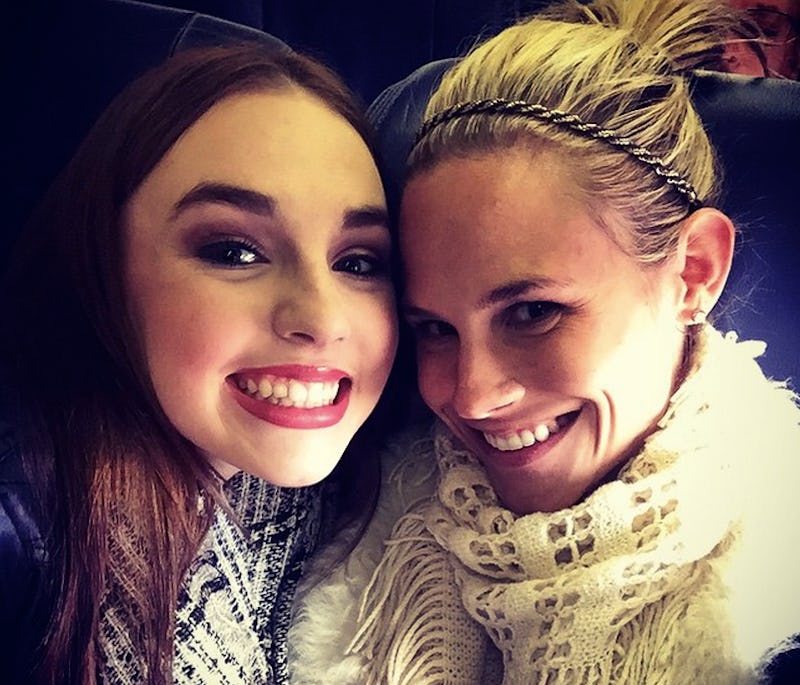 On The Real Housewives of Orange County, Meghan King Edmonds takes a lot of heat for factors that are out of her control — like her youth and the fact that she's a statuesque blonde who captured baseball player Jim Edmonds' heart. But there's so much more to the RHOC newbie than many people think. Meghan King Edmonds has proven she's a great stepmom to her husband's four children and is stepping up to show her support for her family following the death of Jim's ex-wife, LeAnn Huntley Edmonds-Horton, who died recently from colon cancer.
LeAnn was the St. Louis Cardinals player's first wife and shared two daughters with her ex, Lauren and Hayley. (Jim also has a daughter, Sutton Jayne, and a son, Landon, from his second marriage to Allison Jayne Raski.) Even the most seasoned stepmom would consider it a gargantuan and incredibly sad task to help her new husband and his children move forward and navigate the world after such a devastating loss, but the 30-year-old St. Louis native immediately accepted her four stepchildren with open arms. She is constantly thinking of new and better ways to provide love and support for them while making it clear she isn't trying to step on anybody's toes or take over for their biological moms.
Here are nine times Meghan King Edmonds proved her awesome stepmom skills.
1. She Became Friends With LeAnn
It's never easy to befriend the ex of a person with whom you're in love. Meghan proved she is mature, secure with herself and her relationship, and willing to put her step-kids' needs ahead of her own by making sure she and LeAnn were on good terms before her death. By doing so, both ladies set an important example for her stepchildren — modern families can work and two women with similar desires to lead happy lives free of drama can lead the way.
2. She And Jim Bought A House In Orange County To Be Close To LeAnn
After Meghan and her husband got married, his 17-year-old daughter, Hayley, moved from southern California to live with them in St. Louis. But she soon expressed an interest in moving back in with her mom after her cancer diagnosis. Not only were Meghan and Jim totally on board with the idea, they even made the decision to purchase a house in Orange County so everybody could be closer to support LeAnn through her cancer battle. The two even teamed up to throw Hayley a birthday party. Family first.
3. She Spends Quality Time With Hayley
The Sweat Cosmetics brand ambassador has really bonded with Hayley, with whom she is often spotted sharing interests like paddleboarding.
4. She Has Fun With Jim's Younger Children
Little Sutton Jayne and Landon live in St. Louis with their mom, but that hasn't kept Meghan from hopping on a plane to visit and find ways to become an important and positive presence in their lives.
5. She Hosts Events For Kids
Just think about how much pizza had to be ordered, how many cups of juice fell on the carpet, and how many kids' parents had to drag them kicking and screaming away from this fun party. The RHOC star knows what it takes to entertain kids and she says, "bring it."
6. She Gets All Of The Kids Together
The Edmonds' can afford to take really great vacations together, but that's not the point; they make sure they create opportunities for all of their kids to get together for bonding sessions.
7. She Helps Plan Their Birthday Parties
Please tell me Meghan isn't gorgeous, talented, and has a way with fondant, as well, because that wouldn't be fair. Whether she created this Frozen cake by herself, or had a bit of help, it's sweet to know she is hands-on when it comes to her stepchildren's birthday parties.
8. She Endures Hours Upon Hours Of Children's Baseball Games
She loves Landon so much she is willing to sit through the single most boring event of every parent's life: a kid's baseball game.
9. She Wrote a Beautiful Letter To Honor LeAnn
A few days after LeAnn passed away, Meghan dyed her hair pink to honor her and celebrate her life. She also wrote a touching blog post on Bravo's website in which she thanked LeAnn for embracing her and called her "accommodating, sweet, and overall a lovely person." Get your tissues ready because the best part is coming up. She also wrote, "I will never replace LeAnn and nor will I ever try but I hope that I can take her example and love her girls with even an ounce of the love she exhibited. I am truly blessed to have had LeAnn in my life and she lives on in my beautiful stepdaughters."
I think many folks who were quick to dismiss Meghan King Edmonds as just another young trophy wife are discovering they were wrong about her — she is emotionally mature, committed to her family, and seems a lot more selfless than anyone probably thought.
Image: meghankedmonds/Instagram