How Is Meghan Edmonds Doing After Leann's Death?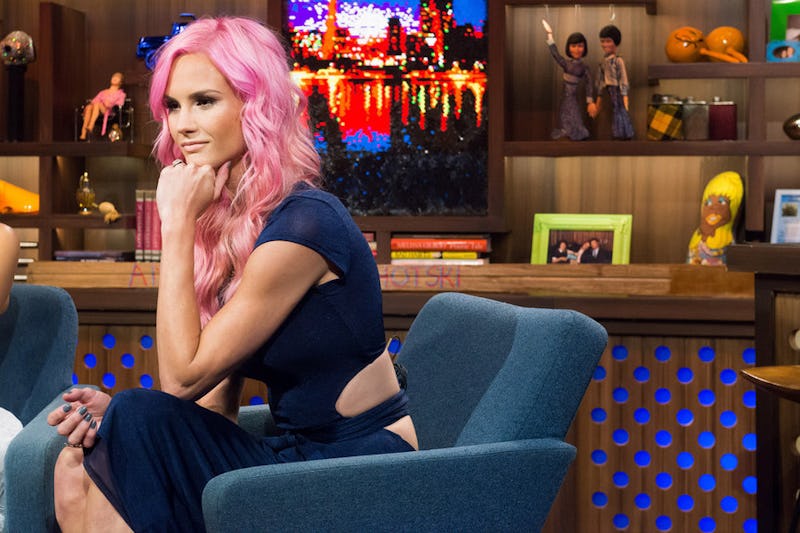 Meghan King Edmonds became the newest member of The Real Housewives of Orange County cast when she came on board for the show's current season. Fans are still getting to know Meghan on the show, but from the get-go it was clear that her family life wasn't exactly conventional. Meghan lives in both Orange County and St. Louis, and she has taken on a very active role raising and disciplining her husband Jim Edmonds' teenage daughter Hayley from his previous marriage while he's busy with work. Another reason for Meghan's active involvement in her step-daughter's life was because Hayley's mother was battling colon cancer. Sadly, Hayley's mom and Jim's ex, Leann Huntley Edmonds-Horton, recently died, and the family, Meghan included, is reeling from the loss. So how are they all holding up? Meghan King Edmonds stopped by Watch What Happens Live on July 27 and touched upon the subject.
First off, let me address the obvious. You might be wondering why Meghan had bright pink hair during her WWHL appearance. Don't worry, she's not trying to steal the spotlight during her family's tough time; she actually dyed her hair pink to honor Leann. The pink does not represent colon cancer, but Meghan explained the reason behind her change in hue to HuffPost Live, saying,
I just think that life is short. My stepdaughters just lost their mom a few days ago to cancer and she and I were close friends. My whole attitude was 'Life is short, and I want to celebrate her life. I'm going to do it because I can! It's pink because... carpe diem.
During her WWHL appearance, host Andy Cohen asked Meghan how she was holding up after Leann's death and she responded, "It wasn't a sudden death, but it was a tragic death. Everybody is feeling a lot of pain and grieving in their own way, but we're really trying to celebrate her life and look forward to the future. And to just really cherish who she was."
As for Jim Edmonds, he wrote a sweet tweet to thank people for supporting his family during their loss:
Meghan's step daughter, Hayley, has a private Twitter account, but the bio on her page says a lot. It simply reads "F*CK CANCER." This is also part of her Instagram bio. Before her mother's passing, Hayley shared a picture of the two of them with a sweet message telling people to "never miss the opportunity to tell your mom you love her:"
After Leann died, Hayley posted another kind message about her mother thanking her for all she has done in her life:
Meghan also took to social media to share her feelings during the tough time. She didn't mention Leann by name in her tweets, but it seems obvious what's she's referencing:
And on Instagram, Meghan posted a photo of herself and Leann with a heart in the caption:
I applaud Meghan for making such great efforts in her relationship with her step-daughter's mother, and I definitely feel for the loss that she and her family has experienced. It's clear this family has a lot of love for each other and that they will support each other to get through this tough time.
Image: Charles Sykes/Bravo