Which Gymnasts Might've Inspired 'The Bronze'?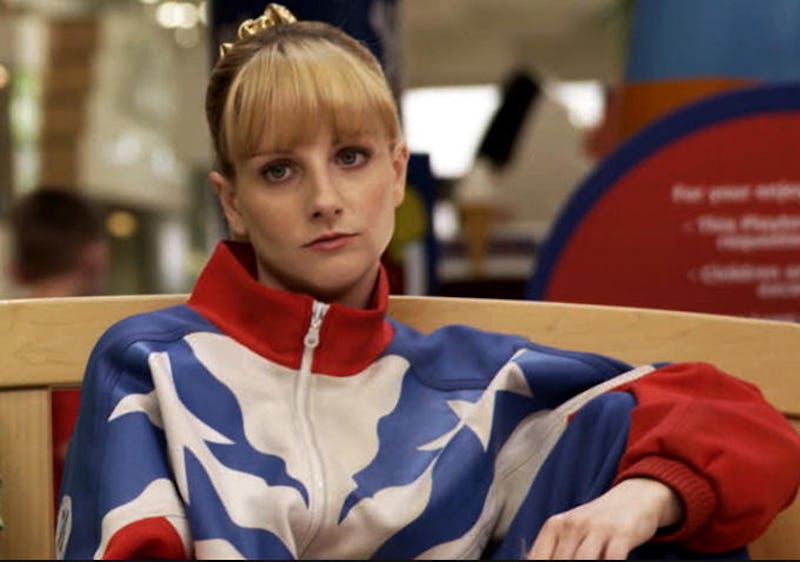 If you're into The Big Bang Theory and gymnastics, you'll probably get a huge kick out of Melissa Rauch's new comedy The Bronze. In it, the TV star plays a former bronze medalist who now lives in her small hometown and expects everyone to worship her for her Olympic accomplishments. Rauch herself wrote the script along with her husband, but is The Bronze based on a true story? Many gymnasts are small-town American girls, and more than a few Olympians are known for their not-so-pleasant attitudes. In addition, many a gymnast has suffered a career-ending injury like the one that causes Rauch's character Hope to end up back in her tiny Ohio hometown in the first place.
The story is reminiscent of many real-life occurrences, but don't start thinking that it's in any way a nonfiction piece or documentary. On the contrary, The Bronze is a super-raunchy comedy that's totally fictional, meant to show a caricature of a mean-spirited megalomaniac who's still reliving her glory days. She masturbates to the footage of her medal-winning performance, excoriates anyone who questions her greatness (and does so in a painfully squeaky voice), and attempts to sabotage an up-and coming-gymnast whom Rauch has been tasked with training. This last bit is the catalyst for the film's narrative, showing how the self-absorbed protagonist learns to deal with change and accept her given circumstances.
But the road towards personal growth is a rocky one, and there are plenty of hilarious speedbumps for Hope along the way. This element makes it pretty clear that the story is a movie formula as opposed to something that really happened, but there are plenty of aspects within the film that could have been based on actual Olympians and events. Here are a few guesses for people who could have served as inspiration for the film:
McKayla Maroney
The American gymnast was initially accused of being a bad sport in the 2012 summer Olympics when she famously frowned upon receiving the silver medal. This image quickly became a meme called "McKayla Is Not Impressed," and the gymnast showed some good sportsmanship by embracing the phenomenon and poking fun at herself.
Kerri Strugg
In the 1996 Olympics, Kerri Strug injured her ankle on her first attempt at the vault. But when her coach told her that she needed to make one more attempt in order to secure the gold for the American team, Strug put her injury aside and sprinted at the vault for a back handspring — and nailed it. Unable to walk after a one-footed landing, Strug was carried by her coach to the podium to receive the gold. This is similar to the injury sustained by Hope in The Bronze, but Strug has been a much more graceful champion than the fictional character in the years since her epic victory.
Aliya Mustafina And Viktoria Komova
The Russian gymnasts were called out in 2012 for exhibiting poor sportsmanship, including snubbing other athletes and making no effort to hide disappointment at low scores. That being said, they and their teammates still took home several medals for Russia, ranking second overall. Maybe Hope in The Bronze is harboring some similar resentment at not placing #1...
Mary Lou Retton
This small-town girl was given the nickname "America's sweetheart" after winning the gold in the individual all-around competition in the 1984 Olympics. The 4'9" gymnast scored perfect 10s in multiple events despite being in recovery from knee surgery, and her performance at the Olympics made her one of the nation's most beloved athletes, and the first official spokesperson for Wheaties cereal. Retton was the pride of her small hometown after the Olympics, much like the gymnast played by Rauch in The Bronze. The difference? Retton, to public knowledge, is a lot nicer.
Gymnastics are hard, and the atmosphere can be vicious. It's therefore no wonder that some athletes develop some not-so-sweet attitudes, and it's impressive when champions are able to keep their heads on straight. Yet as far as watchability goes, seeing Rauch as a seriously delusional egotist in The Bronze is way more entertaining.
Images: Relativity Media; Giphy (3)