That 'Rogue Nation' Knife Fight Scene Was Insane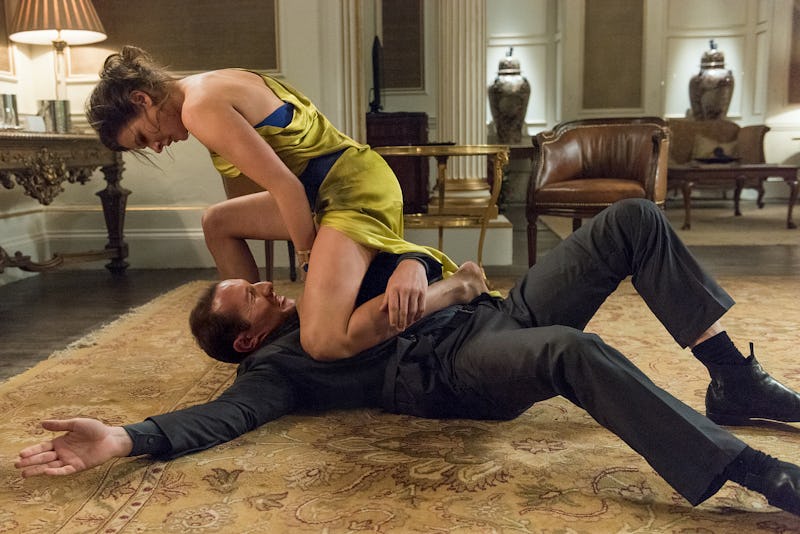 Out of all the high-octane car chases, massive explosions, underwater adventures, bone-breaking fist fights and high-flying action sequences seen in the latest Mission: Impossible, one particular scene stands out: that bad-ass knife fight scene in Rogue Nation featuring Rebecca Ferguson's Isla taking down one of the movie's main henchmen. It will definitely go down in history as one of the best knife fights seen on film, and it's just one of many scenes in the film that don't only proves Isla as the female equivalent of Ethan Hunt, but solidifies Ferguson as the huge breakout star of the fifth movie in the 19-year-old franchise.
How Ferguson landed the role of the ambiguous assassin is a short story. According to an interview with The Daily Mail, Tom Cruise liked her work so he called her in — she didn't even have to audition. But like any other action star, she had to go through some grueling training. Six days a week for six weeks, Ferguson went through some serious physical conditioning and fight choreography to turn into the heroine you see on screen. The training gave her the ability to do her signature "thigh move" seen more than once in the movie and, of course, the aforementioned climactic knife fight.
Even though knife fights make me cringe, I enjoy watching them, as they're often the most entertaining battles in movies. Here's how the Rogue Nation knife fight ranks among some of the best in movie history:
12. Crocodile Dundee (1986): Michael Dundee Vs. Street Gangsters
Not so much of a "knife fight" but more of a movie quote that has withstood the test of time.
11. West Side Story (1961): Bernardo Vs. Riff
Probably one of the most deadly...and balletic knife fights ever.
10. Commando (1985): John Matrix Vs. Bennett
Back when Arnold Schwarzenegger was in his action star prime, he made this cinematic treasure that teetered on B-movie camp but was still a totally awesome action flick. And yes, that is Alyssa Milano playing his daughter.
9. Butch Cassidy and the Sundance Kid (1969): Butch Cassidy Vs. Harvey
A dreamy Paul Newman wins a knife fight in the most clever way possible.
8. Kick-Ass (2010): Hit Girl Vs. Rasul's Gang
Between the adorably deadly and foul-mouth Hit Girl and these guys, it's pretty much a one-sided fight.
7. Quantum of Solace (2008): James Bond Vs. Random Henchman
It's not the best 007 movie and it's not the worst, but it does give one hell of a knife fight.
6. Gangs of New York (2002): Amsterdam Vallon Vs. Bill "The Butcher" Cutting
Just one of many knife scenes in this Martin Scorsese classic. It gets bloody. Really bloody. How could it not with a character named Bill "The Butcher" Cutting?
5. Kill Bill Vol. 1 (2003): The Bride Vs. Vernita Green
One of the best brutal and brilliantly choreographed knife fight scenes in a domestic setting. It also teaches you to always hide a gun in your cereal.
4. Bourne Identity (2002): Jason Bourne Vs. Random Henchman
Jason Bourne fights this guy off with a pen — a pen. That is when you know that no one can mess with you. Ever.
3. Mission: Impossible — Rogue Nation (2015): Isla Vs. Janik
There's no clip of this fight online yet, but I guarantee that you'll be gripping your armrest and clapping your sweaty palms by the end of it.
2. Eastern Promises (2007): Nikolai Vs. Random Henchmen
He kills them off while naked. There's not much more to be said.
1. The Raid: Redemption (2011): Rama Vs. Everybody
This movie pretty much changed the game in terms of fight scenes — and the way Iko Uwais fights is nothing short of amazing.
If the knife fight scene in Rogue Nation is any indication of what fans will see in Mission: Impossible 6, then I'm pretty sure we haven't seen the last of Rebecca Ferguson's knife wielding skills. Perhaps, she'll make it on this list again in a couple of years.
Image: Paramount Pictures