6 Fall Trends That You Should Dive Into Now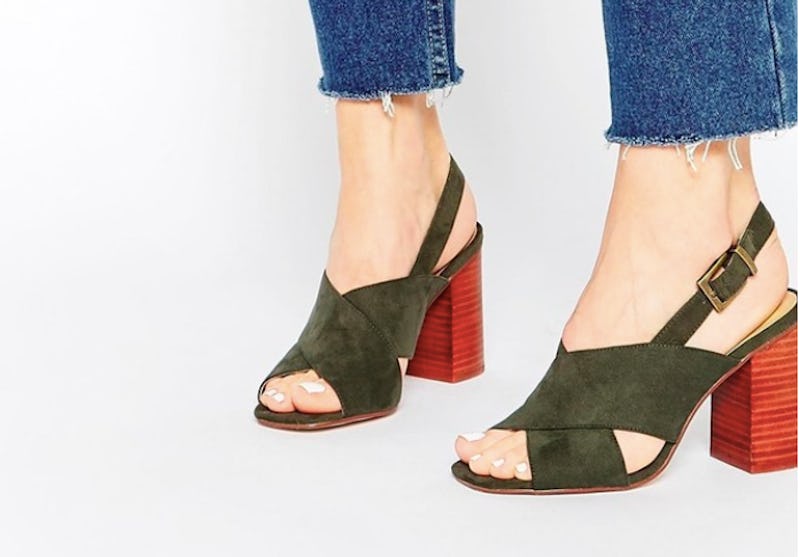 The fashion industry has no concept of time. It is forever stuck in the past, yet propels forward faster than clocks allow. These days, from the looks of street style and editorial evidence, fall 2015 trends will be decidedly '70s-leaning, trying to revive the effortless hippie look in a much more calculated way. The '90s may continue to make a comeback as well, with chokers and platforms popping up on Instagram non-stop. When it comes to revealing trends, the fashion world has no time to waste. Thanks to the fashion we schedule, we hear about winter fashion in summer and spring fashion in fall — calendars are irrelevant and every runway show is a time machine. It makes hardly any sense, but its the high fashion way of saying that there is no way to stop the madness, and you either join in or get left in the past.
Autumn marks one of the most important annual fashion moments. September issues, new school wardrobes, fashion weeks heard 'round the world: It's a very exciting time to consider updating your wardrobe. It is never too early to get a head start on fall trends. Although it's almost impossible to predict what will be the next of-the-moment look, hints can be taken from A/W runways, everyday street style, and social media obsessions. Take a look at my predictions for the coming autumnal fashion fun.
1. Glossy Eyelids
From the very moment we saw Beyonce at last year's Grammy's looking simultaneously sexy and slippery, we knew there was something intriguing about The Wet Look. Not quite greasy, not quite damp — a glossy sheen gives skin a fresh, dewy glow, and in the midst of a rich autumnal color palette, nude glossy eyelids are the perfect neutral look.
2. Deconstructed Denim
I can't see a day when denim isn't on the fall trend forecast. Luckily, its one of those fashion constants that is reinvented time and time again — and yet is never truly tired. This fall I see boxy denim garments being the new Lazy Fashion Girl uniform. Whether they come in the form of mod dresses or roomy playsuits, over-sized denim is the oh-so-comfy look of the season.
3. Berry Lips
Berry lips are a token 90s look — or that of a vampire, I can't really decide. Regardless, they're complementary on everyone's skin tone and really take classic fall hues to the next level. Whether it's matte or just a dark stain, berry lips are replacing the red lip. For the moment, at least.
4. Elbow-Length Gloves
Take note from the A/W 15 ready-to-wear Ann Demeulemeester runway, elbow-length gloves will be the next edgy cold weather accessory up for grabs. They're equal parts warm and sleek, making for the perfect transitional piece from summer to fall.
5. Hair Colors Found In Nature
Might I be so bold as to say that extreme hair colors are on the way out? After months and months of social media stars bleaching their hair white blonde, periwinkle, and baby blue, I think natural shades will have a major comeback. The first hint was seeing the recent media obsession with Blake Lively's darker look. I'm predicting a spike in deep conditioner and brunette hair dye sales this coming fall.
6. Block Heels
They give you the height you want and the comfort you need. Chunky heels give off feel-good 70s vibes and have the ability to go very casual (paired with denim) or office appropriate (with a flair skirt and button-up).
ASOS Tomorrow 70s Heeled Sandals, $62, asos.com
7. Business Casual Co-Ords
Co-ords are no longer limited to a good mini skirt/crop top combo. For fall, they're becoming office appropriate. Consider this the new take on dated pantsuits — and show up to your next office meeting looking chic beyond belief.
Miss Guided Rust Co-Ords, $40 for culottes, $30 for top, missguidedus.com
8. The Casual Clutch
I think statement bags have had their moment and it's time to convert to a more lax way of accessorizing. Simple clutches can be rolled up and tucked under your arm at a moments notice, while still looking impossibly chic.
Images: bitebeauty, lindagradinmakeup, shopedelano, anndemeulemeester_official, doris_dave, alilathelabel/Instagram; Courtesy of Brands (2)