6 Places Where You Should Do It At Least Once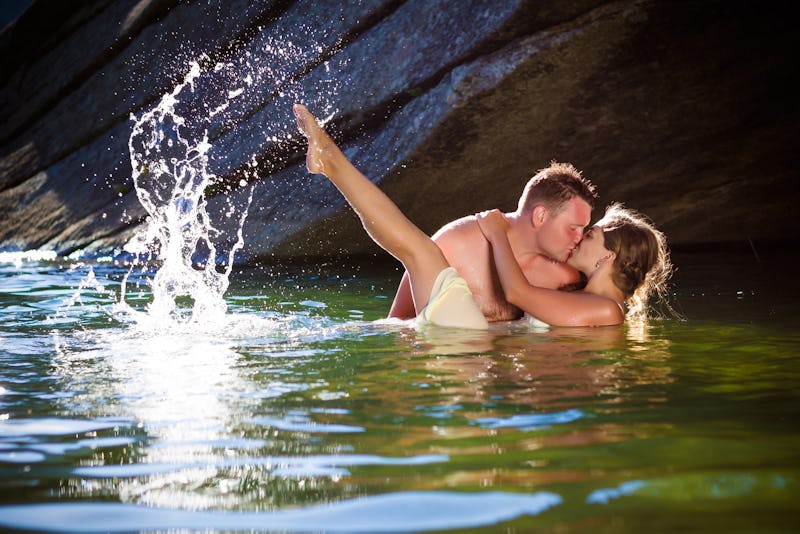 What is your sex location fantasy? Is it the backseat of a car? Maybe an airplane bathroom? The back room of a bar with the hot guy or woman in a band? The beach?
"We all love our rom-coms that depict those hot steamy passionate sex scenes we all dream about here and there. Many of those tend to not live up to the expectation such as the beach (ouch! Sand) but there are a few that just might. I think we should all live out our fantasies at least once; all in an effort to learn more about ourselves and explore what works for each of us and us might not," says Dr. Yvonka, a sexologist and clinical head of JasminTV's #sexishealthy campaign.
Something a lot of us have in common is the thrill of "being caught" or the unusual experiences. "I will always recommend keeping in mind the law off course and make sure you don't do anything illegal or that can get you in trouble!" says Dr. Yvonka.
Just as our turn-ons and turn-offs are always going to vary, so will our fantasy locations. But there's some spots the experts agree that are absolutely worth trying out.
1. Camping
Intimacy in the woods and your tent is a bit underrated."I blame this on the countless horror movies where the couple having sex in the woods usually gets killed. I am not happy about that! However, there is nothing like doing something so natural while being surrounded by beautiful nature," says Dr. Yvonka.
2. On the Dryer
This one may seem like a cliché as well with compliments of Hollywood. "However, it is sexy nonetheless and can be thrilling if the kids are outside playing and chores are being done in home while suddenly you are being taken on top of the dryer midst of folding laundry. A friend's home – this sounds terrible but truly it isn't so bad, chances are they may have done the same! I would recommend a thrilling quickie in the guest bathroom (pending it's clean) during a dinner party or event. Keep in mind that each encounter isn't always meant for the full ride both orgasm complete either. Sometimes this is just foreplay…getting it on quickly without finishing and then taking it home with you. By that time you are so worked up and ready, sex is mind-blowing," says Dr. Yvonka.
3. A Hotel Or Motel In Your City
"Go to hotel or motel in your city for the night (or day!) Being a tourist in your own town allows you to get into vacation mode (hint hint: better sex) without taking spending too much money or taking off too much time," says Andrea Syrtash, Relationship Expert and author of It's Okay to Sleep With Him on the First Date: And Every Other Rule of Dating, Debunked.
4. In Front Of The Camera
Whether you know it or not, you may have an inner exhibitionist within you despite living in a culture that shrouds sex in secrecy. "Let your show-off side shine by taping yourself on camera (alone or with a trusted partner) and watching the clip in private. Just be sure to set your phone to "Airplane Mode" first to ensure that you don't inadvertently upload your clip to the cloud," says Astroglide's resident sexologist, Dr. Jess.
5. Among The Rocks Or Cliffs Of An Ocean
Lay a beach blanket down and let the wonders of nature enhance your experience. "The sound of the waves, the fresh ocean smells, the warm sun on your skin, and feeling the sand in between your toes is wonderful. Plus you have the added sneak factor as to not get caught! It's a feeling of being like a teenager again. Yes, I've done it, and I highly recommend it!" says Mindi Mink, an adult star and exclusive performer for Girlfriends Films.
6. A Hot Air Balloon
"The most unusual place I've been with my lover was in a hot air balloon. Yes, there were other people in the balloon, but there is nothing more exhilarating than looking out at the beautiful earth, feeling the breeze on your face while having an orgasm. She wore a strap-on inside of her pants, and I wore a skirt. She stimulated my clit while she stood behind me and was inside of me. Everyone else is paying attention to the view, so just the captain might have an idea of what you are doing, but its worth the risk," says Mink.
Want more of Bustle's Sex and Relationships coverage? Check out our new video on sex positions for small penises.
Images: Nadezhda Sundikova/Fotolia; Giphy