How To Share Your Sex Fantasy With Your Partner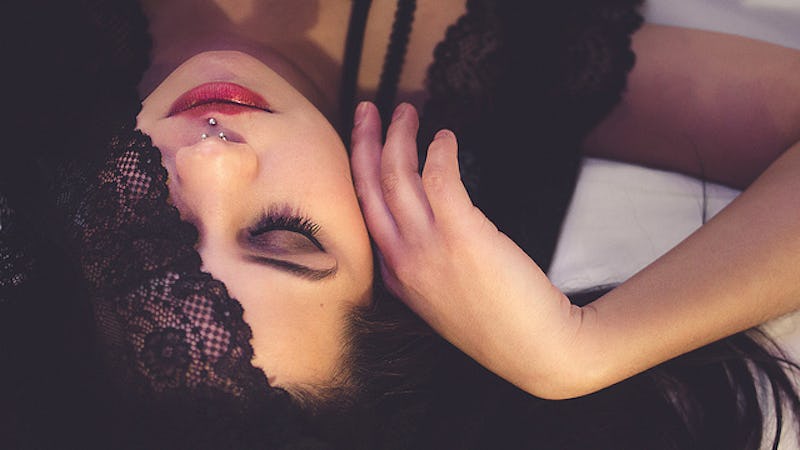 We all have sex fantasies. But, if you're like me, some of your fantasies aren't socially acceptable or easy to talk about. I once dated a guy who seemed pretty straight edge in bed. Our sex consisted of doggy style, missionary, and cowgirl, but I needed something more. I wanted him to choke me during sex. Auto-erotic asphyxiation had always turned me on but I felt embarrassed bringing it up. I didn't want him to think I was super weird or feel turned off. My sexual fantasies felt like a vulnerability, a deep dark secret I didn't want to share with anyone. But once I was able to articulate to him exactly what I wanted, I felt more sexually empowered and our communication felt stronger than ever. It also turned out that he had always wanted to try it too. From the experience, I learned that our willingness to share our bedroom desires and fantasies reveals our ability to be vulnerable, which is really a beautiful thing.
Talking about your fantasies with your partner isn't always easy, but communication is important in all aspects of your relationship — and you'll even feel sexually empowered in the process. Here are five tips for sharing your fantasy with your partner.
1. Time, Setting, And Place is Key
Time: Is the first date the ideal time to tell your partner how much you've always wanted to dress up like a jedi? Nah. Probably not. Think of your fantasy as a secret, and a secret is, of course, only worth divulging to someone who you trust and feel comfortable being vulnerable with, especially if you're trying out BDSM. A FWB or steady partner works best. Once you become more comfortable with it, you can work your way up to talking about your fantasies with a more casual partner.
Make sure you're in a private place, alone. Ideally, this would be in bed during a cuddle session or during foreplay. Make sure your partner has your undivided attention. If you're doing an activity that is totally unrelated to sex, then bringing up a sexual fantasy would just make things awkward and feel out of place. You and your partner should both be in sexy mode.
When the time, place, and setting feel right, start the conversation by saying, "There's this thing I've been wanting to try.."
2. Porn Is Your Friend
Porn can be a great way to introduce something new into the bedroom. Porn is a visual representation of our fantasies, and we can use it to show our partners what turns us on, in a sexy, fun way. You can start by saying, "There's this video I think is really hot..", and then turn on your favorite video. If you feel uncomfortable watching porn with your partner, you can send him or her links over text or email. It's a bold move that a lot of people will find really sexy and naughty. It also helps your partner out by literally giving them a clear picture of what turns you on. I'm not suggesting you should try and reenact porn scenes, but you can use it as a jumping off point for sexual exploration.
Warning: Do NOT try this if you know your partner doesn't like porn! Respect your partners boundaries, plz.
3. Use The Power of Erotica
Crazy Eyes had the right idea: Erotica is a way for us to stimulate our imaginations and communicate our fantasies. If you're having trouble or feeling embarrassed about having the conversation with your partner, let erotica do it for you. Hit the web and search for erotica that suits your fantasy and send your partner links, with an accompanying message like, "Hey, this really turns me on.."
You can also buy a book and tell your partner to read your favorite section. I really like this method — it feels like Im sharing a secret with my partner without even speaking and we have a tacit understanding between us.
4. Use Your Words
There's nothing quite like some good old fashioned dirty talk. During sex or foreplay, you can use the power of the spoken word to tell your partner what you want. Start your statements with, "I want you to__", or "Please do__". If they are receptive, you can start guiding them physically and verbally-i.e. guiding their hand to giving you a spanking. If you need some guidance, here's some great advice on the art of talking dirty.
5. Use Sexy Outfits And Toys To Get Your Message Across
I once had a raging desire to dress up like a police officer and try some role-play with my partner (Not sure why, maybe I had been watching a little too much Law & Order..). Anyway, I hit up my local sex shop and bought a sexy police officer outfit, complete with handcuffs and a tie. When the time came for foreplay later with my partner, I told him to wait on the bed while I went into the bathroom to change into the outfit I had conveniently shoved into my handbag. I emerged a few minutes later as Officer Kaitlyn, ready to take charge. He loved it. He loved that I had taken the initiative and put in the effort to spice up our love life. He also loved that I had felt comfortable enough to be vulnerable with him. Chances are, your partner will feel the same.
Using outfits and toys is a great visual way to convey to your partner exactly what you want. Its perfect if your fantasy involves role-play because it puts you right in the setting. A little visual stimulation may just be what your partner needs to get in the right mindset.
Remember: have fun with it and don't be afraid to talk to your partner. Your fantasies are important and you have nothing to be ashamed of.
Images: Mateus Lunardi Dutra/Flickr; Giphy; Giphy; butidontwannausemyhead.tumblr.com; Giphy.com