I Ditched Heat Styling Tools For Two Weeks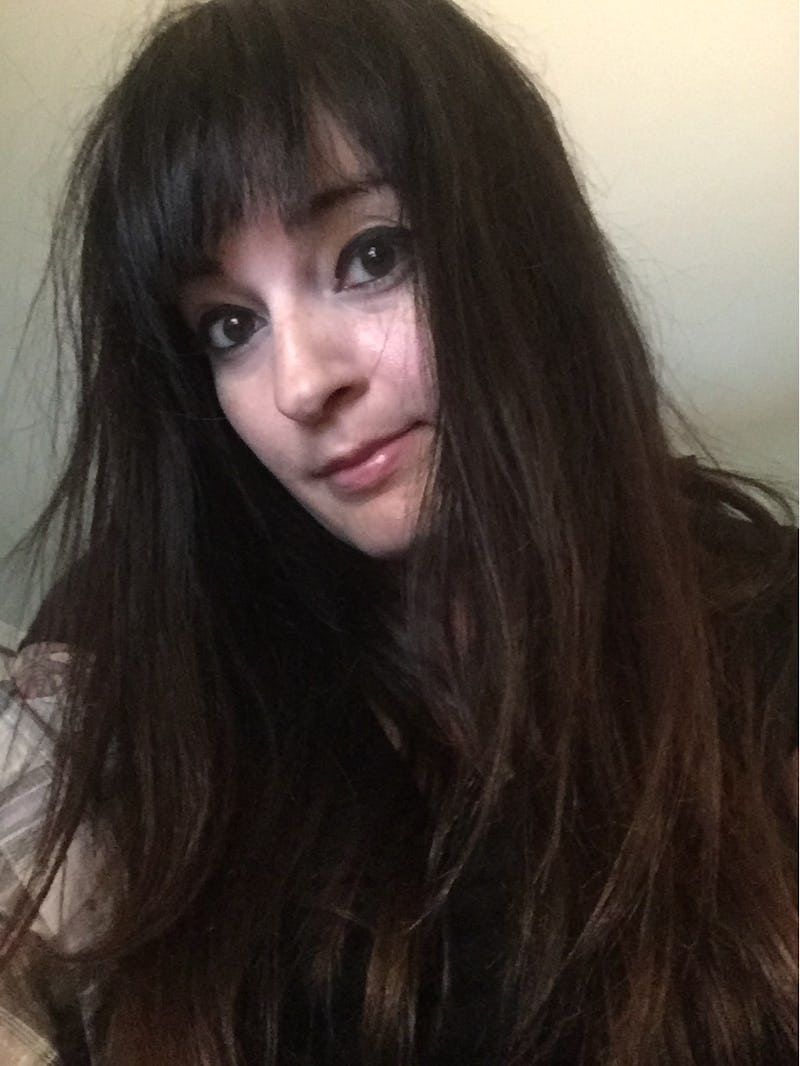 I get so hot and sweaty when using a hair dryer during the summer. Yes, even with central air conditioning, which I keep at a chilly 69 most days. I like it colder than a meat locker and I can't stand humidity. Neither can my hair. So, I decided to stop using heat tools on my hair for two weeks. No blow dryer. No flat iron. No nothing.
For most of the summer, I deal with post-shower, blow dryer-induced sweating because I prefer a sleek polish to my hair, namely my bangs and ends. Both the sweat and the polish are a result of heat tools. Then again, I prefer the effortlessly beachy waves that come with air-dried, roughed-up-with-some-product hair, as opposed to those that are created with a curling iron. Funny how that works, right?
Still, ditching heat tools was a serious challenge for me. Every time I went sans my dryer and flat iron, the latter of which I use to add a little sleekness to the ends, I felt like I left the house without making my bed.
I hate that feeling, which came from diverging from my routine and screwed with my circadian clock. It was like something was off and not quite right.
Here is my hair, normally blown out.
Here's what happened when my strands and I went without our beloved hot tools.
This was my normal routine. Blowdrying for at least 10 minutes, I often bend over at my waist and dry my hair vigorously. I stand up, flip my hair back, and get maximum volume. Here I am, enjoying my last day of routine.
Every heat tool-free morning unfolded the same. I'd keep my hair in a towel while I applied makeup, made the bed, picked out my OOTD, and fed my dog. Then I'd brush it, apply a little Living Proof Thickening Cream, rake my hands through it, and get dressed.
Since I have almost 30 inches of hair, air drying wasn't instant. It felt so... undone. So I made up for the discomfort of feeling messy by opting to go beachy, spritzing Toni & Guy Sea Salt Spray and then scrunching my hair with my hands.
This was my unhappy, dealing-with-it face. But not using heat tools did chop about 10 to 12 minutes off my morning routine. That was somewhat freeing.
This was the drying process. My bangs always dried first.
After I got dressed and worked for two hours, this is how my hair looked. Surprisingly, my bangs dried flat and evenly; I expected them to be unruly. My long layers looked pretty boho yet defined, which I liked.
Unfinished? Yep. I missed the polish my beloved heat tools provided.
Sure, I sweat a lot less than usual once I ditched the heat tools. But I still missed them.
I also noticed that I had wet stains on my shirts, from the length of my hair, which stuck to my shirt. To avoid that after the first day, I kept my hair wrapped in a towel even longer while I did my makeup and drank my morning protein shake. I wanted my strands to be as unsaturated as possible while it air dried.
As the days went on, I would scrunch a little more, add a little more sea salt spray, and end up with this mussed up, no fuss texture. I admit I did like this waviness a bunch.
Other days, I wouldn't go so heavy on the sea salt spray and opt for letting my layers show.
It was nice to let go a little and add some waves to my stick straight hair. The imperfect coif also let my ombre tones show.
Sometimes I felt like my hair was limp and frizzy, despite being naturally straight, even with the beachy texture. My friends, however, told me I was crazy and that my hair looked like I just got back from surfing.
Is this the hair of a girl who surfs? Maybe?
How about this?
I weaned myself off heat tools successfully. While I wasn't in love with the process, I would do it again, every once in a while, when I want beachy boho hair. If your strands have been feeling a little limp and lifeless lately, I'd definitely recommend doing the heat tool detox. Add a nourishing mask once a week, and you could end up blessed with shiny, naturally beachy waves.
For now, though, I'm going back to sweating under my blow dryer for a while.
Images: Amy Sciarretto (18); Amy Sciarretto/Instagram (1)