15 Cool Jacket Patches For The Most Kickass Coat Collage Ever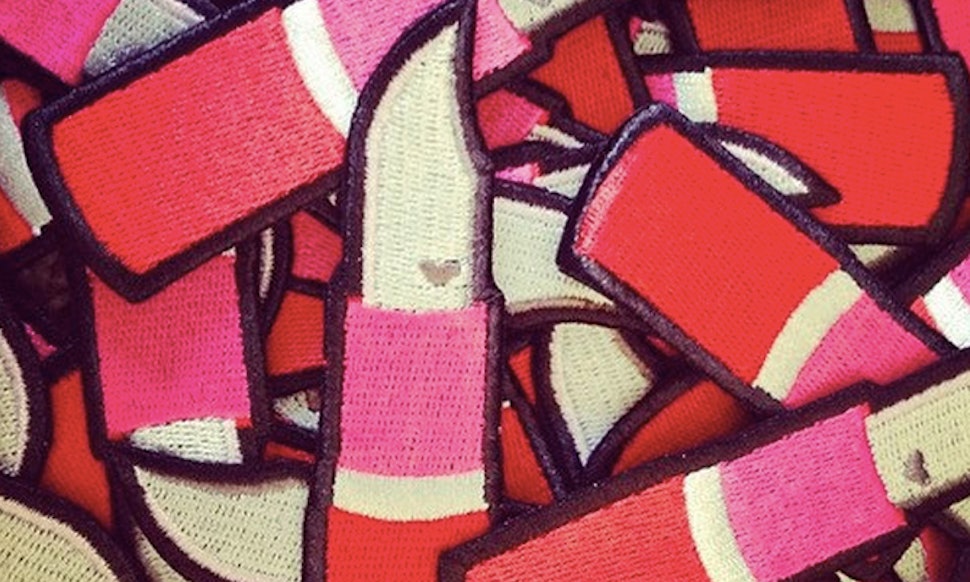 A jean jacket is pretty much the leather jacket's cooler, more laid back cousin. Still rock and roll without being so in-your-face about it, the denim has a certain subtle chicness that holds its own, whether thrown over a slip of a sundress or paired with the most elegant of Canadian Tuxedos. While it's versatility is a gift from the style gods when you're in an outfit pinch, the goes-with-anything trait means everyone you know (and yes, their mom) has one in their closet. So how do you set yourself apart from other denim-donning dressers? There's a patch for that. Think of your jean jacket as a blank billboard, ready to advertise everything from your love of cheesy pizza slices to your No. 1 summer clothing item (denim cutoffs, obviously). Ahead, 15 of the best patches to dress up that denim.
Go Ahead, Make a Mistake
I See You
Let these wonderful winks do all the flirting for you.
Wink Set of 2 Embroidered Patches, $8, Etsy
Slice of Life
Take a stylish slice out of life with this cheesy-chic patch.
Look Like Death
In this case, looking like death is surprisingly stylin'.
Iron-On Sugar Skull Patch, $4, Etsy
All Good in the Hood
Everything is fine. Act normal.
This Is Fine Patch, $7, Etsy
Get Lucky
You're bound to have a good time with this lucky dude attached to your outerwear!
Spittin' Image
Whether you're a champion watermelon seed spitter or just really like that pink fruit, this patch is calling your name.
Watermelon Patch, $10, Mokuyobi Threads
Creepy Cat Lady
If you're looking to up the ante on your level of cat lady-ness, upgrade yourself to the three-eyed feline patch.
Educate Yourself
Did you really love those educational videos about internet safety (and other good stuff) while growing up? Then sport this patch, while perusing the famed PSA site.
The More You Know Patch, $21, Clashist
You Sure Did
Feel like a winner every time you wear this badge of honor.
Clean Plate Club
Killer Shade
It's practically a crime to look this good.
Lipstick Knife Patch, $5, Tallulah Lost
Jovial in Jorts
Pick up good vibrations all day long with a denim shorts patch for your jacket.
It's Official
Broad City Babe