There's Nothing But Love On The 'Fuller House' Set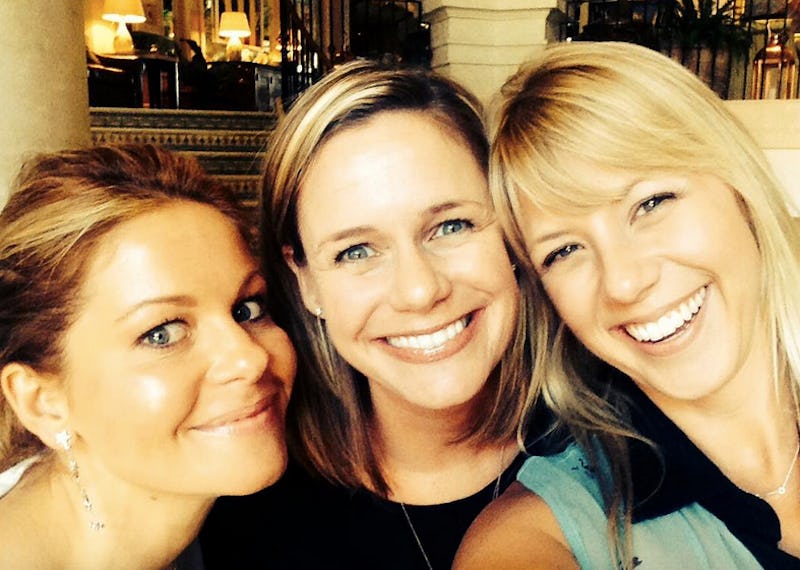 There's something about sequels that stir up the crazy in a lot of people. Many feel ownership over their favorite shows and films and some, including the sequel's stars, feel too invested in the project not to throw in their two cents. But you won't find any drama on the set of Fuller House, and a number of recent Fuller House photos posted by cast members prove there's nothing but love on the set.
The closest thing the television sequel has come to having its own little "scandal" has been the announcement that Mary-Kate and Ashley Olsen are probably not taking part in the reboot. No one who has any knowledge of the Olsen twins — from their fashion empire to the fact that Mary-Kate might be married to Olivier Sarkozy, the half-brother of the former president of France, for God's sake — is at all shocked. Executive Producer John Stamos simply responded by wishing them the best of luck and promising fans they won't be disappointed in the Michelle-less final product. Feud? Hardly.
Most of the original cast members are on board, including Candace Cameron Bure, Jodie Sweetin, Andrea Barber, Bob Saget, Dave Coulier, Lori Loughlin, and yes, even Uncle Jesse's twin sons played by Blake and Dylan Tuomy-Wilhoit. Every single one of them puts every other worker in America to shame because all they can do is sing each other's praises and post photos showing them practically skipping and dancing on their way to work. To be fair, they get to work with Stamos, who should just start pointing at himself when hired actors ask about pay.
From now until the show premieres in 2016, haters may try to find ways to make you believe all is not sunshine and lemonade on set, but don't believe them. This is really what's going on.
1. It's A Lovefest
Bure, Sweetin, and Barber are probably having sleepovers each night after filming. They put each other's hair in banana clips and discuss the attributes of each of the New Kids on the Block.
2. Uncle Jesse & Becky Forever
Lori Loughlin makes Starbucks workers giddy with delight by requesting coffees for "Uncle Jesse" and "Becky."
3. Uncle Jesse & Becky Forever Part II
Your husband will understand, Loughlin. He must. This is destiny. This is a union that will save the human race and produce many gloriously gorgeous offspring.
4. They Celebrate Milestones Together
Loughlin turned 51 on set, and her family was there to spoil her.
5. They Chill On Set
Andrea Barber doesn't break a sweat before her first live show — she puts on her best Kimmy Gibbler and owns it.
6. They Rehearse In Front Of Uncle Jesse
I'm sure Bure is too much of a professional to flub her lines on purpose so she can spend more time in Stamos' company.
7. They Wine & Dine
Life is tough when you're part of a television sequel that has millions of built-in viewers and fans months before it even hits the small screen. They deserve every second of joy they experience.
Image: Candacecbure/Instagram